Gore viewed more positively than negatively by the public
GALLUP NEWS SERVICE
PRINCETON, NJ -- Former Vice President Al Gore can now add the Nobel Peace Prize to the collection of awards he has won this year, which also includes an Academy Award and an Emmy. Speculation about his presidential intentions will only increase following his Nobel win until he officially rules out a bid or officially enters the race.
A review of Gallup polling on Gore shows that U.S. public opinion of him prior to the Nobel announcement was slightly more positive than negative. There has not been a large groundswell of support for him to run for president to this point, and if he were to enter the Democratic primaries, he would place no better than third nationally in the polls. In fact, the most recent 2008 Democratic presidential nomination trial heat showed Gore at just 10%, his worst showing this year.
Overall Opinions of Gore
In Gallup's most recent reading of the public's basic opinions of Gore, conducted Aug. 13-16, 50% of Americans said they have a favorable opinion of him and 42% an unfavorable opinion. Gore's favorable rating has been around 50% most of the year, although his ratings rose to the mid-50% range for a brief period following his Academy Award victory.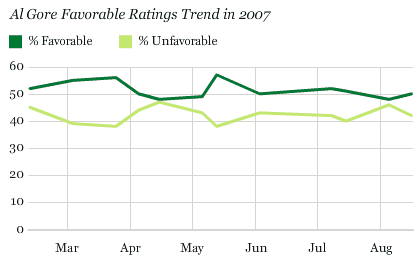 Gallup has tracked opinions of Gore since 1992, and his favorable rating peaked at 64% on two occasions -- immediately following the Democratic National Conventions in 2000 (at which he was nominated for president) and 1992 (at which he was nominated for vice president). Gore's highest unfavorable rating was 52% in December 2000, when he was challenging the Florida presidential election results in the courts.
Democrats have very positive views of Gore, but his pre-Nobel favorable rating was no better than that of Sen. Barack Obama or former Sen. John Edwards, and lower than Democrats' ratings of Sen. Hillary Clinton.
Most Recent Gallup Favorable Ratings Among Democrats



% Favorable

% Unfavorable

% No opinion

 

 

 

Al Gore

73

20

7

Hillary Clinton

84

11

5

Barack Obama

72

16

12

John Edwards

71

10

18

Note: Gore's rating is from an Aug 13-16 poll; Clinton's, Obama's, and Edwards' ratings are from an Oct 4-7 poll.
Gore for President?
Polling data to this point has not shown widespread sentiment in favor of a Gore presidential campaign, even among Democrats. In March, at a time when Gore's popularity was at its high point for the year, just 38% of Americans said they would like to see him run for president. Only a bare majority of Democrats, 54%, favored a Gore presidential bid. As one would expect, Republicans (21% in favor) and independents (37%) were mostly opposed to Gore running for president.
Democrats do seem willing to accept Gore as their candidate should he capture the nomination, however. In June, 72% of Democrats and Democratic leaners said that Gore would be an acceptable presidential nominee for the party. While a high level of support, Gore still trailed the leading Democrats -- Clinton (82%), Obama (78%), and Edwards (77%) -- on this measure.
When Gore is included in the list of potential Democrats running for the presidential nomination in Gallup's trial heats, only 10% of Democrats and Democratic-leaning independents select him as their first choice. That ties him with Edwards for third place, but he remains well behind Clinton (43%) and Obama (24%). These results are based on Gallup's latest survey, conducted Oct. 4-7.
Since February, when the Democratic field largely took shape, Gore has never placed higher than third in any of the Gallup Democratic nomination preference polls. His support had been around 15% from February through September, with a high of 18% in several polls. The most recent poll marks his worst showing thus far, at 10%. That drop may be attributable to his not formally entering the race, which shifts media attention in the campaign to Clinton, Obama, and Edwards. Gore's standing may well receive a boost from his Nobel Prize win.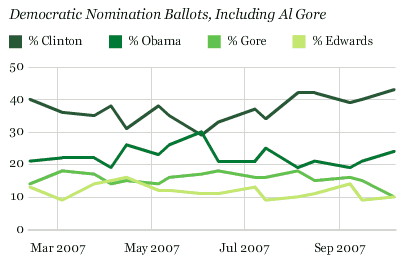 When asked about their willingness to vote for Gore should he become a candidate, two polls conducted this spring found close to half of registered voters saying they would not consider voting for him. Clinton performed better than Gore in the Pew Research Center poll, with 43% of registered voters saying there was no chance they would vote for her. So even if Gore were to enter the race and win the Democratic nomination, he would start out with a substantial level of committed opposition.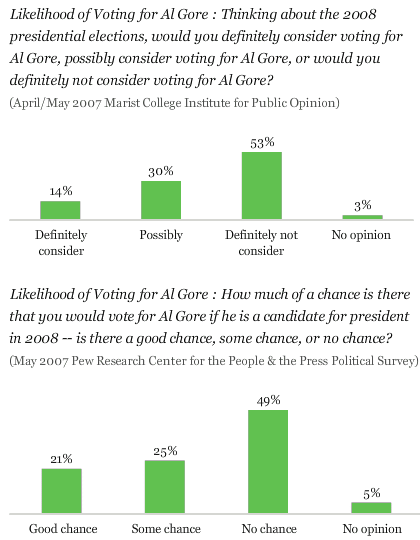 Survey Methods
These results are based on telephone interviews with randomly selected national samples of approximately 1,000 adults, aged 18 and older, conducted in 2007. For results based on these samples, one can say with 95% confidence that the maximum error attributable to sampling and other random effects is ±3 percentage points.
For results based on the sample of 488 Democrats and Democratic-leaning independents from the Oct. 4-7, 2007, poll, the maximum margin of sampling error is ±5 percentage points.
In addition to sampling error, question wording and practical difficulties in conducting surveys can introduce error or bias into the findings of public opinion polls.
Next, we'd like to get your overall opinion of some people in the news. As I read each name, please say if you have a favorable or unfavorable opinion of these people -- or if you have never heard of them. How about --
Al Gore
Favorable

Unfavorable

No
opinion

%

%

%

2007 Aug 13-16

50

42

8

2007 Aug 3-5

48

46

6

2007 Jul 12-15

51

40

8

2007 Jul 6-8

52

42

6

2007 Jun 1-3

50

43

7

2007 May 10-13

57

38

5

2007 May 4-6

49

43

8

2007 Apr 13-15

48

47

5

2007 Apr 2-5

50

44

6

2007 Mar 23-25

56

38

6

2007 Mar 2-4

55

39

6

2007 Feb 9-11

52

45

3

2006 Jun 23-25

48

45

8

2003 Jun 27-29

49

45

6

2002 Dec 16-17

49

45

6

2002 Sep 23-26

46

47

7

2002 Apr 29-May 1

46

48

6

2001 Aug 3-5

52

42

6

2001 Apr 20-22

55

41

4

2001 Jan 15-16

56

41

3

2000 Dec 15-17

57

40

3

2000 Dec 2-4

46

52

2

2000 Nov 13-15

53

44

3

2000 Nov 4-5 †

56

39

5

2000 Oct 24-26 †

53

42

5

2000 Oct 23-25 †

55

40

5

2000 Oct 20-22 †

57

39

4

2000 Oct 5-7 †

57

37

6

2000 Sep 28-30 †

61

31

8

2000 Sep 15-17 †

62

30

8

2000 Aug 18-19

64

30

6

2000 Aug 4-5

52

42

6

2000 Jul 25-26

56

38

6

2000 Jul 14-16

58

34

8

2000 Jun 23-25

52

39

9

2000 Jun 6-7

59

35

6

2000 Apr 28-30

53

38

9

2000 Mar 10-12

59

36

5

2000 Feb 25-27

59

35

6

2000 Feb 20-21

56

37

7

2000 Feb 4-6

57

37

6

2000 Jan 17-19

56

38

6

1999 Dec 20-21

57

36

7

1999 Dec 9-12

54

42

4

1999 Oct 21-24

58

36

6

1999 Oct 8-10

54

42

4

1999 Sep 23-26

55

40

5

1999 Aug 16-18

58

37

5

1999 Aug 3-4

52

40

8

1999 Jul 22-25

53

35

12

1999 Jun 25-27

56

39

5

1999 Apr 30-May 2

55

37

8

1999 Apr 13-14

54

39

7

1999 Apr 13-14

54

39

7

1999 Feb 19-21

59

33

8

1999 Feb 4-8

61

31

8

1998 Dec 28-29

57

28

15

1998 Sep 14-15

56

32

12

1998 Feb 13-15

57

33

10

1998 Jan 30-Feb 1

62

31

7

1998 Jan 23-25

56

32

12

1997 Dec 18-21

50

37

13

1997 Oct 27-29

53

38

9

1997 Oct 3-5

47

42

11

1997 Sep 25-28

51

39

10

1997 Sep 6-7

55

32

13

1997 Jun 26-29

57

32

10

1997 Apr 18-20

56

34

10

1997 Mar 24-26

57

31

12

1997 Jan 3-5

60

26

14

1996 Oct 26-29 †

61

31

8

1996 Aug 30- Sep 1 †

61

27

12

1996 Aug 28-29 †

60

26

14

1996 Aug 16-18 †

59

30

11

1996 Jan 12-15

52

34

14

1995 Jan 16-18

57

29

14

1994 Sep 6-7

56

31

13

1994 Apr 22-24

60

28

12

1994 Mar 25-27

56

29

15

1994 Jan 15-17

62

26

12

1993 Nov 15-16

53

32

15

1993 Nov 2-4

49

30

21

1993 Jul 19-21

55

30

15

1993 Apr 22-24

55

24

21

1993 Jan 18-19

63

22

15

1992 Nov 10-11

56

28

16

1992 Oct 9-11 †

63

24

14

1992 Sep 11-15 †

56

26

18

1992 Aug 31-Sep 2 †

63

24

13

1992 Aug 21-23 †

60

23

17

1992 Aug 10-12 †

62

20

18

1992 Jul 17-18 †

64

14

22

1992 Jul 6-8 †

39

17

44

^ Asked of a half sample

† Based on registered voters