In March, fans were more likely to pick Red Sox than Rockies to win World Series
PRINCETON , NJ -- The Boston Red Sox and Colorado Rockies are squaring off in the 2007 World Series. Gallup polling finds less than half of Americans identifying themselves as baseball fans, and the percentage who do so is on the low end of what Gallup has measured since 1993. Baseball trails far behind football when Americans are asked which sport is their favorite, and Americans are as likely to name basketball as their favorite sport as baseball. Before the season started, 9% of baseball fans picked the Red Sox to win the World Series, second only to the New York Yankees. Less than 1% believed the Rockies would win.
Baseball Fans
According to a May USA Today/Gallup poll, 45% of Americans identify themselves as baseball fans. That is low by recent standards, as an average of 49% of Americans have said they were fans of the sport since Gallup started tracking this measure in 1993. The high point came in 1998, when Sammy Sosa and Mark McGwire pursued (and ultimately surpassed) Roger Maris' single-season home run record, at which time 56% of Americans considered themselves baseball fans.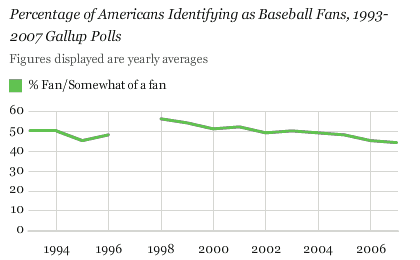 While the percentage of Americans identifying as fans is higher for baseball than for any other sport except football, since the beginning of the decade, basketball has typically edged out baseball for second place when Americans are asked to name their favorite sport to watch.
Favorite Sport to Watch, Gallup Polls, 2000 to 2006

 

 

 

 

 

 

 

 

 

 

2000

2001

2002

2003

2004

2005

2006

 

%

%

%

%

%

%

%

Football

33

28

37

37

37

34

43

Basketball

16

16

13

14

13

12

12

Baseball

13

12

12

10

10

12

11
A March Gallup Panel survey asked fans to predict which team they thought would win the World Series this year. The clear favorite was the New York Yankees, chosen by 25% of fans. The Yankees made the playoffs again this year, as they have each year since 1995. But the Cleveland Indians defeated the Yankees in the American League Division Series before losing to the Red Sox in the American League Championship Series. Nine percent of fans chose the Red Sox as their World Series favorite back in March. Their surprise opponent -- the Rockies -- were chosen by less than 1% of baseball fans.
The major league baseball season is getting under way. Which team do you think will win the World Series this year? [OPEN-ENDED]
BASED ON PROFESSIONAL BASEBALL FANS
 

2007 Mar 26-29

 

%

New York Yankees

25

St. Louis Cardinals

9

Boston Red Sox

9

Atlanta Braves

6

New York Mets

5

Chicago White Sox

5

Detroit Tigers

4

Minnesota Twins

3

Chicago Cubs

3

Philadelphia Phillies

3

Houston Astros

2

Oakland A's

2

Los Angeles Dodgers

2

Cleveland Indians

2

Seattle Mariners

1

Texas Rangers

1

San Francisco Giants

1

Arizona Diamondbacks

1

San Diego Padres

1

Pittsburgh Pirates

1

Milwaukee Brewers

1

Colorado Rockies

*

Cincinnati Reds

*

Los Angeles Angels

*

Baltimore Orioles

*

Kansas City Royals

*

Florida Marlins

*

 

 

Other

*

No opinion

12

* Less than 0.5%

Percentages add to more than 100% due to multiple responses.

 
Survey Methods
These results are based on telephone interviews with a randomly selected national sample of 1,010 adults, aged 18 and older, conducted May 4-6, 2007. For results based on this sample, one can say with 95% confidence that the maximum error attributable to sampling and other random effects is ±3 percentage points.
Results for the Gallup Panel study are based on telephone interviews with 1,006 national adults, aged 18 and older, conducted March 26-29, 2007. Gallup Panel members are recruited through random selection methods. The panel is weighted so that it is demographically representative of the U.S. adult population. For results based on this sample, one can say with 95% confidence that the maximum margin of sampling error is ±4 percentage points.
For results based on the sample of 432 baseball fans, the maximum margin of sampling error is ±6 percentage points.
In addition to sampling error, question wording and practical difficulties in conducting surveys can introduce error or bias into the findings of public opinion polls.
Are you a fan of professional baseball, or not?
 



Yes, fan

SOME-
WHAT
OF A
FAN
(vol.)


No,
not
fan

No opin-
ion

 

 

 

 

 

2007 May 4-6

37

8

55

*

 

 

 

 

 

2007 Mar 23-25

36

7

56

*

2006 Dec 8-10

35

6

59

*

2006 Sep 15-17

37

9

54

--

2006 Jul 21-23

40

12

48

*

2006 Apr 7-9

33

8

58

*

2006 Mar 10-12

37

10

53

--

2005 Dec 9-11

36

11

53

*

2005 Aug 5-7

37

10

53

*

2005 Mar 18-20

39

9

52

*

2005 Jan 14-16

41

7

52

*

2004 Mar 26-28

36

9

55

*

2003 Nov 14-16

43

8

49

*

2003 Oct 24-26

44

11

45

--

2003 Oct 10-12

42

8

50

*

2003 Jun 27-29

36

10

54

*

2003 Jun 9-10

39

11

50

*

2002 Nov 8-10

38

13

49

*

2002 Aug 19-21

37

8

54

1

2002 Jul 26-28

37

10

53

*

2002 Jun 7-8

36

16

48

--

2002 Jan 11-14

36

11

53

*

2001 Nov 26-27

38

10

52

*

 

%

%

%

%

2001 Nov 2-4

45

11

44

*

2001 Jun 8-10

35

14

51

--

2000 May 5-7

35

11

54

--

2000 Apr 28-30

40

12

48

--

1999 Nov 18-21

45

16

39

--

1999 Oct 21-24

37

10

53

--

1999 Jul 13-14

40

19

41

--

1999 Mar 19-21

34

15

51

--

1998 Oct 9-12

47

14

39

--

1998 Sep 14-15

45

18

37

--

1998 Jun 22-23

34

10

56

--

1996 Mar 15-17

38

10

52

--

1995 Oct 5-7

34

8

58

--

1995 Jul 7-9

35

13

52

--

1995 May 11-14

35

10

55

--

1995 Apr 17-19

32

9

59

--

1995 Feb 24-26

37

12

51

--

1995 Jan 16-18

37

8

55

--

1994 Oct 17-19

39

9

52

--

1994 Sep 6-7

35

11

54

--

1994 Aug 15-16

39

10

51

--

1994 Aug 8-9

35

20

45

--

1993 May 21-23

39

10

51

--

1993 Feb 12-14

44

7

49

--

* Less than 0.5%

(vol.) = Volunteered response