Italians less pessimistic about economy in 2007 than in 2005
WASHINGTON, D.C. -- Crisis talks end Tuesday between Italy's president and key political leaders who are attempting to resolve the political problem that Prime Minister Romano Prodi's resignation last week created. Opposition leader and former Prime Minister Silvio Berlusconi, whom Prodi narrowly defeated in 2006, is calling for snap elections that he seemingly would be well positioned to win. Others, including the president, are urging election law reform before Italians head to the polls.
A vote of no confidence in Italy's Senate prompted Prodi's departure just 20 months after he became prime minister. Gallup polled in Italy in mid-2005, before Prodi took office, and again in mid-2007, a few months after Prodi survived his first confidence vote in parliament. The data reveal that in the interim Italians became more likely to express confidence in several institutions, including their national government, military, and judicial system, and more likely to be optimistic about their economy. Such improvements are relative, however, as Italians remain less likely to be confident in these institutions than are residents in many neighboring European countries.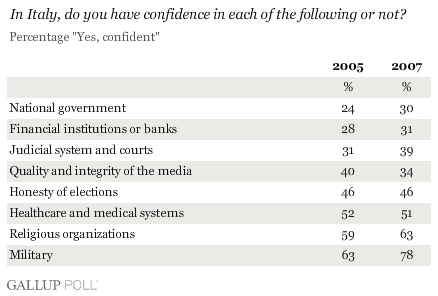 During his election campaign, Prodi pledged to bring "peace, unity, economic recovery, and harmony" to Italy. While he wasn't able to keep those promises because of his government's inability to pass a number of reforms, the country did experience mild economic growth in 2006 and 2007. Between 2005 and 2007, Italians grew less pessimistic about their economic situation. In 2005, only 15% said economic conditions were good; this percentage rose to 28% in 2007. Their outlook on the economy's future improved as well: in 2005, 11% said the situation was getting better, compared with 28% in 2007.
Italians were still more likely to be pessimistic about their country's economy in 2007 than those in other large European economies such as Germany, the United Kingdom, and Spain were about their economies. For example, 59% of Britons say economic conditions in their country are good, and 39% say they are getting better. Across European Union member states surveyed, only the French and Hungarians are more likely to be pessimistic than Italians on each measure.
Italy's next government looks to inherit an increasingly unstable economic situation. According to the Bank of Italy, the country's economy slowed in the latter half of 2007, and the week before Prodi's resignation, the Bank revised the country's anticipated economic growth for 2008 downward to about 1%.
Survey Methods
Results are based on interviews conducted in Italy in July 2005 and April and May 2007 with a nationally representative sample of residents aged 15 and older. For results based on the sample of approximately 1,000 Italians in each survey, one can say with 95% confidence that the maximum margin of sampling error is ±3 percentage points.