When average black students and Hispanic students finish high school, their reading and math skills are about the same as those of white students in eighth grade. Black and Hispanic students are less likely than white students to graduate from high school, get a college degree, or make a middle-class living. With chilling statistics like these from the Education Commission of the States, it's not difficult to see why so many Americans think it is important to close the academic achievement gap among white, black, and Hispanic students.
Eighty-eight percent of Americans, according to the 2004 Phi Delta Kappa/Gallup Poll of the Public's Attitudes Toward the Public Schools*, say it is important to close the achievement gap between white and minority students. The percentage of Americans who find this issue important has remained high since the question was first asked in 2001, indicating that the problem continues to resonate strongly with the public.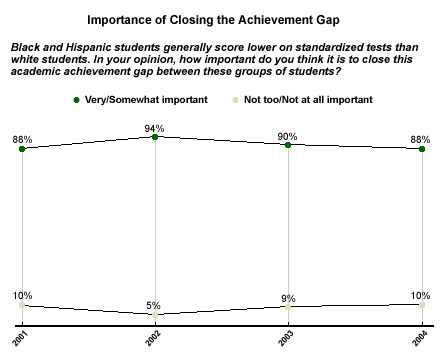 Although academic achievement gaps are discussed most often in terms of school test scores, the public doesn't primarily place the blame on the quality of schooling. In fact, only 19% of Americans say the achievement gap is mostly related to the quality of schooling students receive, while 74% say it's mostly related to other factors.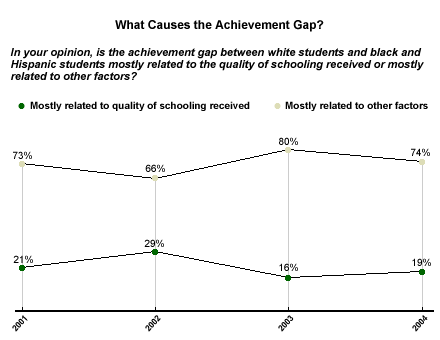 This year, Americans weren't asked what they think those "other factors" are. But in 2003, respondents were most likely to cite the amount of parental involvement (90%), home life and upbringing (87%), student interest (80%), and community environment (66%) as very important factors contributing to the achievement gap.
"Most Americans realize that schools can't do it alone," says Daniel Kaufman, a spokesperson for the National Education Association. "You must have parents involved in school and outside of school. Parents and communities play an important role."
Nonwhite Americans, however, are significantly more likely than white Americans to say that the achievement gap is mostly related to school quality: 35% of nonwhites blame school quality, while only 17% of whites do. Kaufman says this reflects the frustration many black and Hispanic parents feel with the quality of their schools right now.
On a daily basis, he says, these parents see that the United States really does have two school systems, with well-funded schools that have smaller class sizes on one hand, and overcrowded schools with high student and teacher turnover on the other.
It's Open, Who Should Close It?
Even though most Americans don't see school quality as the major contributing factor to the achievement gap, a majority says that it is up to the schools to close it. Fifty-six percent of Americans say that public schools are responsible for closing the gap, while a substantial minority, 40%, says schools are not responsible.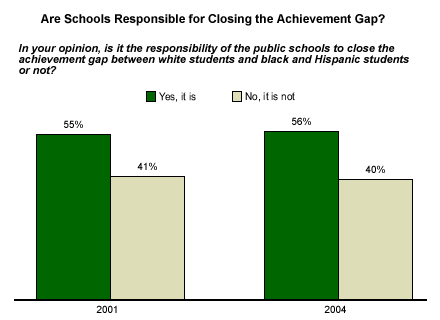 "They want schools to do everything they can to close the gap," Kaufman says. "The question is whether they [the schools] are getting the funds to get the job done."
It's Open, How Should It Be Closed?
The PDK/Gallup survey tested a number of proposals for closing the gap, all of which were favored by at least three in four Americans. The highest support, 97%, is found for encouraging more parental involvement, and at least 9 in 10 also favor providing more instructional time for low-performing students and strengthening remedial programs for low-performing students. Proposals for providing free breakfast and lunch programs, state-funded preschool programs, and in-school health clinics garner favor, too, but not as much as the other proposals.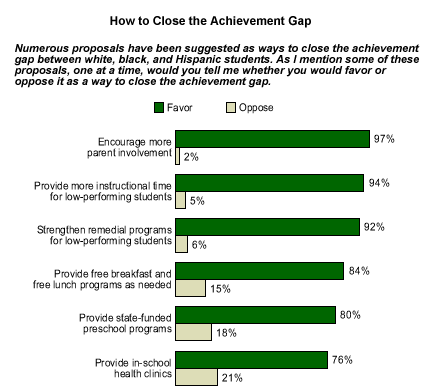 Kaufman says that smaller class sizes and incentives to attract and retain high quality teachers would help, too. It's also crucial that children get the individual attention and resources they need to learn at the best rate they can, he says, and that they come to school ready to learn.
Bottom Line
Last November, U.S. Secretary of Education Rod Paige (who resigned on Monday) celebrated the release of new data from the National Assessment of Educational Progress, which showed improvements among fourth and eighth graders in math and reading, and a narrowing of the achievement gap. But some educators and education experts wonder whether Paige and the Bush administration really have a reason to cheer. Regardless of whether Americans are optimistic or pessimistic about the state of the current achievement gap, the gap remains much closer to a chasm than a crack -- and they want it closed.
*This article contains findings from the 36th Annual Phi Delta Kappa/Gallup Poll of the Public's Attitudes Toward the Public Schools, released on Aug. 24 in Washington, D.C.
The findings of the survey are based on telephone interviews with a random sample of 1,003 U.S. adults, aged 18 and older, conducted from May 28 to June 18, 2004. For results based on this sample, one can say with 95% confidence that the maximum error attributable to sampling and other random effects is ±3 percentage points.