Less than half approve of president's approach to Social Security
GALLUP NEWS SERVICE
PRINCETON, NJ -- Despite an increase in President Bush's overall job approval rating over the past several weeks, there has been little change in the way Americans view Social Security -- the domestic issue Bush has made the centerpiece of his agenda for the coming year.
Americans are no more likely now than they were in January to say Social Security is in crisis or has major problems; Bush's approval rating on handling Social Security has not changed significantly; and support for privatizing Social Security has not changed at all. And while the American public agrees that Social Security has major problems and that the system is likely to go bankrupt by 2042 if no changes are made, less than half of Americans say they favor the president's approach to curing the system.
No Change in Perceived Importance of Social Security
President Bush made Social Security a major focus of his State of the Union address last week and continued that emphasis in his late-week barnstorming trip to five states. Still, a new CNN/USA Today/Gallup poll, conducted Feb. 4-6, shows that 17% of Americans say the Social Security system is in crisis and 55% say it has major problems, virtually unchanged from early January.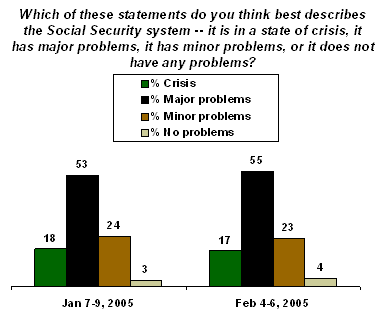 It's also remarkable that despite the Bush administration's increased rhetoric and focus on Social Security in the last couple of months, there has been no significant change between December of last year and now in the percentage of Americans who say Social Security is an extremely important issue for Congress and the president to deal with in the next year. More broadly, views on the importance of dealing with Social Security are no different today from what they were two and a half years ago -- in May 2002.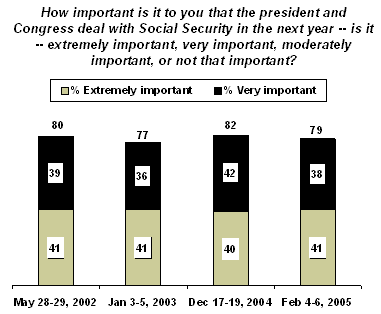 Still, it is important to note that the lack of change in the perceived salience of Social Security should not mask the fact that the public still considers it an issue of importance. Almost three in four Americans say Social Security has major problems or is in a crisis. The poll also shows that almost two-thirds of Americans believe Social Security will be bankrupt by the year 2042 if major changes are not made to the system.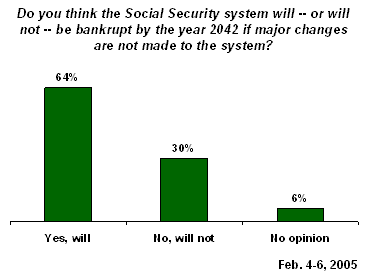 Bush's Approach
In addition to his repeated emphasis on the need to do something to "fix" Social Security, the president is calling on Americans to support his idea of allowing younger workers to invest a portion of their Social Security taxes in private investment accounts.
But all of this recent emphasis on the privatization solution to Social Security's ills has had little impact on public opinion. The new CNN/USA Today/Gallup poll shows no change in attitudes toward the concept of privatization compared with views measured in January.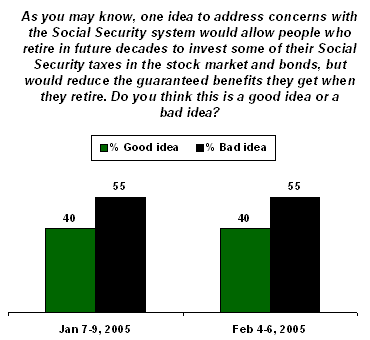 Additionally, less than half of Americans (44%) say they approve of Bush's approach to addressing the Social Security system, while 50% say they disapprove.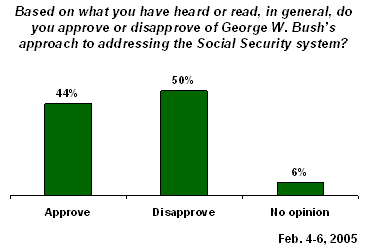 One reason for the relatively tepid reaction to Bush's privatization approach is the fact that Americans are not convinced that individuals would receive higher Social Security benefits if they invested in private investment accounts than they would if the government maintained control of their Social Security taxes.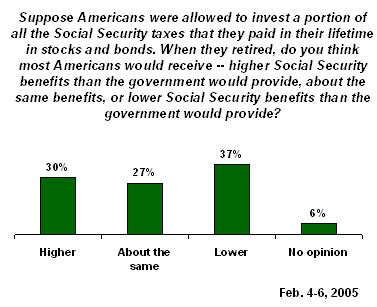 The poll results indicate that Americans are slightly more optimistic that they personally, compared with the public in general, would benefit from putting their Social Security money into stocks and bonds.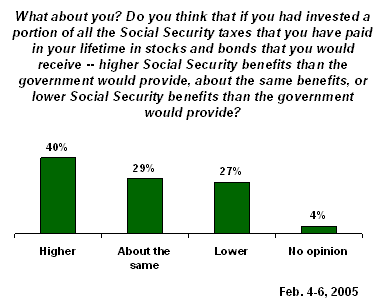 There is no systematic variation in these views by age. While people aged 30 to 49 are somewhat more likely to believe that private investment would generate higher returns for themselves, that feeling is not shared as widely by those in the 18 to 29 age category; the latter are only slightly more likely than people aged 65 and older to believe that privatization would yield higher returns.
What about you? Do you think that if you had invested a portion of all the Social Security taxes that you have paid in your lifetime in stocks and bonds that you would receive -- [ROTATED: higher Social Security benefits than the government would provide, about the same benefits, or lower Social Security benefits than the government would provide]?
Total

18- to 29-
year-olds

30- to 49-
year-olds

50- to 64-
year-olds

65 years
and older

%

%

%

%

%

Higher Social Security benefits than
the government would provide

40

35

48

38

31

About the same benefits

29

36

24

30

29

Lower Social Security benefits than
the government would provide

27

27

26

27

30

No opinion

4

2

2

5

10
Politicizing Social Security
It almost goes without saying that privatizing Social Security has now become a very political issue. Much as he did with the war in Iraq, Bush has adopted the privatization issue as a personal crusade, engendering predictable and vociferous objections from his Democratic critics. Thus, it is highly possible that many Americans will simply react to the plan based on their overall evaluations of Bush himself, with Republicans approving of it and Democrats opposing it.
Here is the breakdown of attitudes toward privatizing Social Security by the political orientation of the respondent. The partisan differences are already starkly apparent; almost two-thirds of Republicans are in favor of the concept, while over three-quarters of Democrats are opposed. Independents are also opposed, by more than a two-to-one margin.
As you may know, one idea to address concerns with the Social Security system would allow people who retire in future decades to invest some of their Social Security taxes in the stock market and bonds, but would reduce the guaranteed benefits they get when they retire. Do you think this is a good idea or a bad idea?
| | | | | |
| --- | --- | --- | --- | --- |
| | Total | Republicans | Independents | Democrats |
| | % | % | % | % |
| Good idea | 40 | 64 | 31 | 18 |
| Bad idea | 55 | 30 | 64 | 78 |
| Don't know/Refused | 5 | 6 | 5 | 4 |
Other Ways of Fixing the System
In his State of the Union address, Bush said that all ideas to fix the Social Security system were on the table, including some that were championed by prominent Democrats in the past. The new poll gave the public a list of six possible ways of addressing concerns with the Social Security system apart from privatization, and asked respondents to indicate if each is a good or bad idea.
Assuming there would be no change in Social Security benefits for those who are now age 55 or older, do you think each of the following would be a good idea or a bad idea to address concerns with the Social Security system?
Good idea

Bad idea

No opinion

%

%

%

Limiting benefits for wealthy retirees

68

29

3

Requiring higher income workers to pay Social
Security taxes on ALL of their wages

67

30

3

Further reducing the total amount of benefits a
person would receive if they retired early

40

57

3

Increasing Social Security taxes for all workers

37

60

3

Increasing the age at which people are eligible
to receive full benefits

35

63

2

Reducing retirement benefits for people who
are currently under age 55

29

67

4
One thing is clear from a review of these data. The public is quite willing to sanction changes in the system that would involve increased costs to higher-income Americans, but is decidedly not in favor of more widespread changes such as reductions in benefits or increases in Social Security taxes.
Survey Methods
Results are based on telephone interviews with 1,010 national adults, aged 18 and older, conducted Feb. 4-6, 2005. For results based on the total sample of national adults, one can say with 95% confidence that the maximum margin of sampling error is ±3 percentage points.
In addition to sampling error, question wording and practical difficulties in conducting surveys can introduce error or bias into the findings of public opinion polls.