But still widespread opposition to complete ban
GALLUP NEWS SERVICE
PRINCETON, NJ -- Gallup's latest annual poll on the public's consumption habits finds a significant increase in support over the past two years for banning smoking in selected public places.
This change is not because Americans have suddenly become more concerned about second-hand smoke, which has been recognized by the vast majority of Americans as harmful at least since the mid-1990s. Instead, it is likely that as various state and local governments have acted to restrict smoking, the public culture has moved in the same direction.
The groups showing the greatest movement toward banning smoking are Republicans, frequent churchgoers, and nonsmokers -- though even smokers show some movement in that direction as well.
The poll, conducted July 7-10, shows that 34% of Americans want to completely ban smoking in hotels and motels, up from 25% who expressed that view two years ago.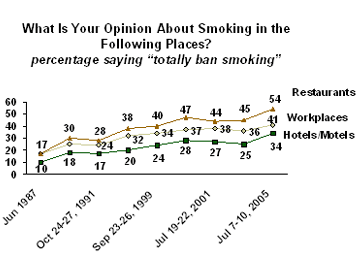 Support for banning smoking in the workplace and in restaurants has also increased since 2003 -- by five points for the workplace (from 36% to 41%), and by nine points for restaurants (45% to 54%). For the first time, a majority favors a total ban on smoking in restaurants.
Eighteen years ago, when Gallup first measured Americans' views on public smoking restrictions, only 10% to 17% supported banning smoking in these locations. The vast majority opted instead for setting aside certain areas for smoking and other areas where smoking would not be permitted. In the workplace, and in hotels and motels, majorities of Americans still prefer that smoking areas be set aside rather than that smoking be banned altogether, although the trend is clearly in favor of banning smoking in these public places.
Smoking Restrictions in Public Places
| | | | | |
| --- | --- | --- | --- | --- |
| | Set aside areas | Totally ban | No restrictions | No opinion |
| | % | % | % | % |
| Hotels and motels | 60 | 34 | 5 | 1 |
| Workplaces | 56 | 41 | 2 | 1 |
| Restaurants | 42 | 54 | 3 | 1 |
| Bars | 40 | 29 | 28 | 3 |
Bars remain an area where about two-thirds of Americans oppose a ban. Forty percent would favor setting aside areas within a bar for smoking, while 28% say smoking should be allowed anywhere within a bar.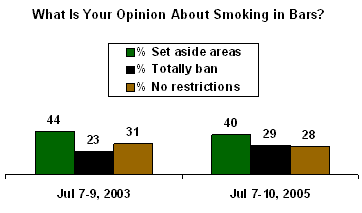 Current views show a modest movement toward banning smoking in bars, from 23% two years ago to 29% now.
Despite the increased acceptance of smoking bans in public places, more than 8 in 10 Americans oppose a complete ban on smoking in this country, while only 16% are in favor of making it illegal to smoke at all. These numbers have varied only slightly over the years.
Should smoking in this country be made totally illegal, or not?
BASED ON 489 NATIONAL ADULTS IN FORM A
Yes,
made illegal

No, not
made illegal

No opinion

%

%

%

2005 Jul 7-10

16

83

1

2003 Jul 7-9

16

84

*

2001 Jul 19-22

14

84

2

1994 Mar 11-13

11

86

3

1990 Nov Jul 6-8

14

84

2

* Less than 0.5%
Increased Support Compared by Selected Groups
Republicans are more likely than Democrats or independents to show increased support for smoking bans in restaurants, hotels and motels, and the workplace.
Currently, 62% of Republicans want to ban smoking in restaurants, up from 47% in 2003 -- a 15-point increase. By contrast, independents are eight points more likely to support a ban in restaurants (from 40% to 48%), while Democrats are only five points more likely (from 48% to 53%).
A similar pattern is found among partisans about smoking in hotels and motels. Forty-one percent of Republicans support a smoking ban in these establishments, compared with 28% of independents and 33% of Democrats. For Republicans, the current figures represent an increase of 15 percentage points over a similar reading in 2003, but only a 6-point increase for independents, and a 5-point increase for Democrats.
In the workplace, Republicans show an increase in support by 11 points (from 36% in 2003 to 47% in 2005) and independents by 5 points (32% to 37%). Democrats show an insignificant one-point decline, from 41% to 40%.
The poll also finds that frequent churchgoers are more likely to support bans on smoking than are infrequent churchgoers, and also more likely to reflect an increase in support from 2003.
In the workplace, weekly churchgoers show an increase of 12 percentage points in support (41% to 53%), compared with essentially no change among the least frequent churchgoers (33% to 34%).
That same pattern is found for restaurants -- a 13-point increase for frequent churchgoers (51% to 64%), compared with a 5-point increase for people who rarely attend (42% to 47%).
And for hotels and motels, frequent churchgoers are 14 points more likely to support a smoking ban now than they were two years ago, while infrequent churchgoers show only a 5-point increase.
It is expected that much of the increased support for banning smoking would come from nonsmokers. Indeed, compared with two years ago, nonsmokers' support for total bans on smoking in hotels and motels (up 11 percentage points), workplaces (8 points), and restaurants (9 points) has grown significantly. But the poll shows that even smokers are now more willing to ban smoking rather than just setting aside smoking and nonsmoking areas.
The largest increase in smokers' support is found for restaurants, with 31% supporting a ban on smoking, up from 21% two years ago. In hotels and motels, the increase is slight -- up five points, from just 6% to 11%. In the workplace, however, smokers show essentially no change in their views from two years ago -- only 15% prefer a ban now, compared with 17% in 2003.
Survey Methods
Results are based on telephone interviews with 1,006 national adults, aged 18 and older, conducted July 7-10, 2005. For results based on the total sample of national adults, one can say with 95% confidence that the maximum margin of sampling error is ±3 percentage points.
For results based on the 489 national adults in the Form A half-sample, the maximum margin of sampling error is ±5 percentage points.
For results based on the sample of 216 smokers, the maximum margin of sampling error is ±7 percentage points.
For results based on the sample of 790 nonsmokers, the maximum margin of sampling error is ±4 percentage points.
In addition to sampling error, question wording and practical difficulties in conducting surveys can introduce error or bias into the findings of public opinion polls.
21. What is your opinion regarding smoking in public places? First, in [ITEMS A-C ROTATED, THEN ITEM D READ] -- should they SET ASIDE certain areas, should they totally BAN smoking, or should there be NO RESTRICTIONS on smoking? How about in … ?
A. Hotels and motels
Set aside areas

Totally ban

No restrictions

No opinion

%

%

%

%

2005 Jul 7-10

60

34

5

1

2003 Jul 7-9

68

25

6

1

2001 Jul 19-22

66

27

6

1

2000 Nov 13-15

65

28

7

*

1999 Sep 23-26

70

24

6

*

1994 Mar 11-13

68

20

10

2

1991 Oct 24-27

70

17

12

1

1990 Jul 6-8

73

18

8

1

1987 Jun

67

10

20

3

* Less than 0.5%
B. Workplaces
Set aside areas

Totally ban

No restrictions

No opinion

%

%

%

%

2005 Jul 7-10

56

41

2

1

2003 Jul 7-9

61

36

3

*

2001 Jul 19-22

58

38

3

1

2000 Nov 13-15

57

37

6

*

1999 Sep 23-26

61

34

4

1

1994 Mar 11-13

63

32

4

1

1991 Oct 24-27

67

24

8

1

1990 Jul 6-8

69

25

5

1

1987 Jun

70

17

11

2

* Less than 0.5%
C. Restaurants
Set aside areas

Totally ban

No restrictions

No opinion

%

%

%

%

2005 Jul 7-10

42

54

3

1

2003 Jul 7-9

52

45

3

*

2001 Jul 19-22

52

44

4

*

2000 Nov 13-15

48

47

5

*

1999 Sep 23-26

56

40

4

*

1994 Mar 11-13

57

38

4

1

1991 Oct 24-27

66

28

5

1

1990 Jul 6-8

66

30

4

--

1987 Jun

74

17

8

1

* Less than 0.5%
D. Bars
| | | | | |
| --- | --- | --- | --- | --- |
| | Set aside areas | Totally ban | No restrictions | No opinion |
| | | | | |
| 2005 Jul 7-10 | 40% | 29 | 28 | 3 |
| | | | | |
| 2003 Jul 7-9 | 44% | 23 | 31 | 2 |