Venezuelan leader's take on U.S. leadership not representative of sentiment across Latin America
GALLUP NEWS SERVICE
PRINCETON, NJ -- Venezuelan President Hugo Chavez's fiery remarks about George W. Bush and the United States on Sept. 20 at the United Nation's 61st General Assembly led news shows around the globe, generated heavy blog traffic, and triggered strong reactions from both Bush supporters and foes alike, including former President Bill Clinton and House Minority Leader Nancy Pelosi, the latter going as far as to call Chavez a "thug."
What is the public opinion context in which Chavez made these statements -- both in his home country of Venezuela and in other Latin American countries? Recent Gallup World Poll surveys in 18 countries in Latin America asked residents to rate the leadership of both Venezuela and the United States. The resulting responses provide valuable insights into the regional environment in which the controversial Venezuelan president is operating.
The majority of the surveys were conducted in May 2006, with the exception of Venezuela, Brazil, and Mexico, which were polled in December 2005. The results suggest that Latin Americans are not necessarily aligned in their support of Venezuela's leadership nor do they share a common perspective on U.S. leadership.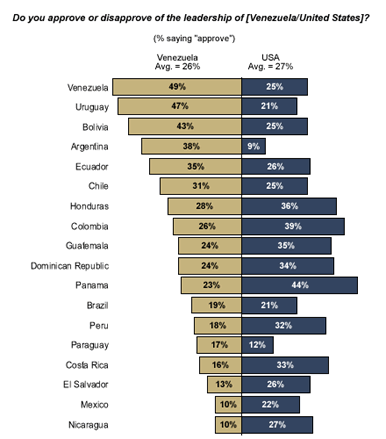 These data lead to the following insights:
Looking at the average for all Latin American countries measured (an average computed by giving each country the same weight regardless of its population), Venezuela's and the United States' leaderships are given similarly low levels of average approval across the countries (26% and 27%, respectively). At the same time, 30% of Latin Americans, on average, disapprove of Venezuela's leadership, while 44% either "didn't know" or "refused" to answer. An average of 42% disapprove of U.S. leadership, and 30% didn't know or didn't answer.


When analyzing net differences in approval ratings (the result of subtracting the percentage who approve of Venezuela's leadership minus the percentage who approve of U.S. leadership), 10 out of 18 countries have a net positive view of the United States' leadership, while 7 have a net positive view of Venezuela's leadership. In Brazil, net differences in approval are slim.
Venezuela's leadership receives only a 49% approval rating among the citizens of its own country, although this is higher than it receives from the residents of any other country in this sample. Venezuela's leadership also receives relative high approval ratings among Uruguayans (47%), Bolivians (43%), and Argentineans (38%) -- countries where Chavez has provided substantial financial help. The leadership gets quite low approval ratings among Mexicans (10%), Nicaraguans (10%), Salvadorans (13%), Costa Ricans (16%), Paraguayans (17%), Peruvians (18%), and Brazilians (19%). Countries with which Chavez has had highly visible diplomatic controversies because of his involvement in their electoral debates and/or friction with their presidents are where Venezuela's leadership earns its highest disapproval ratings: Colombia (55%), Peru (50%), and Mexico (38%).


Ratings of U.S. leadership, on the other hand, are relatively high in Panama (44% approval), Colombia (39%), Honduras (36%), Guatemala (35%), and the Dominican Republic (34%) -- all countries with healthy diplomatic and commercial relations with the United States. U.S. leadership is very poorly perceived by Argentineans (9% approval and 73% disapproval) and Paraguayans (12% approval and 33% disapproval). Venezuelans -- who had traditionally been friendly to the United States -- give approval/disapproval ratings that are just below regional averages (25% approval and 40% disapproval).
These World Poll findings suggest that Latin America is far from being a homogenous region when it comes to the public's opinion of two opposing political leadership views represented by Presidents Chavez and Bush. While Latin Americans do not have favorable opinions of U.S. leadership in general, they do not lean toward favoring Venezuela's leadership either.
The United States' leadership is relatively well perceived in countries with friendly U.S. diplomatic and commercial relations (particularly in Central America and Colombia). Its leadership is less favorably rated in the South Cone (particularly Argentina) and some Andean countries (mainly Bolivia), which have vigorous diplomatic relations with Venezuela and a relatively high perception of its leadership.
Perceptions of Venezuela's leadership are particularly unfavorable in countries where Chavez has expressed hostility toward its presidents in the recent past, such as Peru, Mexico, and Colombia.
Survey Methods
These results are based on face-to-face interviews with randomly selected national samples of approximately 1,000 adults, aged 15 and older who live permanently in the18 Latin American countries polled on May 1-30, 2006 (except for Venezuelan, Mexican, and Brazilian respondents, who were polled in December 2005). For results based on these samples, one can say with 95% confidence that the maximum error attributable to sampling and other random effects is ±3 percentage points. In addition to sampling error, question wording and practical difficulties in conducting surveys can introduce error or bias into the findings of public opinion polls.
Do you approve or disapprove of the leadership of [Venezuela/the United States]?

Approve of leadership
of Venezuela

Approve of leadership of
the United States

Net difference in approval of
leadership of Venezuela
vs. that of the United States

%

%

Pct. pts.

Venezuela

49

25

24

Uruguay

47

21

26

Bolivia

43

25

18

Argentina

38

9

29

Ecuador

35

26

9

Chile

31

25

6

Honduras

28

36

-8

Colombia

26

39

-13

Guatemala

24

35

-11

Dominican Republic

24

34

-10

Panama

23

44

-21

Brazil

19

21

-2

Peru

18

32

-14

Paraguay

17

12

5

Costa Rica

16

33

-17

El Salvador

13

26

-13

Mexico

10

22

-12

Nicaragua

10

27

-17