U.S. leaders more likely to be viewed favorably, but in both cases many Africans have no opinion
GALLUP NEWS SERVICE
Kenyans making their way through the streets of downtown Nairobi now receive warm greetings from a distant land. A billboard titled, "China and Africa Together," invites them to listen to China International Radio on a local FM radio station.
The message reflects a growing effort by Chinese leaders to establish positive relationships in Africa, which they see as important to their diplomatic and economic futures. Last week in Beijing, Chinese officials met with leaders of nearly 50 African countries to discuss trade and diplomatic issues. During the summit, China pledged to double its aid to Africa and provide $5 billion in loans and credits. The growing relationship has reportedly generated concern among Western leaders who worry it may weaken their own efforts to reduce corruption and improve economic stability in Africa.
Gallup World Poll data from across Africa indicate that at this point, both China and the United States have an opportunity to give undecided Africans the impression that their leadership is more committed to policies that promote African development. Majorities of residents in 14 African countries say they approve of the leadership in the United States, while majorities in 13 countries approve of the leadership in China. However, across the 19 sub-Saharan African countries surveyed for the Gallup World Poll, nearly one in four inhabitants (24%) say they have no opinion about U.S. leadership, and one in three (34%) have no opinion about Chinese leadership.
Approval Ratings in Sub-Saharan Africa
The overall approval ratings for the United States and China are based on a sample of 19,002 respondents in 19 countries in sub-Saharan Africa. Respondents were asked whether they approve or disapprove of the leadership of each of a list of countries, including the United States, the United Kingdom, Germany, France, Russia, and China. The respondent could approve, disapprove, volunteer a "don't know" response, or simply refuse to answer. By and large, there were few refusals, but a large percentage of "don't knows." These latter two groups were combined to form the "undecided" category in the graph.
Across the 19 African countries surveyed, 59% say they approve of the United States' leadership, 17% disapprove, and 24% are undecided. By comparison, 51% say they approve of China's leadership, while 15% disapprove and 34% are undecided. With nearly one in four African respondents undecided about America's leadership, and slightly more than one in three undecided about China's, both countries have much to gain or lose with respect to their images across the continent.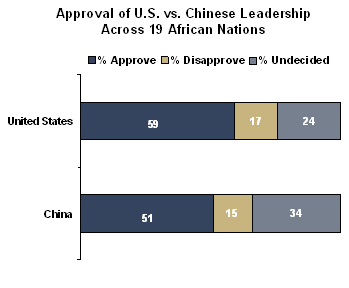 The leaderships of the United States and China have a majority approval rating in Benin, Burkina Faso, Cameroon, Ethiopia, Ghana, Madagascar, Mali, Mozambique, Senegal, Sierra Leone, Zambia, and Zimbabwe. Neither country's leadership has an approval rating greater than 50% in Botswana, South Africa, Tanzania, and Uganda. In only a few African nations do a majority approve of one country's leadership, but not the other: A majority of Kenyans and Nigerians approve of U.S. leadership, but not Chinese; while in Angola, China's leaders have a majority approval rating but America's do not.
In most of the countries where less than a majority approves of U.S. leadership -- including Angola, Botswana, Tanzania, and Uganda -- the approval rating is just a few percentage points shy of 50%. The same is true for China in Botswana, Kenya, Nigeria, and Tanzania. Ugandans, however, are twice as likely to say they approve of American leadership as they are Chinese leadership (49% vs. 24%, respectively).
South Africans are least likely to say they approve of the leadership in both countries. But that's largely because in each case a majority of South Africans say they don't know or refuse to answer. More than half of South Africans (53%) are undecided about U.S. leadership, while a full two-thirds (67%) offer no opinion of the leadership in China.
The following table presents a comparison of the approval ratings of American and Chinese leadership among each African population included in the survey.
Country Comparison of U.S. and China Leadership Ratings

Country

Ratings

Sample Size

Approve

Disapprove

Undecided

%

%

%

Angola

1,000

USA

48.6

18.4

33.0

China

53.0

11.0

36.0

Benin

1,000

USA

51.5

25.6

22.9

China

63.8

17.3

18.9

Botswana

1,000

USA

48.8

33.1

18.1

China

47.1

25.6

27.3

Burkina Faso

1,000

USA

64.8

22.4

12.8

China

68.6

10.0

21.4

Cameroon

1,000

USA

57.6

28.0

14.4

China

69.6

17.8

12.6

Ethiopia

1,000

USA

65.1

16.5

18.4

China

59.6

14.8

25.6

Ghana

1,000

USA

74.1

9.7

16.2

China

63.2

11.0

25.8

Kenya

999

USA

55.8

16.5

27.7

China

46.5

12.7

40.8

Madagascar

1,000

USA

83.8

9.8

6.4

China

64.4

29.5

6.1

Mali

1,000

USA

76.7

16.1

7.2

China

81.3

11.2

7.5

Mozambique

1,001

USA

77.9

20.8

1.3

China

62.2

33.5

4.3

Nigeria

1,000

USA

60.7

12.8

26.5

China

47.0

10.6

42.4

Senegal

1,001

USA

66.1

31.0

2.9

China

82.1

11.2

6.7

Sierra Leone

1,001

USA

83.0%

9.9%

7.1%

China

68.6%

21.3%

10.1%

South Africa

1,001

USA

31.6

15.2

53.2

China

22.8

10.2

67.0

Tanzania

999

USA

47.1

20.1

32.7

China

47.6

15.6

36.7

Uganda

999

USA

48.9

8.6

42.4

China

24.2

15.6

60.2

Zambia

1,001

USA

60.6

29.7

9.7

China

63.9

25.2

10.9

Zimbabwe

1,000

USA

60.1

30.2

9.7

China

57.1

31.1

11.8

Total

19,002

USA

58.7

16.6

24.7

China

51.1

14.7

34.1
Survey Methods
Results are based on face-to-face interviews with randomly selected national samples of approximately 1,000 adults, aged 15 and older, who live permanently in the 19 African nations surveyed. For results based on these samples, one can say with 95% confidence that the maximum error attributable to sampling and other random effects is ±3 percentage points. In addition to sampling error, question wording and practical difficulties in conducting surveys can introduce error or bias into the findings of public opinion polls.