Majority of Republicans unaware of his Iowa victory, however
GALLUP NEWS SERVICE
PRINCETON, NJ -- Republican presidential candidate Mitt Romney has posted modest gains over the last two weeks, both in his favorable rating and in his positioning in the race for the Republican presidential nomination. One presumption is that Romney's gains reflect the visibility that followed his win in the Iowa Republican Party straw poll last weekend, although data in the new Gallup Poll show that only a third of Republicans nationwide are directly aware that Romney won this unofficial contest.
Republican Horse Race
Romney now receives 14% of Republicans' votes when they are asked whom they would like as their party's presidential nominee, up from 8% in each of the two previous Gallup Polls conducted in July and early August. Romney's current positioning puts him slightly behind front-runner Rudy Giuliani and unannounced candidate Fred Thompson, but slightly ahead of John McCain, who slips to 11% in this poll.
Which of these candidates would you be most likely
to support for the Republican nomination?
among Republicans and Republican-leaning independents




 

2007 Jun 11-14

2007 Jul 6-8

2007 Jul 12-15

2007 Aug 3-5

2007 Aug 13-16

 

 

 

 

 

Giuliani

29

32

33

33

32

F. Thompson

21

21

21

21

19

Romney

8

9

8

8

14

McCain

20

16

16

16

11

Huckabee

3

2

2

2

4

Paul

2

*

3

2

3

Hunter

2

3

1

1

2

Hagel

1

1

*

1

1

Brownback

2

1

2

1

1

Tancredo

1

2

*

1

1

T. Thompson

2

2

1

2

n/a

Gilmore

1

*

*

n/a

n/a

Pataki

n/a

n/a

n/a

n/a

n/a

Other

*

*

1

2

1

None/No opinion

8

10

11

10

11

 * Less than 0.5%
Romney's positioning is not a new high point for the former Massachusetts governor; he was at 14% in a Gallup Poll in early June. At that time, however, McCain had a clear claim on second place, while Romney was roughly tied with Thompson for third. The accompanying graph shows the relative positioning of the four leading candidates since February.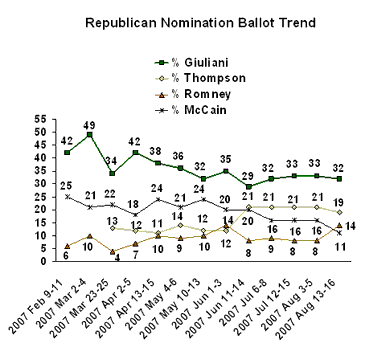 These data are based on the Republican ballot and do not include preferences for former Speaker of the House Newt Gingrich. When the ballot is further re-calculated to reflect only the currently declared candidates (thus excluding not only Gingrich but also Thompson and Chuck Hagel), Giuliani is supported by 39% of Republicans, Romney by 17%, McCain by 15%, and Mike Huckabee -- who finished second in the Iowa straw poll -- by 7%. Giuliani and McCain did not participate in the straw poll.
Favorable Rating
Romney's favorable rating has jumped from 22% to 33% over the past two weeks, while his unfavorable rating has fallen from 31% to 24%.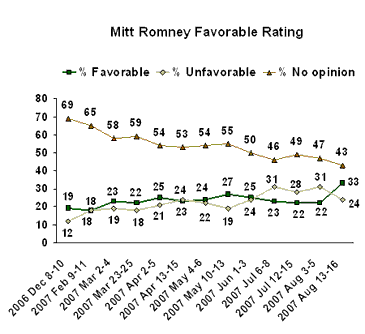 Romney's favorable rating had been in the 22% to 23% range over the previous three polls conducted in July and August, with a higher unfavorable than favorable rating in each of these polls. Although his favorable rating had been as high as 27% in May, the current 33% is his highest to date.
Forty-nine percent of Republicans now have a favorable opinion of Romney, compared with 36% in the prior poll. At the same time, Romney's unfavorable rating among Republicans dropped from 20% to 16%. All in all, Romney's name identification among Republicans -- the percentage who have an opinion of him -- jumped by nine points over the last two weeks.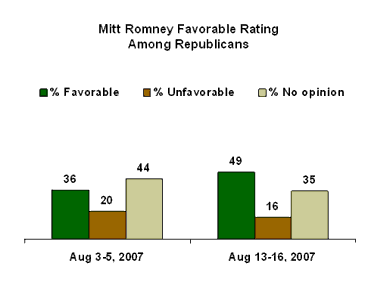 Still, despite these gains for Romney, his favorable rating among Republicans remains below Giuliani's and McCain's, and although he shares similar favorable ratings with Thompson, his unfavorable rating is more than twice as high. Romney is, however, better known than Thompson (despite the latter's film and TV exposure), and much better known than Huckabee or Sam Brownback.
Opinion Ratings Among Republicans of
Six Republican Current or Potential Presidential Candidates
Aug. 13-16, 2007

Favorable

Unfavorable

Don't know/
No opinion

%

%

%

Rudy Giuliani

77

14

9

John McCain

59

28

13

Fred Thompson

50

7

43

Mitt Romney

49

16

35

Mike Huckabee

30

8

62

Sam Brownback

14

13

73
Awareness of the Iowa Straw Poll Victory
Romney won the Iowa straw poll a week ago with 32% of the vote of Republicans who cast their straw-poll ballots, followed by Huckabee with 18%. One could assume that Romney's image and vote gains in the Aug. 13-16 Gallup Poll reflect in part the positive visibility he received as a result of that victory. That may be the case, but a separate question asked at the end of the poll shows that only a third of Republicans could name Romney as the winner in Iowa.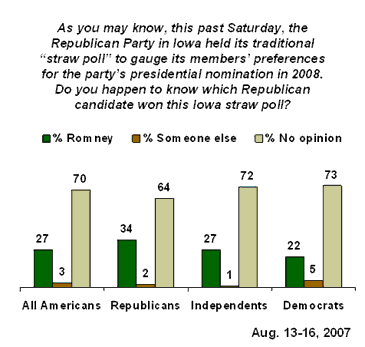 The change in Romney's positioning in the current poll could in theory have occurred only among Republicans who were aware of his victory in Iowa, but there is no way to know that for sure because there is no way to trend this group to the pre-straw poll survey.  
The sample size of Republicans who were aware that Romney had won the Iowa straw poll is quite small (n=178), but it is of interest to look at the vote preferences among this group. The data show that Thompson has a slight lead over Romney among this group, with Giuliani slightly further behind. This finding may reflect the pre-existing characteristics of the group most likely to follow GOP politics closely, or it may be a result of the characteristics of those who were paying attention to the Iowa straw poll specifically. But it is true that Romney (and Thompson) does better among Republicans who were aware of Romney's victory in Iowa than among those who were not.
Summary
All in all, the general finding is that Romney has enjoyed a modest improvement in his standing among Republicans, and that this improvement coincides with the time of his victory in the Iowa straw poll.
Survey Methods
Results are based on telephone interviews with 1,019 national adults, aged 18 and older, conducted Aug. 13-16, 2007. For results based on the total sample of national adults, one can say with 95% confidence that the maximum margin of sampling error is ±3 percentage points. In addition to sampling error, question wording and practical difficulties in conducting surveys can introduce error or bias into the findings of public opinion polls.