A recent Gallup Poll Tuesday Briefing article (see "Public Gives Organized Religion Its Lowest Rating" in Related Items) reported that the 2002 Gallup Index of Leading Religious Indicators dropped to an all-time low of 641, down from 671 in 2001. While the scandals in the Catholic Church no doubt played the greatest role in that drop, other factors may also have contributed to the lowest assessment of Americans' religiosity in 61 years.
Lack of Confidence in America
The American people have had to deal with several economic shocks over the past year. Numerous corporate accounting scandals, CEOs raiding employee pension plans for personal profit, a "soft" economy (78% of consumers currently rate economic conditions as "only fair" or "poor"), and a turbulent stock market have all culminated in a decline in the public's ratings of the honesty and ethics of business executives and stockbrokers and its confidence in "big business."
In addition, President Bush's overall approval ratings, though still well above average, have steadily declined. Bush currently receives comparatively low marks in a few specific areas -- particularly domestic affairs, such as his handling of the economy (48% approve, 47% disapprove), taxes (49% approve, 45% disapprove), the federal budget (43% approve, 47% disapprove), and healthcare policy (41% approve, 44% disapprove).
It's not a huge stretch to presume that this sense of declining confidence in the country's economic and political circumstances may have heightened the public's disillusionment about American institutions in general. The 2002 Catholic Church scandals notwithstanding, it is not surprising given all this negativity that the public's confidence in organized religion and religious leaders has also dropped. This decline in trust is not lost on corporate, religious, social, and academic leaders -- the theme of the World Economic Forum's annual meeting this week in Davos, Switzerland, is "Building Trust." (See Related Sites.)
What Can Religious Leaders Do?
Faced with such increased anxiety, what can leaders of faith communities do to maintain their members' confidence in their institutions? The key is to raise the level of engagement of congregation members. Gallup research indicates that nearly three-fourths (74%) of members of congregations in the United States are not engaged in their faith communities (see "Breakthrough Research on Congregational Engagement" in Related Items)*, and are thus more likely to be affected by negative religious news. Those who are engaged in their congregations are more likely to have a positive view of organized religion than those who are not engaged or actively disengaged.
During difficult times, one of the most helpful things spiritual leaders can do is elevate the positivity of their followers. Gallup data show that those who feel good about their congregations (i.e., those who are more engaged) also tend to feel better about the conditions in their personal lives -- no matter what may be happening around them.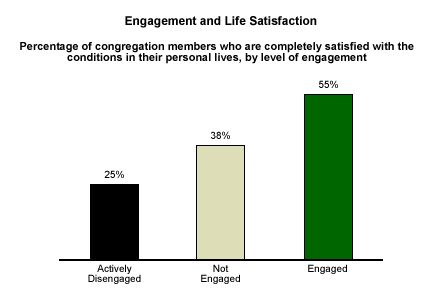 Bottom Line
When individuals feel as if there is nothing they can do to stop the negativity around them, it is important for them to feel that they can at least make a difference in the organizations of which they are a part. If members sense that what they think, say, and do make a positive contribution to their congregations, they are going to participate more actively in -- and feel more ownership of -- those congregations.
When people are more engaged in their faith communities, they are more positive about the conditions of their personal lives and life in general. Given the hundreds of thousands of faith communities across the country, increasing engagement in those communities could go a long way toward elevating the positivity of the entire nation.
*Results are based on telephone interviews with 729 adult members of a church, synagogue, or other religious faith community, aged 18 and older, conducted October through November 2001. For results based on this sample, one can say with 95% confidence that the margin of sampling error is ±3.6%.