Results from Gallup's second annual National Congregational Engagement Index* indicate that, despite a drop in Americans' confidence in organized religion overall, there has been little change over the last year in the degree to which Americans are engaged in their own religious congregations. The new data, collected during November and December 2002, reveal that the percentage of "engaged" members of congregations of all faiths has remained about the same, 28% compared to 26% one year ago. The percentage of "not engaged" and "actively disengaged" members also held steady, and are currently at 55% and 17%, respectively.
Gallup's congregational engagement survey is designed to measure the degree to which churchgoing Americans are actively involved and engaged in their faith communities. Engaged congregation members are intensely loyal and have a strong psychological connection to the congregations they belong to. Those who are not engaged may attend services regularly, but they are not psychologically connected to their congregations. Actively disengaged members are unhappy with their congregations and insist on sharing that unhappiness with just about everyone.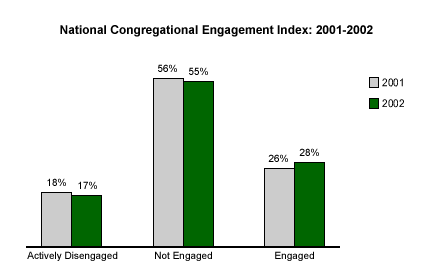 Measuring engagement is crucial for congregations because engagement drives all other factors in a congregation's life. (See "The Driving Factor Behind Spiritual Health" in Related Items.)
According to this year's data:
Engaged members are three times more likely to be "fully spiritually committed" than those who are not engaged and 19 times more likely to be fully spiritually committed than actively disengaged members. Individuals who are fully spiritually committed answered "strongly agree" to all nine items on Gallup's spiritual engagement metric.
Engaged members are 1½ times more likely than those who are not engaged to strongly agree that they are satisfied with their lives, and three times more likely than those who are actively disengaged.
Engaged members are nearly three times more likely to have invited someone to their congregation in the past month than not engaged members, and 9½ times more likely than actively disengaged members.
Engaged members spend a median of two hours per week in community service. For not engaged members, the median number of hours per week is one; among actively disengaged members, the median is zero.
Engaged members give almost twice as much money to their congregations as those who are not engaged, and more than three times as much as those who are actively disengaged.
Bottom Line
Engagement is the key driver of the most important outcomes in measuring congregational effectiveness. Furthermore, new engagement figures suggest that nationwide, members' likelihood to be engaged in their congregations has remained stable in the face of American's reduced confidence in organized religion -- a drop largely attributable to the scandals that have plagued the Catholic Church in the past year. Congregation leaders who devise strategies to reinforce and build on those engagement levels will end up with stronger, more effective faith communities.
*Results are based on telephone interviews with 1,000 adult members of a church, synagogue, or other religious faith community, aged 18 and older, and 500 non-members, conducted in November and December 2002. For results based on this sample, one can say with 95% confidence that the margin of sampling error is ±2.6%.