In an industry where turnover is endemic, Weiser Security has discovered an innovative way to retain talented employees while keeping engaged customers. What's more, it's a model that companies in any industry can follow.
Just over a decade ago, when sales and profitability had plateaued, Weiser's leadership began dissecting its business strategy with an eye toward creating systems to manage and foster growth. It was clear to senior executives that sustained growth was hampered by turnover of security guards and clients. Though they didn't have the data at that time to prove it, they suspected that those twin turnover problems were closely related. They began formulating a plan to deal with both.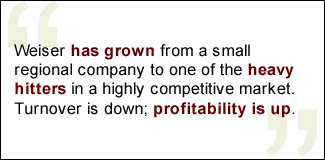 Weiser is a company that prides itself on leaving nothing to chance -- in fact, its clients rely on it to do just that. So it's no surprise that every aspect of its plan for success was mapped out in rigid detail. And the results? Over the past 10 years, Weiser has grown from a small regional security company to one of the heavy hitters in a highly competitive market. Weiser's security officers work in airports, office buildings, industrial plants, hospitals, and many Fortune 500 companies. Turnover is down; profitability is up.
If you ask Weiser's executives how they achieved this success, their answer will be: Focus on employees. If workers are happy and engaged, they say, the customer relationship prospers and grows accordingly.
A strategy for success
Weiser Security was founded in 1970 by Earl Weiser, a retired New Orleans police officer. By the mid 1970s, Weiser had grown modestly to about 30 employees. In 1976, Earl turned over the company's leadership to his grandson, Michael Weiser, who expanded the company's presence across the South. Along the way, the Weiser formula for success became entrenched in the company culture, planting the seeds for growth. Weiser now employs more than 3,500 officers and has become the largest guard company in the South.
Weiser's leadership developed a formula for success by looking objectively and rigorously at the business problems they faced -- and by being open to new ideas, discoveries, and tools that would help overcome those problems. While most of the security guard industry strictly emphasized gaining and keeping customers, for example, Weiser's leaders gambled heavily on the idea that engaged employees would be more customer-focused, less likely to leave, and more likely to care about clients and their safety. And they were right. By focusing on finding the right employees, then keeping them engaged, Weiser has cut turnover and strengthened customer relationships.
Greeters, Graveyarders, Grinders, and Gratifiers
The company's focus on matching the right person to the right role is obvious to every security guard applicant. Weiser has guards posted in many different settings, and each setting requires a different set of talents to be successful.
"Contrary to popular opinion, not everyone can be a good security officer, and not every person who is qualified is going to be a fit for every role," says Chief Operating Officer Len Kline.
Weiser's scientific selection process screens out potential applicants who would not be a fit for the job. Those who are a fit are placed into one of four categories -- Greeters, Graveyarders, Grinders, and Gratifiers -- depending on their (a) talent to handle activity and (b) need for and comfort with dealing with people. Graveyarders, for example, typically work alone, while Gratifiers are a good fit for complex duties with more public and client contact.
Kline and the rest of the leadership team were sure that finding the right role for each individual was foundational to success in any organization. And when turnover and productivity numbers improved somewhat after the security officer selection process was implemented, they knew they were on the right track. But they knew that even more improvement was possible.
It turns out that Greeters, Graveyarders, Grinders, and Gratifiers needed a great workplace.
5 Rs and 12 Qs
Weiser's leadership began the next phase of building that great workplace by developing the "5 Rs":
Right match
Relationship
Recognition
Right expectations
Respect
Weiser wanted to systematically monitor these 5 Rs to help the company continuously improve them. The selection tool took care of the first R by finding the right match. The other 4 Rs, however, were more difficult to change.
When it comes to Recognition, for example, security personnel often receive recognition only when there's been trouble. "In our business, it's extremely easy to recognize people -- the guards, their management, and supervisors -- when something goes wrong," Kline says. "It's not natural to recognize them when something goes right, because the customer expects that level of service."
After reading First, Break All the Rules, Gallup's best-selling book about building better workplaces, Kline contacted Gallup to learn more. (See the First, Break All the Rules Book Center in the "See Also" area on this page.) He discovered that Gallup had developed the Q12, a 12-item employee survey that yields actionable results that link strongly to retention, productivity, profitability, customer engagement, and safety -- business outcomes that complemented Weiser's "5 Rs."
Rising scores
Weiser's first Q12 administration revealed some of the challenges involved in conducting this type of survey in a widely dispersed organization. Many security guards work completely alone, seeing no one until the guard for the next shift appears. Communication in this environment can be difficult at best.
Despite this hurdle, almost 70% of Weiser's employees participated in the first survey. The company's overall score placed it above the 70th percentile in Gallup's workplace engagement database -- a respectable result. Each workgroup then formulated action plans that were focused on improving the overall level of employee engagement.
The process proved effective: At one location, the officers were so eager to boost their scores that they asked for ongoing evaluations to determine how their workgroup was progressing on its action plan. Another location put systems in place to ensure follow-up related to the survey item "I have the materials and equipment I need to do my work right." That site greatly improved its customer service scores and productivity. (See the sidebar "The 12 Elements of Great Managing.")
Weiser's Q12 results improved from year one to year two. The company's response rate rose to 76%, while its ranking rose to the top quartile in Gallup's database of workplace engagement. What's more, Weiser showed overall improvement on every survey item, with the most gains on items that focus on recognition, valuing employee opinions, and progress in the workplace. Weiser is currently at about the 90th percentile in Gallup's database on the item "At work, I have the opportunity to do what I do best every day." The company is above the 80th percentile on the items "I know what is expected of me at work" and "The mission or purpose of my company makes me feel my job is important." Results like these can be achieved by paying attention to the survey results, then devising and working on solid action plans to improve them.
Turnover has dropped dramatically over the past four years, positively affecting the bottom line. "Raising customer retention by 1% raises revenue by $765,000. That's powerful," Kline says. And client retention has risen each year for the past five years, far exceeding the industry average. Already with healthy customer retention, Weiser's retention increased by four percentage points in 2001 and by two points each subsequent year, all while growing by 15% per year.
Better communication
Communication across the board has improved considerably, thanks to the many good ideas that have come from Q12 action-planning sessions. For example, on-site guard posts are filled with handwritten special recognition cards that guards write to one another for jobs well done. The purpose is to build people up with a positive focus on their "R" for Recognition. Workgroups have also developed "pass-along logs" that allow one shift to relay potential issues and problems to officers on the next shift -- a direct result of Q12 action planning by security officer teams.
Weiser learned from its first survey that a class of site supervisors was not as engaged as other positions, and it has begun publishing an internal newsletter focused on these crucial supervisors. SuperNews details the best practices of the best performing supervisors (based on Q12 scores).
Many of Weiser's officers are pleased to have the opportunity to rate their workplaces and to have a hand in improving them. "The process is so simple," says Theresa Hanchett, a Houston, Texas, security officer. "It gives us an idea of what's expected of us and provides a chance to give our opinions and work as a team." Ten-year Captain Felicia Phillips, also based in Houston, says that this process "gives us knowledge about our issues, and it allows us to plan together and focus as a team on how to fix them."
Weiser's senior managers believe that Q12 helps them detect troubled workplaces and make positive changes -- before they can damage the client relationship. "The Q12 is a leading indicator. Everything else we've used in the past has been a lagging indicator," Kline says. "Without Q12, we might have lost some accounts. That alone pays for doing the survey."
Perhaps most importantly, Weiser's clients experience the company's commitment to improving the workplace firsthand, and they see how that commitment positively affects the service Weiser provides to them. One hospital client that was considering using another security company -- before seeing how the sessions engaged the workplace -- recently decided not only to continue using Weiser, but also volunteered a rate increase.
Weiser's commitment to building a better workplace is also having an impact on how its guards view what they do every day. "Security is developing into the kind of industry and profession that people want to get into," says John Buttiglieri, a Weiser branch manager. "Most Weiser security guard officers realize just how important their job is now in a way that perhaps they did not before."
More potential applicants
In post-9/11 America, security needs are on the rise. Federal law now requires more security in shipyards, along waterfronts, and in other potentially vulnerable locations. Weiser is well positioned to grow by meeting those needs.
"As a company, we use more ratios to run our business than should be allowed by law," Kline says. "But we didn't move the overall bar until we began to focus on what some would call the psychological and emotional issues of relationship and recognition."