Super Tuesday was a blowout for Massachusetts Sen. John Kerry, who won 9 of the 10 states holding contests, losing only in Vermont to former Gov. Howard Dean in Dean's home state. The closest contest was in Georgia, where Kerry beat North Carolina Sen. John Edwards by six percentage points, 47% to 41%. For the most part, the pre-election polls accurately predicted the outcome, though in Maryland, two polls presented very different pictures of the electorate.
As a reference point for its exit polls each week, Edison/Mitofsky Research compiles all of the most recent pre-election poll results published about the states holding contests. On Super Tuesday, Edison/Mitofsky found that no recent polls had been conducted in Minnesota, Vermont, or Massachusetts, and only one pre-election poll each in Rhode Island and Connecticut. In the other five states, there were multiple polls, and a comparison of the average results in each state with the actual vote reveals how close the polls were.
Pre-Election Polls Compared With Voting
Results in Five Primaries

Kerry

Edwards

Other

California

%

%

%

Polls

60

25

15

Actual

64

20

10

Diff

-4

+5

Georgia

Polls

48

42

10

Actual

47

41

13

Diff

+1

-1

Maryland

Polls

54

34

12

Actual

60

26

14

Diff

-6

+8

New York

Polls

64

20

16

Actual

61

20

19

Diff

+3

0

Ohio

Polls

52

34

14

Actual

52

34

14

Diff

0

0
The pre-election polls in Georgia were quite accurate, showing Kerry ahead of Edwards by an average of six points, which was also his actual margin of victory. There was one major exception -- the Insider Advantage poll, which had Kerry ahead by 21 points, 46% to 25%.
Two Tales in Maryland
Like most of the other states, Maryland gave Kerry a resounding victory. However, on the Friday before the primary, the American Research Group (ARG) released the results of their latest poll showing a tight race, with Kerry leading Edwards by just seven points (42% to 35%). The same day, Mason-Dixon released a poll showing a 42-point lead for Kerry, 62% to 20%.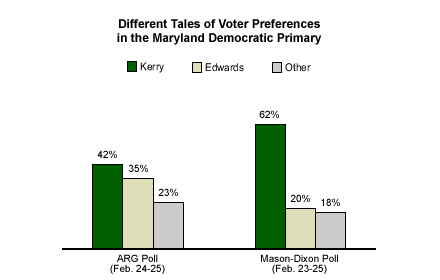 No statistics can reconcile the two very different polls. At least one of them had to be wrong.
On Feb. 28, ARG released a new poll showing Kerry with a 12-point lead, 46% to 34%, suggesting the margin was widening. The actual vote gave Kerry a 34-point victory, 60% to 26%.
Could ARG have been right the previous week, showing a close race that blew wide open in the final days? The exit poll in Maryland says no. If anything, the race actually narrowed as election day approached. The exit poll found 33% of voters saying they had made up their minds in the past week, and that group favored Kerry by just 10 points, 46% to 36%. The 65% who had made up their minds earlier favored Kerry by a much larger margin of 47 points, 67% to 20%.
So, what happened? I asked ARG owner Dick Bennett whether there was something about his sampling in Maryland that had contributed to the large difference between his final poll numbers and the actual vote. He said he had interviewed only registered Democrats, since they alone were allowed to participate (unlike Georgia, where independents and Republicans could vote in the Democratic primary), and that his sampling approach was otherwise unchanged. So, sampling was not likely the reason for the problem.
Bennett faults his likely voter calculation for his low estimate of Kerry's victory margin. That calculation is based primarily on one question that asks respondents to rate their likelihood of voting on a 10-point scale. All who give a score of seven or higher are classified as "likely" voters. That model worked decently well in Georgia, Ohio, and New York, but badly in Maryland.
Kerry's Margin of Victory in Four Primaries
Compared by ARG Polls and Actual Vote

ARG's
Margin

Actual
Margin

Difference

Pct Pnts

Pct Pnts

Pct Pnts

Ohio

21

18

+3

Georgia

10

6

+4

New York

33

41

-8

Maryland

12

34

-22
While ARG results were off by just 3 points to 4 points in Ohio and Georgia, and 8 points in New York, they were off by 22 points in Maryland. Bennett said that among respondents in Maryland who gave a 10 on their likelihood of voting in the primary, 55% said they would vote for Kerry, just 25% for Edwards -- a 30-point margin that is quite close to the actual vote. Among respondents who gave a lower score, from 7 to 9, many more were likely to vote for Edwards, thus making ARG's final results less favorable to Kerry than the actual results.
Had Bennett included only the respondents scoring a 10 in Maryland, his poll would have been much closer to the actual vote tally. But had he used that same procedure in Ohio and Georgia, his Kerry margin would have been much larger, and thus farther off the actual vote. In New York, that approach might have yielded figures a bit closer to the final results.
ARG's experience illustrates the problems pollsters confront when they try to determine which of their respondents will actually turn out to vote. ARG's likely voter "model," based on just the one question, is a relatively simple approach to classifying voters. Most polling firms I know use at least two questions, while some -- like Gallup -- typically use five or more questions. With additional questions, the researcher can measure respondents' past voting behavior and interest in the campaign, both of which can be used to help refine the likely voter classification.
Whatever the exact cause of the problem, the fact remains: ARG's polling in Maryland was woefully off the mark. A 22-point difference should not be treated lightly.