PRINCETON, NJ -- Overall, 66% of Americans report that they received a federal tax rebate this spring and summer, with those in the middle-income range -- 78% -- getting a comparatively higher percentage of rebates, as the program's design intended.
Tax Rebate Distribution
The economic stimulus bill became law on Feb. 13, 2008. The last regular distribution of the federal tax rebate checks was sent out around July 11. The idea behind this emergency legislation was to cushion American consumers against the ill effects of the economic slowdown/recession by providing them with immediate cash payments.
Over the past several months, Gallup has been surveying consumers to determine who has and has not received a tax rebate. In a final survey conducted July 21-23, about two weeks after the last rebate checks were deposited or mailed, two in three Americans reported that they had received a rebate. As noted previously, middle-income Americans received a greater proportion of rebates, which is to be expected because the program was designed to provide payments to taxpayers but excluded those having the highest incomes. The tax rebates also tended to go proportionally more to those aged 30 or older, reflecting the fact that many Americans under 30 are still in school and not earning the minimum income necessary to receive a tax rebate of their own.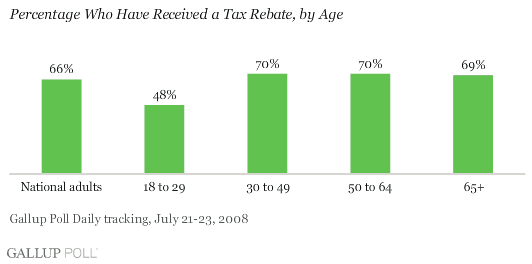 Commentary
On Thursday, the Commerce Department reported that the U.S. economy grew only 1.9% in the second quarter after growing only 0.9% in the first quarter of this year. This was a somewhat disappointing performance for the economy, given the much hoped-for boost that the federal tax rebate program was supposed to provide. Of course, if the tax rebates had not been distributed, the economy could have been even worse during recent months.
Right now, the hope is that many consumers who did not spend as much of their tax rebates as they might have will do so during the back-to-school sales season. Retailer hopes for a decent performance during this important sales period are based on this leftover tax rebate hope combined with the recent drop in gas prices at the pump.
Survey Methods
Gallup is interviewing no fewer than 1,000 U.S. adults nationwide each day during 2008. The economic questions analyzed in this report are asked of a random half-sample of respondents each day. The results reported here are based on combined data of 959 interviews conducted July 21-23, 2008. For results based on this sample, the maximum margin of sampling error is ±3 percentage points.
Interviews are conducted with respondents on land-line telephones (for respondents with a land-line telephone) and cellular phones (for respondents who are cell-phone only).
In addition to sampling error, question wording and practical difficulties in conducting surveys can introduce error or bias into the findings of public opinion polls.
To provide feedback or suggestions about how to improve Gallup.com, please e-mail feedback@gallup.com.