Presidential Approval Ratings -- Bill Clinton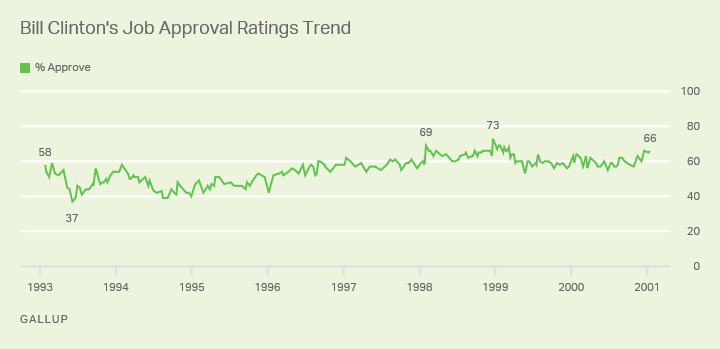 % Approve
1993-2001 term average
55
First-term average
50
Second-term average
61
High point
73 (Dec 19-20, 1998)
Low point
37 (Jun 5-6, 1993)
Gallup
Approve
Disapprove
No opinion

%

%

%

2001
2001 Jan 10-14
66
29
5
2001 Jan 5-7
65
31
4
2000
2000 Dec 15-17
66
32
2
2000 Dec 2-4
60
35
5
2000 Nov 13-15
63
33
4
2000 Oct 25-28
57
38
5
2000 Oct 6-9
58
37
5
2000 Sep 11-13
60
34
6
2000 Aug 29-Sep 3
62
35
3
2000 Aug 18-19
62
35
3
2000 Aug 11-12
58
39
3
2000 Aug 4-5
57
40
3
2000 Jul 25-26
57
39
4
2000 Jul 14-15
59
37
4
2000 Jul 6-9
59
36
5
2000 Jun 22-25
55
40
5
2000 Jun 6-7
60
36
4
2000 May 18-21
57
37
6
2000 May 5-7
57
36
7
2000 Apr 28-30
59
39
2
2000 Mar 30-Apr 2
62
34
4
2000 Mar 17-19
56
39
5
2000 Mar 10-12
63
34
3
2000 Feb 25-27
57
39
4
2000 Feb 14-15
62
34
4
2000 Feb 4-6
63
33
4
2000 Jan 25-26
64
32
4
2000 Jan 17-20
62
35
3
2000 Jan 13-16
59
37
4
2000 Jan 7-10
63
35
2
1999
1999 Dec 20-21
57
36
7
1999 Dec 9-12
56
41
3
1999 Nov 18-21
59
36
5
1999 Nov 4-7
58
38
4
1999 Oct 21-24
59
36
5
1999 Oct 8-10
56
39
5
1999 Sep 23-26
59
38
3
1999 Sep 10-14
60
38
2
1999 Aug 24-26
60
35
5
1999 Aug 16-18
59
36
5
1999 Aug 3-4
60
35
5
1999 Jul 22-25
64
31
5
1999 Jul 16-18
58
38
4
1999 Jul 13-14
59
37
4
1999 Jun 25-27
57
41
2
1999 Jun 11-13
60
37
3
1999 Jun 4-5
60
35
5
1999 May 23-24
53
42
5
1999 May 7-9
60
35
5
1999 Apr 30-May 2
60
36
4
1999 Apr 26-27
60
35
5
1999 Apr 13-14
60
36
4
1999 Apr 6-7
59
35
6
1999 Mar 30-31
64
32
4
1999 Mar 19-21
64
33
3
1999 Mar 12-14
62
35
3
1999 Mar 5-7
68
28
4
1999 Feb 26-28
66
31
3
1999 Feb 19-21
66
30
4
1999 Feb 12-13
68
30
2
1999 Feb 4-8
65
33
2
1999 Jan 22-24
69
29
2
1999 Jan 15-17
69
29
2
1999 Jan 8-10
67
30
3
1998
1998 Dec 19-20
73
25
2
1998 Dec 15-16
63
33
4
1998 Dec 12-13
64
34
2
1998 Dec 4-6
66
30
4
1998 Nov 20-22
66
30
4
1998 Nov 13-15
66
31
3
1998 Oct 29-Nov 1
66
30
4
1998 Oct 23-25
65
32
3
1998 Oct 9-12
65
32
3
1998 Oct 6-7
63
34
3
1998 Sep 23-24
66
31
3
1998 Sep 14-15
63
35
2
1998 Sep 11-12
63
34
3
1998 Aug 21-23
62
35
3
1998 Aug 10-12
65
30
5
1998 Aug 7-8
64
32
4
1998 Jul 13-14
63
31
6
1998 Jul 7-8
61
34
5
1998 Jun 22-23
60
34
6
1998 Jun 5-7
60
34
6
1998 May 8-10
64
31
5
1998 Apr 17-19
63
31
6
1998 Mar 20-22
66
28
6
1998 Mar 6-9
63
31
6
1998 Feb 20-22
66
29
5
1998 Feb 13-15
66
30
4
1998 Jan 30-Feb 1
69
28
3
1998 Jan 25-26
59
37
4
1998 Jan 24-25
60
35
5
1998 Jan 23-24
58
36
6
1998 Jan 16-18
60
30
10
1998 Jan 6-7
59
32
9
1997
1997 Dec 18-21
56
36
8
1997 Nov 21-23
61
30
9
1997 Nov 6-9
59
31
10
1997 Oct 27-29
59
32
9
1997 Oct 3-5
55
36
9
1997 Sep 25-28
58
33
9
1997 Sep 6-7
61
28
11
1997 Aug 22-25
60
34
6
1997 Aug 12-13
61
32
7
1997 Jul 25-27
58
34
8
1997 Jun 26-29
55
36
9
1997 May 30-Jun 1
57
35
8
1997 May 6-7
57
35
8
1997 Apr 18-20
54
37
9
1997 Mar 24-26
59
35
6
1997 Feb 24-26
57
33
10
1997 Jan 30-Feb 2
60
31
9
1997 Jan 10-13
62
31
7
1997 Jan 3-5
58
35
7
1996
1996 Dec 9-11
58
34
8
1996 Nov 21-24
58
35
7
1996 Oct 26-29
54
36
10
1996 Oct 2-3
57
36
7
1996 Oct 1-2
58
34
8
1996 Sep 7-9
60
31
9
1996 Aug 30-Sep 1
60
33
7
1996 Aug 23-25
53
39
8
1996 Aug 16-18
52
39
9
1996 Aug 5-7
57
36
7
1996 Jul 25-28
58
35
7
1996 Jul 18-21
57
35
8
1996 Jun 27-30
52
42
6
1996 Jun 18-19
58
37
5
1996 May 28-29
53
38
9
1996 May 9-12
55
39
6
1996 Apr 25-28
56
37
7
1996 Apr 9-10
54
40
6
1996 Mar 15-17
52
39
9
1996 Mar 8-10
54
37
9
1996 Feb 23-25
53
40
7
1996 Jan 26-29
52
42
6
1996 Jan 12-15
46
47
7
1996 Jan 5-7
42
49
9
1995
1995 Dec 15-18
51
44
5
1995 Nov 17-18
53
38
9
1995 Nov 6-8
52
41
7
1995 Oct 19-22
49
40
11
1995 Oct 5-7
46
42
12
1995 Sep 22-24
48
44
8
1995 Sep 14-17
44
44
12
1995 Aug 28-30
46
43
11
1995 Aug 11-14
46
44
10
1995 Aug 4-7
46
42
12
1995 Jul 20-23
46
44
10
1995 Jul 7-9
48
42
10
1995 Jun 5-6
47
42
11
1995 May 11-14
51
42
7
1995 Apr 21-24
51
39
10
1995 Apr 17-19
46
45
9
1995 Apr 5-6
47
45
8
1995 Mar 27-29
44
47
9
1995 Mar 17-19
46
45
9
1995 Feb 24-26
42
48
10
1995 Feb 3-5
49
44
7
1995 Jan 16-18
47
45
8
1994
1994 Dec 28-30
40
52
8
1994 Dec 16-18
42
53
5
1994 Dec 2-5
42
50
8
1994 Nov 28-29
43
49
8
1994 Nov 2-6
46
46
8
1994 Oct 22-25
48
46
6
1994 Oct 18-19
41
52
7
1994 Oct 7-9
42
52
6
1994 Sep 23-25
44
51
5
1994 Sep 16-18
42
50
8
1994 Sep 6-7
39
54
7
1994 Aug 15-16
39
52
9
1994 Aug 8-9
43
48
9
1994 Jul 15-17
42
49
9
1994 Jul 1-3
43
48
9
1994 Jun 25-28
44
47
9
1994 Jun 11-12
49
44
7
1994 Jun 3-6
46
47
7
1994 May 20-22
51
42
7
1994 Apr 22-24
48
44
8
1994 Apr 16-18
51
41
8
1994 Mar 28-30
51
42
7
1994 Mar 25-27
52
41
7
1994 Mar 11-13
50
41
9
1994 Mar 7-8
50
42
8
1994 Feb 26-28
53
41
6
1994 Jan 28-30
58
35
7
1994 Jan 15-17
54
38
8
1994 Jan 6-8
54
38
8
1993
1993 Dec 17-19
54
40
6
1993 Dec 4-6
52
38
10
1993 Nov 19-21
48
43
9
1993 Nov 15-16
50
43
7
1993 Nov 2-4
48
45
7
1993 Oct 28-30
48
45
7
1993 Oct 13-18
47
44
9
1993 Oct 8-10
50
42
8
1993 Sep 24-26
56
36
8
1993 Sep 13-15
46
43
11
1993 Sep 10-12
47
42
11
1993 Aug 23-25
44
47
9
1993 Aug 8-10
44
48
8
1993 Jul 19-21
41
49
10
1993 Jul 9-11
45
48
7
1993 Jun 29-30
46
47
7
1993 Jun 18-21
39
50
11
1993 Jun 5-6
37
49
14
1993 May 21-23
44
46
10
1993 May 10-12
45
44
11
1993 Apr 22-24
55
37
8
1993 Mar 29-31
52
37
11
1993 Mar 12-14
53
34
13
1993 Feb 26-28
59
29
12
1993 Feb 12-14
51
34
15
1993 Jan 29-31
54
30
16
1993 Jan 24-26
58
20
22
Gallup
Republicans
Independents
Democrats

%

%

%

2001
2001 Jan 10-14
39
66
93
2001 Jan 5-7
34
67
91
2000
2000 Dec 15-17
33
67
92
2000 Dec 2-4
29
59
87
2000 Nov 13-15
25
70
91
2000 Oct 25-28
23
56
84
2000 Oct 6-9
23
55
91
2000 Sep 11-13
26
58
89
2000 Aug 29-Sep 3
32
60
90
2000 Aug 18-19
27
61
89
2000 Aug 11-12
26
60
88
2000 Aug 4-5
30
54
88
2000 Jul 25-26
29
50
88
2000 Jul 14-15
27
65
85
2000 Jul 6-9
28
59
87
2000 Jun 22-25
25
55
82
2000 Jun 6-7
32
63
83
2000 May 18-21
26
51
91
2000 May 5-7
27
58
83
2000 Apr 28-30
25
62
86
2000 Mar 30-Apr 2
39
56
91
2000 Mar 17-19
25
57
83
2000 Mar 10-12
31
65
89
2000 Feb 25-27
29
55
88
2000 Feb 14-15
32
60
87
2000 Feb 4-6
36
61
89
2000 Jan 25-26
33
64
91
2000 Jan 17-20
34
62
89
2000 Jan 13-16
30
62
85
2000 Jan 7-10
35
63
87
1999
1999 Dec 20-21
29
55
83
1999 Dec 9-12
28
55
83
1999 Nov 18-21
31
61
84
1999 Nov 4-7
28
59
82
1999 Oct 21-24
28
60
83
1999 Oct 8-10
27
55
85
1999 Sep 23-26
32
60
85
1999 Sep 10-14
30
61
86
1999 Aug 24-26
33
60
87
1999 Aug 16-18
26
57
87
1999 Aug 3-4
31
59
89
1999 Jul 22-25
34
57
93
1999 Jul 16-18
26
60
87
1999 Jul 13-14
33
60
84
1999 Jun 25-27
26
53
90
1999 Jun 11-13
32
59
85
1999 Jun 4-5
29
58
86
1999 May 23-24
26
50
82
1999 May 7-9
33
59
85
1999 Apr 30-May 2
25
62
87
1999 Apr 26-27
34
56
85
1999 Apr 13-14
32
57
89
1999 Apr 6-7
27
57
89
1999 Mar 30-31
34
63
88
1999 Mar 19-21
32
64
89
1999 Mar 12-14
32
62
87
1999 Mar 5-7
35
70
94
1999 Feb 26-28
38
64
89
1999 Feb 19-21
34
67
91
1999 Feb 12-13
35
69
91
1999 Feb 4-8
34
63
90
1999 Jan 22-24
36
66
94
1999 Jan 15-17
35
70
94
1999 Jan 8-10
37
66
90
1998
1998 Dec 19-20
41
69
91
1998 Dec 15-16
33
61
88
1998 Dec 12-13
33
65
88
1998 Dec 4-6
39
66
89
1998 Nov 20-22
33
65
91
1998 Nov 13-15
38
65
89
1998 Oct 29-Nov 1
35
67
90
1998 Oct 23-25
33
67
93
1998 Oct 9-12
36
67
89
1998 Oct 6-7
32
64
86
1998 Sep 23-24
37
66
88
1998 Sep 14-15
36
66
84
1998 Sep 11-12
35
64
85
1998 Aug 21-23
32
60
89
1998 Aug 10-12
45
62
85
1998 Aug 7-8
43
60
86
1998 Jul 13-14
32
61
92
1998 Jul 7-8
26
64
88
1998 Jun 22-23
31
62
84
1998 Jun 5-7
32
58
88
1998 May 8-10
37
65
86
1998 Apr 17-19
40
63
89
1998 Mar 20-22
39
65
91
1998 Mar 6-9
37
60
89
1998 Feb 20-22
40
63
88
1998 Feb 13-15
40
67
90
1998 Jan 30-Feb 1
40
68
92
1998 Jan 25-26
33
51
90
1998 Jan 24-25
31
55
87
1998 Jan 23-24
30
55
86
1998 Jan 16-18
32
55
84
1998 Jan 6-7
32
60
85
1997
1997 Dec 18-21
31
52
83
1997 Nov 21-23
34
57
85
1997 Nov 6-9
34
59
81
1997 Oct 27-29
31
49
84
1997 Oct 3-5
31
50
81
1997 Sep 25-28
29
57
86
1997 Sep 6-7
35
58
82
1997 Aug 22-25
31
56
84
1997 Aug 12-13
37
58
82
1997 Jul 25-27
27
57
86
1997 Jun 26-29
23
48
87
1997 May 30-Jun 1
29
54
82
1997 May 6-7
28
54
84
1997 Apr 18-20
26
52
82
1997 Mar 24-26
35
51
86
1997 Feb 24-26
29
54
85
1997 Jan 30-Feb 2
27
63
84
1997 Jan 10-13
31
57
89
1997 Jan 3-5
32
55
85
1996
1996 Dec 9-11
26
51
91
1996 Nov 21-24
20
58
87
1996 Oct 26-29
19
46
86
1996 Oct 2-3
26
55
86
1996 Oct 1-2
24
55
86
1996 Sep 7-9
23
59
91
1996 Aug 30-Sep 1
27
58
87
1996 Aug 23-25
18
49
85
1996 Aug 16-18
19
49
85
1996 Aug 5-7
26
52
86
1996 Jul 25-28
25
57
88
1996 Jul 18-21
29
56
84
1996 Jun 27-30
26
50
76
1996 Jun 18-19
23
55
88
1996 May 28-29
21
52
87
1996 May 9-12
25
46
85
1996 Apr 25-28
24
56
84
1996 Apr 9-10
21
50
86
1996 Mar 15-17
23
55
79
1996 Mar 8-10
21
54
83
1996 Feb 23-25
17
60
81
1996 Jan 26-29
24
49
83
1996 Jan 12-15
15
43
82
1996 Jan 5-7
17
39
72
1995
1995 Dec 15-18
18
51
81
1995 Nov 17-18
22
52
78
1995 Nov 6-8
28
46
78
1995 Oct 19-22
22
48
77
1995 Oct 5-7
18
42
79
1995 Sep 22-24
22
44
74
1995 Sep 14-17
21
41
78
1995 Aug 28-30
17
47
74
1995 Aug 11-14
22
41
75
1995 Aug 4-7
23
43
76
1995 Jul 20-23
23
47
77
1995 Jul 7-9
21
45
75
1995 Jun 5-6
21
52
78
1995 May 11-14
20
56
77
1995 Apr 21-24
16
42
77
1995 Apr 17-19
18
47
76
1995 Apr 5-6
18
43
73
1995 Mar 27-29
17
47
79
1995 Mar 17-19
21
39
72
1995 Feb 24-26
21
50
78
1995 Feb 3-5
22
44
74
1995 Jan 16-18
19
41
66
1994
1994 Dec 28-30
16
44
75
1994 Dec 16-18
16
41
71
1994 Dec 2-5
21
48
72
1994 Nov 28-29
16
44
74
1994 Nov 2-6
14
44
75
1994 Oct 22-25
17
46
75
1994 Oct 18-19
12
40
68
1994 Oct 7-9
16
43
69
1994 Sep 23-25
17
46
70
1994 Sep 16-18
13
44
72
1994 Sep 6-7
14
37
66
1994 Aug 15-16
13
37
69
1994 Aug 8-9
17
41
69
1994 Jul 15-17
15
41
73
1994 Jul 1-3
18
38
67
1994 Jun 25-28
22
36
70
1994 Jun 11-12
23
47
72
1994 Jun 3-6
17
42
74
1994 May 20-22
26
49
75
1994 Apr 22-24
24
43
74
1994 Apr 16-18
26
51
74
1994 Mar 28-30
26
49
76
1994 Mar 25-27
25
49
80
1994 Mar 11-13
19
50
75
1994 Mar 7-8
22
45
81
1994 Feb 26-28
28
55
77
1994 Jan 28-30
29
58
80
1994 Jan 15-17
25
50
79
1994 Jan 6-8
28
55
78
1993
1993 Dec 17-19
29
49
79
1993 Dec 4-6
24
53
76
1993 Nov 19-21
23
44
78
1993 Nov 15-16
23
47
77
1993 Nov 2-4
19
42
74
1993 Oct 28-30
21
45
74
1993 Oct 13-18
21
42
77
1993 Oct 8-10
26
49
73
1993 Sep 24-26
29
52
81
1993 Sep 13-15
21
45
71
1993 Sep 10-12
16
43
75
1993 Aug 23-25
20
42
70
1993 Aug 8-10
14
37
73
1993 Jul 19-21
22
34
67
1993 Jul 9-11
19
41
77
1993 Jun 29-30
23
39
74
1993 Jun 18-21
15
31
65
1993 Jun 5-6
18
28
63
1993 May 21-23
20
39
69
1993 May 10-12
22
42
71
1993 Apr 22-24
25
53
82
1993 Mar 29-31
23
47
80
1993 Mar 12-14
27
49
80
1993 Feb 26-28
33
55
84
1993 Feb 12-14
24
49
74
1993 Jan 29-31
29
51
73
1993 Jan 24-26
33
54
79
Gallup
Subscribe to receive weekly Gallup News alerts.
Never miss our latest insights.
Recommended
Barack Obama's first retrospective job approval rating trails only those of John Kennedy and Ronald Reagan.
Americans view each of the four former living former presidents more favorably than unfavorably, contrasting with President Barack Obama, whose image now tilts negative. The public rates Bill Clinton and George H.W. Bush most positively.
Nearly three-quarters of Americans (74%) believe John F. Kennedy will go down in history as an outstanding or above-average president, a more positive review than any other post-World War II president receives.