GALLUP NEWS SERVICE
PRINCETON, NJ -- Last week, former vice presidential aide Lewis "Scooter" Libby was found guilty of making false statements, perjury, and obstruction of justice in connection with a special prosecutor's investigation into the leaking of a CIA employee's identity. Since then, some have called on President Bush to pardon Libby. The American public would not applaud such a move, as a new Gallup Poll finds widespread opposition to the suggestion.
The new poll, conducted March 11-14, also finds just 34% of Americans approving of the job Libby's former boss Dick Cheney is doing as vice president. That is down six points from a year ago, and is the lowest approval score Gallup has measured for Cheney. Public approval of George W. Bush's job performance as president remains weak, at 35%, and has been in the mid-30% range since last October.
Libby became the highest-ranking government official convicted of a crime since the Iran-Contra scandal. Forty-three percent of Americans say they followed the news about the Libby trial "very" or "somewhat" closely. That is well below the average of 60% for 175 other news events Gallup has asked about since 1991. The high of 97% was for the Sept. 11 terrorist attacks. Coincidentally, 43% of Americans also said they were closely following the news of President George H. W. Bush's pardon of former Defense Secretary Caspar Weinberger in December 1992.
As they did for Weinberger and other high-profile figures who were pardoned (see Related Items), Americans oppose a presidential pardon for Libby. Sixty-seven percent say George W. Bush should not pardon Libby, while only 21% believe he should.
No major subgroup shows majority support for a pardon. Republicans (34%), though, are more likely than independents (21%) and Democrats (11%) to favor one.
The poll finds that those who are paying the closest attention to the trial are most likely to support a pardon, at 44%.
This finding is not because of underlying partisan differences in the likelihood of following the trial, as 45% of both Democrats and Republicans report following the trial closely. Rather, it appears that a substantial proportion of those familiar with the specifics of the trial may believe that Libby was treated unfairly enough to justify a pardon. For example, some have suggested that the special prosecutor made Libby a "fall guy" for the White House in the investigation. Those who are not familiar with the specifics of the case are more likely responding to the general notion that persons convicted of crimes do not deserve the special treatment a pardon imparts.
The controversy has put Cheney's vice presidency under considerable scrutiny, and for the most part has cast him in an unfavorable light. Like Bush, Cheney has seen his formerly positive public image following Sept. 11 erode over the last several years. Currently, 34% of Americans approve of the job Cheney is doing as vice president, down from 40% about a year ago and a high of 68% in early 2002. The current figure marks the lowest reading for Cheney in a Gallup Poll.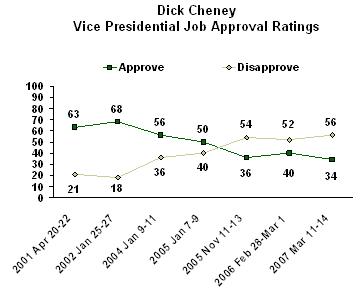 The poll also finds continued stability in George W. Bush's job approval rating, which remains weak but apparently unaffected by recent events like the Libby verdict and rising fuel prices. Thirty-five percent of Americans approve of the job Bush is doing as president, while 61% disapprove. Bush's 2007 approval ratings have averaged 35%, and have ranged from 32% to 37%. Every Bush approval rating since October 2006 has been below 40%.
Survey Methods
These results are based on telephone interviews with a randomly selected national sample of 1,009 adults, aged 18 and older, conducted March 11-14, 2007. For results based on this sample, one can say with 95% confidence that the maximum error attributable to sampling and other random effects is ±3 percentage points. In addition to sampling error, question wording and practical difficulties in conducting surveys can introduce error or bias into the findings of public opinion polls.
Thinking again about politics,
33. Do you approve or disapprove of the way Dick Cheney is handling his job as vice president?
| | | | |
| --- | --- | --- | --- |
|   | Approve | Disapprove | No opinion |
| | % | % | % |
| 2007 Mar 11-14 | 34 | 56 | 10 |
| |   |   |   |
| 2006 Feb 28-Mar 1 | 40 | 52 | 9 |
| 2006 Jan 20-22 | 41 | 47 | 12 |
| 2005 Nov 11-13 | 36 | 54 | 10 |
| 2005 Jan 7-9 | 50 | 40 | 10 |
| 2004 Jan 9-11 | 56 | 36 | 8 |
| 2002 Jan 25-27 | 68 | 18 | 14 |
| 2001 May 18-20 | 60 | 26 | 14 |
| 2001 Apr 20-22 | 63 | 21 | 16 |
34. How closely have you been following the news about the recently completed trial of Lewis "Scooter" Libby, the former vice presidential aide -- v ery closely, somewhat closely, not too closely, or not at all?
 

Very
closely

Somewhat
closely

Not too
closely


Not
at all

No
opinion

2007 Mar 11-14

13%

30

26

29

1
35. As you may know, a jury found Libby guilty on four out of five criminal counts. Do you think George W. Bush should or should not issue a presidential pardon for Lewis "Scooter" Libby?
| | | | |
| --- | --- | --- | --- |
|   | Yes, should | No, should not | No opinion |
| 2007 Mar 11-14 | 21% | 67 | 12 |