World
Explore Gallup's research.
How many Americans are proud to be Americans? Find the answer to this question and what else you need to know this Fourth of July.
Learn how to solve skills shortage and engagement problems by redesigning career paths and selecting managers with a better method.
This Fourth of July, nearly nine in 10 Americans are satisfied with their freedom.
Learn how to design performance management practices for the workplace of the future.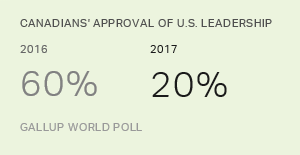 While Americans have very positive attitudes toward their fellow G7 nations, people in those countries have negative views of U.S. leadership.
The latest World Bank Global Findex report shows the gap between men and women remains just as wide as when it was first measured in 2011.