There was never really anything wrong with ASB Bank Limited. It had terrific employees and satisfied customers throughout New Zealand, and it was making good money. ASB Bank was opening branch locations when other banks were closing them, and its parent company, Commonwealth Bank of Australia (CBA), had no complaints.
So ASB Bank's managers didn't see the point when CBA introduced them to a 12-item employee engagement survey. They were game, but puzzled by the purpose.
After ASB Bank got the results of the first Gallup Q12 survey -- a 12-item questionnaire that measures employee engagement -- puzzlement became a different emotion entirely. "We were absolutely shattered," says Murray Beckman, ASB Bank's chief manager corporate development. "We thought we were pretty good, but when our results came out, we were below the 75th percentile [of Gallup's worldwide database]. The 75th percentile is the entry level to world-class practice. We realized we had a lot of work to do."
Rating higher than 50% of other companies Gallup has studied is pretty good, but according to this company, not good enough. ASB Bank is intensely focused on its vision -- "to be New Zealand's best bank and financial services provider, excelling in customer service." Says Beckman, "We're totally committed to the vision because we have no doubt that customer service is the only differentiator we have. If we put a product into place today, another bank will have it tomorrow."
This is why, after the results of the first Q12 survey, ASB Bank became intensely focused on a complementary mission: making the Q12 produce results. No one at ASB Bank -- not executives, managers, nor the rank and file -- thought the results were good enough. That's because increasing employee engagement was key to keeping their ranking as New Zealand's best bank.
Mission launch
One remarkable aspect of ASB Bank's journey on that path is how it got so far so fast. In 2001, the bank's Q12 performance was good, but not yet world-class. In 2002, its Q12 results put it solidly within the ranks of world-class performers and well above 70% of other companies Gallup has measured. And by the third Q12 administration in 2003, it was outperforming 90% of all companies in Gallup's database.
Of course, ASB Bank didn't work so hard because of a fierce desire to top Gallup's ranking. It undertook this effort because engagement translates into profits. For four consecutive years, ASB Bank has had a 20% increase in its operating surplus. In 2003, its personal banking division increased assets by 18%, business lending went up 12%, and its cost-to-income ratio fell below 50% for the first time ever, though staff increased by 211 people. In 2001, the bank's total assets were $20.02 billion NZ ($13.11 billion U.S.). A year later, assets were $24.25 billion NZ ($15.88 billion U.S.). And in 2003, the bank was sitting on $27.51 billion NZ ($18.01 billion U.S.) in assets. In other words, during the first three years of implementing Q12, ASB Bank's assets increased by more than $7 billion NZ ($4.58 billion U.S.).
Those numbers alone represent an amazing accomplishment. But an important part of the story behind the numbers is how an outstanding financial institution like ASB Bank made employee and customer engagement a priority -- and made itself world-class in three short years.
The "car-park" test
Few companies are as devoted to their vision statements as ASB Bank is. The vision statement is printed on cards so employees can carry it in their wallets. It's featured on plaques hanging in every bank location. It's on just about every e-mail an employee sends. And it's deliberately simple: to be New Zealand's best bank and financial services provider, excelling in customer service.
"When we designed our vision, we wanted to pass the car-park test," Beckman says, referring to the term in New Zealand for a parking lot or parking garage. "In other words, if I saw Billy Smith from one of our branches in the car park and said, 'Hi, Billy, what's our vision?' he'd be able to tell me word for word."
Five years ago, ASB Bank was sure that every employee knew the vision and was reasonably certain that the majority were living it. But to be certain that it wasn't overlooking any weaknesses in its vision fulfillment, the bank also conducted an employee satisfaction survey.
The survey was 70 questions long, so how could it miss anything? As it turned out, the survey missed what was most important.
There are many problems associated with such long surveys, but the worst is that they often don't ask the right questions -- or provide useful results. "The data that ASB Bank received [from its 70-item survey] was very much at the macro level," says Steve Ewin, Gallup vice president and partner. "The results just weren't actionable at the local level."
The 70-question survey gave a broad overview of the thoughts of all 3,200 employees in more than 120 branches, but "it couldn't drill down to where the issues were. We could only see results at the regional level," Beckman says. "We had pockets of weakness and pockets of excellence, but the good and bad were disguised, and we couldn't find them."
Managers were also less than enthusiastic about the results of the 70-item survey. "I don't think the questions really contributed to anything -- we just answered them," says Lorraine Elder, a manager of the Riccarton Branch in Christchurch, New Zealand. "We weren't really accountable because we couldn't do much with the results."
That doesn't mean that ASB Bank welcomed Gallup's 12 short items with a sense of revelation. "We -- meaning me -- might have been a tad negative," Beckman says. "I told Gallup, 'How you can possibly get the information we need from twelve questions? We've got seventy.' The Gallup people just nodded their heads -- they'd heard that fifty-seven thousand times before. And when they showed me the 'best friend' item ['I have a best friend at work.'], I really thought they were not of this planet. And they said, 'Yeah, we get this in every company we go to.' So I didn't know what to expect from Gallup's survey."
ASB Bank, as noted earlier, was disappointed with their first Q12 administration's results. But by that time, the bank had really examined the Q12 items, compared them to their own work culture, and considered what the survey was getting at. "When you think about the Q12, you see that it's not only about managers caring about other people, it's about all employees caring for each other, as well," Elder says.
By the time the second Q12 administration rolled around in 2002, ASB Bank was ready to take the next step: making Gallup's intervention an integral part of the work each employee had to do. "ASB Bank really sees the Q12 as a means to an end," Ewin says. "They see Gallup as part of the process of improving the bank's performance and as part of their daily work environment."
Because of that can-do attitude, some of the obstacles to employee engagement that plague other corporate cultures aren't an issue at ASB Bank. Ninety-three percent of the bank's employees took the most recent survey, though Beckman doesn't do much beyond handing out Cadbury® Time Out brand chocolate bars to encourage employees to take time out to respond. ASB Bank doesn't plan, fret, and cajole to get its employees to work-unit action-planning meetings -- it has them weekly, and they're called staff meetings. Managers don't strategize about working Q12 items into the office culture -- the staff adopted the language and has used it as shorthand for its own behavior ("That's a Q5 if I ever saw it").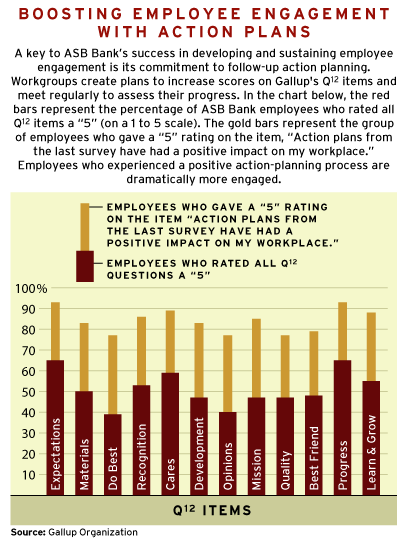 As Beckman says, "To me, Q12 is a living thing. It's not about filling out a survey once a year. It's getting the information, living with it, and using it as a tool to make us the best. And so the worst thing anybody can possibly do is put the Q12 in the bottom drawer. We don't allow that. The fact of the matter is, where there's focus, there's energy."
Road show
There's a lot of focus on employee engagement at ASB Bank, but that doesn't make it effortless. "It's all very well getting a [near-perfect score], but you've got to stay there, and you don't do that by doing nothing," Beckman says. "You do that by working jolly hard at it." Every manager has a monthly one-on-one Q12 action-planning meeting with each direct report. The bank produces videos featuring the top Q12 managers and shows them company-wide. Every employee attends a new employee session with the managing director, Hugh Burrett, or Beckman in his absence. Once a year, exceptionally high-performing managers travel to a luncheon and recognition ceremony with Burrett at the bank's head office in Auckland.
Every time Q12 results are distributed, Beckman goes on a road show -- six weeks of traveling, as he says, "from the top of the north island to the bottom of the south" -- talking to people, making sure action-planning meetings are conducted, fixing what can be fixed, and carefully watching the interrelationship between employee and customer engagement. And those formerly disguised pockets of weakness and excellence are now closely scrutinized. "We know where we're not getting fives [on the survey items' one-to-five-point scale]," Elder says. "So managers ask, 'Is there any way that this [item] wouldn't be a five? What do we do to keep it at a five all the time? If we are a five, how do we stay there?'"
Beyond the boundaries
Now that ASB Bank has pushed its results about as high as they can go, it's beginning to explore what might be any business' final frontier: managing the individual. ASB Bank is beginning to give serious attention to the science of selection and finding the right person for the right job. (Beckman admits to telling new hires in their new employee session, "If any one of you people sitting around this room doesn't enjoy serving customers, then I suggest you've joined the wrong bank." He says they tend to squirm.) The bank has installed a "buddy program," pairing average employees with superstars. Though, as Ewin put it, "ASB Bank's midpoint is still world-class. So when we talk about average performers, they're only average when compared to ASB Bank."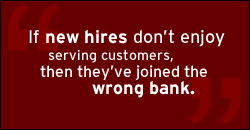 Local experts may not be familiar with Gallup's Q12 database rankings, but they have their own methods of ranking banks. In 2003, for the sixth consecutive year, the University of Auckland named ASB Bank as New Zealand's leading major bank in residential customer service, and, for the fifth straight year, the country's best bank for business customer satisfaction. In 2003, Consumer magazine called ASB Bank's Internet banking service the best in the nation. The Telephone Users Association of New Zealand gave ASB Bank its 2003 Financial Services Award for Internet banking.
Neighboring banks have noticed ASB Bank's achievements as well -- and are becoming affected by them. "I was on the golf course recently, talking to a guy I worked with in another bank 15 years ago," Beckman says. "And he said to me, 'Blimey, I wish you guys would go away.' He says, 'I want to keep my job, and you guys -- I want to be the best, and I simply can't with you guys out there.' And then he hit the ball out of bounds."