The paper industry is fraught with tension. U.S. paper companies are confronting stiff foreign competition, a significant price increase in raw materials, higher gas prices, and a general decline in the American market. Many mills have closed shop.
None of this is lost on the employees of International Paper's Texarkana mill in Domino, Texas. "A couple of years ago, we were having a tough time filling orders. A lot of people were wondering if their jobs were secure," says Kirt Cuevas, the mill's former manager and now International Paper's director of capital effectiveness and facility analysis.
The nearly 900 Texarkana mill workers weren't being paranoid -- the mill was struggling to maintain its customer base in a weakening market and was facing its third round of downsizing in four years. So it would have been easy, understandable, maybe even sensible, for them to give up and wait patiently for the end. But instead of choosing to be victims of the global economy, they consciously -- and conscientiously -- set about saving their mill, and themselves.
Seriously tough
The mill workers didn't always have to think about survival. "Fifteen years ago, you could do no wrong in the paper industry. I mean, you could just roll something off at the end of the machine, and you were going to make money on it. And everybody knew that," says Kevin Driscoll, the Texarkana mill manager. "It was just spend, spend, spend. Get whatever you need for the mill, and make every last ton of product that you can produce, because it's going to sell, and it's going to make money."
Those halcyon days came to an end in the 1990s. That's why International Paper turned its eye to motivating its workforce more effectively in 2000, when business started to get seriously tough. When margins become razor thin, as they have in many industries, often the profit variable that companies can best influence is employees' enthusiasm and commitment. Engaged employees can save businesses a lot of money because they are more productive, more profitable, safer, and less likely to quit. Actively disengaged employees, however, cost a fortune to employ -- Gallup estimates that actively disengaged employees cost the U.S. economy $300 billion a year in lost productivity alone. (See graphic "The Three Types of Employees" below and "Who's Driving Innovation in Your Company?" in the "See Also" area on this page.)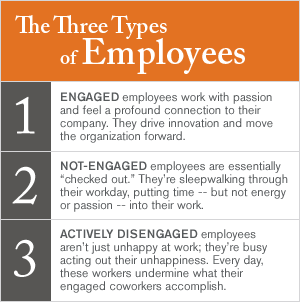 International Paper knew that having engaged employees would be a tough-to-beat advantage in a ferociously competitive marketplace. So in 1999, all the employees of the Texarkana mill took the Gallup Q12, a 12-item survey that measures engagement. The results were less than encouraging -- the mill's employee engagement levels were in the bottom quarter of all industries Gallup has studied.
In spite of the disappointing results, management knew they could count on the mill employees to help turn the situation around. "One of the first things I noticed when I came here was that everybody really wanted to do a good job," says Don Forst, manager of operational services for the Texarkana mill. "They wanted to do their best every day and be part of solutions that led to that."
Managers and employees took a careful look at their employee engagement results, started doing action planning based on those results, and implemented changes to boost engagement. And it worked -- engagement levels increased in both 2000 and 2001. (See "You've Gotten Employee Feedback. Now What?" and "What to Do With Employee Survey Results" in the "See Also" area on this page.)
They followed up with the same steps in 2002, and this time, they saw a significant increase in engagement: Engagement levels rose above the 50th percentile for the first time. This was gratifying, and it represented serious financial gains. Meanwhile, however, the mill increasingly began to feel the pressure of global competition: China was trying to pump out enough paper products to cover the earth a foot thick, and it was doing it cheaper than Texarkana ever could. "And every week, we heard about another facility that's closed its doors," says Driscoll.
Inching forward
By 2003, the mill workers had grown accustomed to the survey and the action planning. They instituted semi-annual one-on-one meetings between employees and their supervisors and focused on improving their scores on one or two Q12 items every six months or so. (See graphic "Engagement in the Workplace: 12 Measures That Matter.") That year, the mill's overall score for employee engagement increased again, continuing their steady yearly gains.
But times weren't getting any better for the paper industry. And in 2004, the mill initiated another round of downsizing for hourly employees. In spite of the pressures, however, the mill's 2004 engagement score held steady. Under the circumstances, that's quite an achievement -- the mill employees could easily have lost hope.
Nevertheless, "We were disappointed," says Amanda Black-Keeney, the mill's communication manager. "We were really working on it, and [the 2004 Q12 results] took the wind out of our sails. But at the same time, we felt like everything that we were putting into place was what would be best for Texarkana, the thing that would make us successful. We just knew it was our path."
But what Texarkana discovered is that there's more than one path to employee engagement. And sometimes, the right path wanders through some thick undergrowth before reaching the goal.
Up and out, or down and in?
When businesses get serious about employee engagement, often they'll focus on trouble areas with laser-like intensity. If the Q12 results show that too few people feel they have the "materials and equipment" they need to "do their work right" or that their "opinions seem to count," the business will buckle down and fix those problems individually, energetically, and thoroughly. And it works. Employees know that the company takes engagement seriously, and they understand that they are each responsible for communicating their needs and improving their job experience. This is what the Texarkana mill did for a while -- that is, until they got a better idea: integration.
In many organizations, the issues that prevent engagement are associated with systemic problems -- for example, company-wide lack of communication or a serious disconnect between workers and managers regarding expectations. It's rare, in fact, for problems that undermine engagement to exist openly and discretely -- they're often combined with other problems and embedded deep in the culture of a company, department, or workgroup. Bringing them into the open and tackling them at a workgroup level can make a huge difference in the engagement and performance of employees in the workgroup, but it takes time for solutions to trickle up and then out. What Texarkana found was that it could institute programs to solve big systemic issues -- and simultaneously solve singular, isolated engagement problems.
Teams work
Take, for example, the work systems team and the communication advocates program.
On most days, the Texarkana mill makes 1,800 to 1,900 tons of bleached board for packaging, milk cartons, hot and cold drink cup stock, and folding cartons. The logistics involved are impressive. Orders, stock, and inventory must be tracked for a thousand different customers every day. Machines must be changed for every order. Four shifts of workers are rotated in and out every 24 hours.
That much variation leaves a lot of room for error, confusion, and downtime -- and even small foul-ups can render a crew of workers idle for hours. Ideally, the machines should hum every minute of every day, workers should know exactly what to expect during their shift as soon as they walk in, the necessary materials and equipment should be at hand, and no employees should wonder how they are supposed to do their job. And though the ideal world is a bit utopian, it's possible to get pretty close.
To that end, in 2003, the Texarkana mill instituted the work systems team. The team members, who lead change efforts within the mill, come from every job level; some were chosen for their levels of engagement and seniority, while the rest are enthusiastic volunteers. They train employees on teaming techniques, refine the one-to-one performance review process, and reinforce the proper shift-to-shift hand-off process. The team also instituted communication tools such as the Plan of the Day, which is faxed to every work area of the mill within an hour of the morning meeting, posted on white boards in every work area, and sent to each employee's personal mailbox.
The work systems team tries to be everywhere, all the time. But they quickly realized that no matter how much searching they did, they couldn't fix some of the problems. "We took a hard look in the mirror and asked where we were disconnected," says Black-Keeney. "It was communication, empowerment, and trust. Everything fell under those areas." And there wasn't much the work systems team could do about it.
Black-Keeney and the other managers determined that they weren't providing the right information to the right people -- in part because they didn't even know what information the employees lacked. Obviously, they had to find out. This led to the creation of the communication advocates program.
Talk amongst yourselves
The communication advocates' job is similar to that of the work systems team, but the information they disperse is less task oriented. Essentially, the communication advocates are reporters who gather information from the furthest corner of the production floor to the management offices. Then, they disperse that information. "The grapevine is alive and well at this paper mill," says Forst. "[The advocates] get the right information on the grapevine so the right stuff spreads."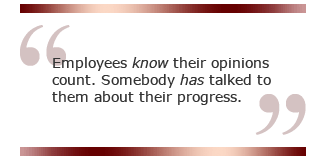 The advocates make sure that information about big issues -- downsizing, gain sharing, and payout results -- is disseminated accurately and that communications about other important things -- maintenance schedules, holiday parties, and the like -- get to everyone. The advocates keep track of the burning questions on the production floor, and they make sure employees get answers. They tell Black-Keeney when information isn't reaching people and suggest new methods. Management now issues information via print, e-mail, telephone hotline, and an in-house TV network. "People aren't shy around here," says Black-Keeney. "If I've got a slide on TV they're tired of looking at, they'll call and tell me."
These aren't the mill's only initiatives -- Texarkana has flourishing mentor and training programs -- but they are remarkably successful in helping the mill operate at peak efficiency. Along the way, these programs integrate employee engagement measures with everyday work issues.
The effect on engagement has been both broad and subtle. Because the people on the work systems and communication advocates teams talk to everyone, all the time, about everything, seemingly intractable engagement problems are constantly churned to the top. Instead of lurking at the bottom of the mill's consciousness, engagement issues are brought into the light and dealt with. "It all plays back to the Q12," says Black-Keeney. "[Employees] know their opinions count. Somebody has talked to them about their progress. You can tick through every question and see how it all ties in."
Better and better
All this effort gave Texarkana mill employees much to consider when they filled out their 2005 Q12 survey. And the result? In 2005, the mill achieved a significant increase in overall engagement compared to 2004, putting them in Gallup's top quartile for employee engagement for the first time. In other words, the employees of a mill that was in serious danger of going out of business are more engaged than most of the work units Gallup has studied.
On its own, an engagement score could be just a number. Its real value lies in its relation to business performance metrics. And the Texarkana mill has seen plenty of increases in those numbers over the past year too.
The 2005 Total Incidence Rating was 0.9, down from 1.4 in 2004 and 2.0 in 2003. Safety at the mill improved 68%. Though pleased about increased engagement, Cuevas says that the safety increases represent more than better business outcomes: "Any time you have a safe workplace with no hurt people, that's a value you can't put a dollar figure on."
In addition to improvements in safety, the mill realized a 6.2% increase in machine efficiency. There were no environmental incidents. The mill beat its budget every month for the past 12 months. And in 2005, the mill had its best quality, performance, energy usage, and reliability ratings ever.
These are laudable improvements -- and profitable ones. Driscoll estimates that increased employee engagement, the linkage between all the performance improvements, saves the mill at least half a million dollars a month, sometimes more. Though the paper industry isn't the golden goose it was 15 years ago, saving $6 million a year does a lot to soothe the nerves of the mill workers in Domino, Texas. And that should certainly give the communication advocates something to talk about.