The military situation in Iraq has filled our daily newscasts with story after story of families affected by war. Whether the images are of tearful goodbyes as soldiers depart for foreign lands, or joyful returns from a tour of duty, many of them share a common thread. The soldiers tend to be younger men, often leaving or returning to their wives and young children.
So, it can be easy to forget these days that many female soldiers also put themselves in harm's way. Although they are still typically barred from hand-to-hand combat situations, women make up 15% of the U.S. military and now see more combat action than ever before. Recent polling shows a majority of the American public believes female soldiers should have the opportunity to serve combat assignments on the same terms as men.
According to a Dec. 5-7 Gallup Poll*, just 16% of Americans think women in the armed services should never receive combat assignments on the same terms as men, while 45% think they should receive combat assignments only if they elect to. Almost all the rest -- nearly 4 in 10 (38%) -- think women should get combat assignments on the same terms as men. All told, more than 8 in 10 Americans think women should either have the opportunity, or be required, to serve the same combat assignments as men do.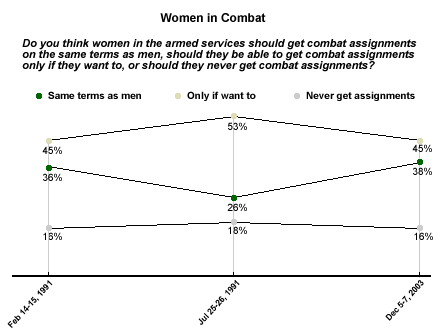 These findings are consistent with poll results collected during the Gulf War in February 1991, and after the war in July 1991. In response to both polls, less than 20% of respondents said that female soldiers should never get combat assignments.
Men are more likely than women to say female soldiers should never get combat assignments, 21% to 11%. Also, older Americans are more likely than younger Americans to think women should never get combat assignments. Specifically, 22% of Americans age 50 and older say women should be barred from combat, compared with 14% of 30- to 49-year-olds and just 8% of 18- to 29-year-olds.
Gays in the Military
Gay Americans make up another group whose military participation has been a source of controversy, particularly since President Bill Clinton's 1993 announcement of what was called the "Don't Ask, Don't Tell, Don't Pursue" policy. Despite the political controversy, Gallup's Dec. 5-7 poll finds public opinion fairly clear-cut: 79% of Americans believe that openly gay people should serve in the U.S. military, while just 18% think they should not.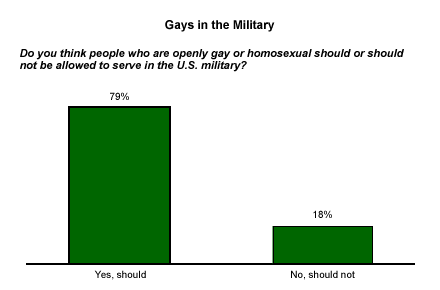 Liberals are more likely than conservatives to believe gays should be allowed to serve, 90% to 68%. Younger Americans (who tend to be more accepting of homosexuality in general) are more likely than older Americans to approve of gays in the military. But unlike gay marriage, which divides Americans, gays in the military is acceptable to the vast majority of all major societal groups.
Bottom Line
As the conflict in Iraq grinds on and the war on terrorism continues, the military's capacity is stretched and the need for more soldiers is greater than ever. Americans seem to be saying: If women and gays want to serve their country, why not let them?
*Results are based on telephone interviews with 1,004 national adults, aged 18 and older, conducted Dec. 5-7, 2003. For results based on the total sample of national adults, one can say with 95% confidence that the maximum margin of sampling error is ±3 percentage points.