Movement toward Democrats in general election trial heats
PRINCETON, NJ -- Gallup Poll Daily tracking shows Barack Obama with a 51% to 42% advantage over Hillary Clinton for the 2008 Democratic nomination among Democratic voters nationwide.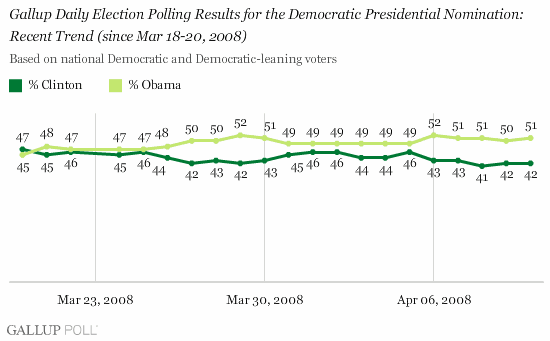 This marks the fifth consecutive day Obama has held a statistically significant lead over Clinton, and the longest stretch of significant leads for him to date. Previously, he led Clinton for four consecutive days in late March. The last time Clinton had an advantage of any kind over Obama was in March 18-20 polling. (To view the complete trend since Jan. 3, 2008, click here.)
The poll also shows Obama with his best showing versus Republican John McCain since Gallup began tracking general election preferences in early March. Forty-six percent of registered voters say they would vote for Obama if the presidential election were held today, while 43% would choose McCain. McCain held a slight edge in these presidential election trial heats through most of March into early April, but in the past seven days Obama has tied or slightly outpolled McCain.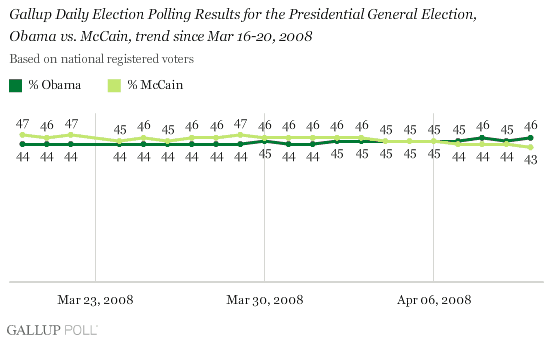 Clinton's standing versus McCain has also improved slightly, with her holding a slight (but not statistically significant) edge, 46% to 45%. As in the Obama-McCain matchup, Clinton consistently trailed McCain by 1 to 4 percentage points since mid-March. In recent days, however, the two have essentially been running even. -- Jeff Jones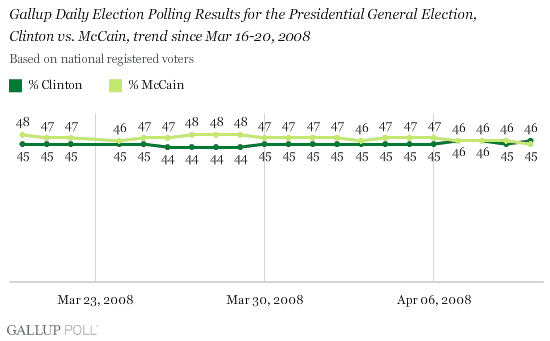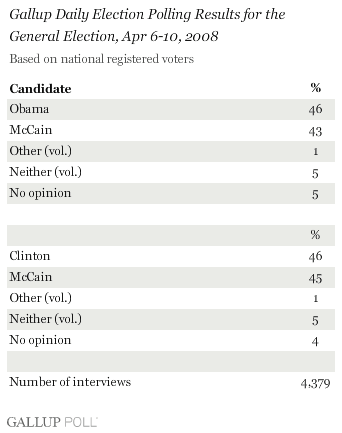 Survey Methods
Gallup is interviewing no fewer than 1,000 U.S. adults nationwide each day during 2008.
The general election results are based on combined data from April 6-10, 2008. For results based on this sample of 4,379 registered voters, the maximum margin of sampling error is ±2 percentage points.
The Democratic nomination results are based on combined data from April 8-10, 2008. For results based on this sample of 1,210 Democratic and Democratic-leaning voters, the maximum margin of sampling error is ±3 percentage points.
In addition to sampling error, question wording and practical difficulties in conducting surveys can introduce error or bias into the findings of public opinion polls.
To receive Gallup Poll Daily tracking reports each day as soon as they are published, please register here and add Gallup Daily to your e-mail subscriptions.