Downward trend in independents is typical in election years
PRINCETON, NJ -- The extraordinary 2008 election year is proving to be quite ordinary in at least one respect: the downward trend in the percentage of Americans identifying themselves as political independents. The proportion of independents in Gallup Poll surveys averaged 36% in the latest quarter (from April to June), down from 39% last fall and 40% last summer.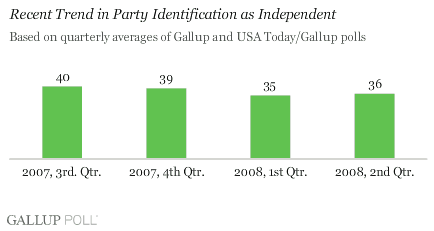 This conforms to a pattern evident in Gallup's long-term party identification trends, whereby the percentage of Americans identifying themselves as political independents typically dips in the months leading up to presidential and midterm congressional elections and peaks sometime between election years.
Independents' Loss in 2008 Is Democrats' Gain
While the percentage of independents shrunk a bit since late 2007, Gallup trends show relatively little change in Americans' identification with the Republican Party over the same period. This has generally held at 27%, while Democratic identification increased from 31% at the end of 2007 to 36% today.
This skew toward one party in the redistribution of voters in an election year is not unprecedented. However, by the third quarter (from July to September) it would be unusual not to see some heightened public identification with both parties. If the percentage of Americans identifying themselves as Republican does not pick up, the Democrats will have their strongest structural advantage in 20 years going into the November election.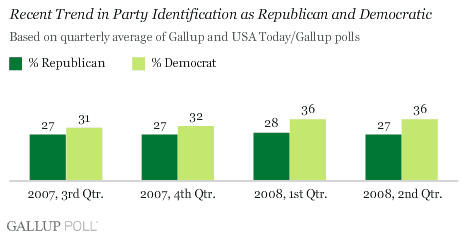 Party identification with either party was slightly higher in the first quarter of 2008 (64%) than in the second (63%), possibly reflecting greater public attention to the major parties during the height of the primary election season from January through March, than from April through June.
Trends in Election-Year Declines in Independents
The cyclical decline in Americans' identifying themselves as politically independent has been seen in the first quarter of prior presidential election years, spanning Gallup polls conducted each year from January through March. In previous elections the figures continued to drop in the second and third quarters.
· In the fourth quarter of 1995, 39% of Americans identified themselves as political independents. In the first quarter of 1996 this dipped to 37% and by the third quarter it fell to 33%.
· In the fall of 1999 Gallup found 38% calling themselves independent. This dropped to 35% at the start of 2000 and to 33% by the third quarter.
· From October to December 2003 only 37% of Americans considered themselves independent, but this fell to 35% in early 2004 and to only 29% by the third quarter.
· The pattern does not hold for the 1992 election, a year when a viable third party candidate (Ross Perot) helped maintain higher levels of public identification as independents.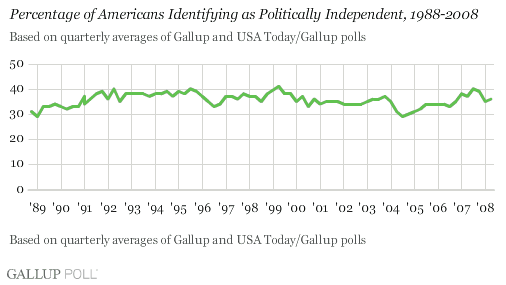 In all of the last four presidential election years, the percentage of independents started to rebound in the fourth quarter, spanning October to December Gallup polling.
Bottom Line
Party identification is an important backdrop to elections, establishing the base level of support for the major party candidates. But party identification is not static. Elections routinely stimulate some otherwise independent-oriented Americans to identify with the parties, at least temporarily.
The Democratic Party entered the 2008 election season with a solid advantage in party identification (32% to 27% in the fourth quarter of 2007), but, as a result of independents becoming more partisan in their thinking during the election, the Democrats now lead by a larger nine percentage point margin, 36% to 27%, tying with the third quarter of 1997 for their widest advantage in the past 20 years.
History suggests independents will continue to decline over the next three months. The question is: will they continue to flock to the Democrats, or will they disburse more evenly between the two parties?
Survey Methods
Results are based on the combined results of two or more Gallup Polls on a quarterly basis from October 1988 through June 2008. For results based on the total sample of national adults, one can say with 95% confidence that the maximum margin of sampling error is ±3 percentage points.
Interviews are conducted with respondents on land-line telephones (for respondents with a land-line telephone) and cellular phones (for respondents who are cell-phone only).
In addition to sampling error, question wording and practical difficulties in conducting surveys can introduce error or bias into the findings of public opinion polls.
To provide feedback or suggestions about how to improve Gallup.com, please e-mail feedback@gallup.com.