GALLUP NEWS SERVICE
PRINCETON, NJ -- Public confidence in the military declined somewhat over the past year, but the percentage of Americans expressing strong confidence in the military is still higher than what was registered in the decade or so prior to September 11, 2001. The police, organized religion, banks, and the presidency also receive high ratings today, but the military continues to be the top-rated institution of the 15 included in the latest Gallup Poll.
Americans' Confidence in Institutions:
Highest Rated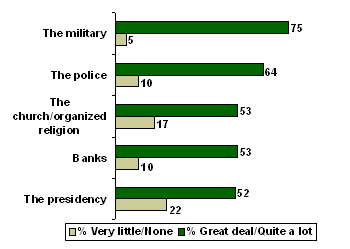 May 21-23, 2004
Gallup's annual measure of public confidence in institutions is based on the question: Now I am going to read you a list of institutions in American society. Please tell me how much confidence you, yourself, have in each one -- a great deal, quite a lot, some, or very little? ("None" is allowed as a volunteered response.) The rank order of institutions is based on the combined "great deal" and "quite a lot" figures.
Military's Ratings in Context
According to the new poll, conducted May 21-23, three in four Americans have a great deal or quite a lot of confidence in the military. This is down from 82% in June 2003.
How much of this decline can be attributed to the Iraqi prisoner abuse scandal that the U.S. military is currently embroiled in is not clear. Last year's 82% confidence level, as well as the 79% recorded in June 2002, was quite elevated compared with the average rating of 65% recorded between October 1991 and June 2001. This increase was most likely related to the general rally effect produced by the 9/11 terrorist attacks, combined with public support for the military's performance in Afghanistan in 2001 and the early military success in Iraq in the spring of 2003.
Even without the prisoner abuse scandal, one might have expected public confidence in the military to have declined over the past year now that the major combat in Iraq is over -- just as public confidence first spiked, then descended around the time of the 1991 Persian Gulf War. At the conclusion of that war in March 1991, the military's confidence rating reached 85% (up from 68% in August 1990), but by October 1991 it was back down to 69%.
Confidence in the Military
percentage saying "great deal" or "quite a lot"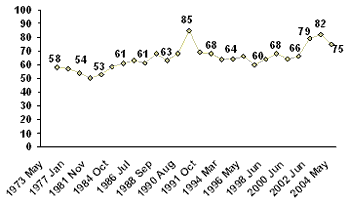 Another Scandal-Clad Institution Slowly Recovers
While the military's rating is now lower than it was in 2002, the church/organized religion has been slowly recovering from the sharp decline in confidence it experienced two years ago. It was then that allegations of widespread sexual abuse by Catholic priests were revealed and reported on extensively in the media. Today, 53% of Americans say they have a great deal or quite a lot of confidence in the church or organized religion. This is up from 50% last year and 45% in 2002, but is still below the 56% to 60% level maintained between 1995 and 2001.
Confidence in the Church/Organized Religion
percentage saying "great deal" or "quite a lot"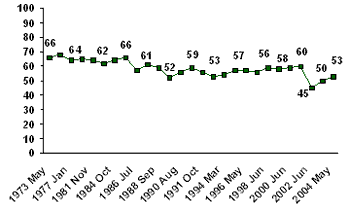 Perhaps more relevant to the Catholic church sexual abuse scandals: Protestants now express more confidence in organized religion than do Catholics, which has been the case for the last several years. Today, 60% of Protestants, compared with 53% of Catholics, say they have a great deal or quite a lot of confidence in the church/organized religion. By contrast, in 1991 (the last time prior to 2002 that religious preference data is available for this measure) Gallup found virtually no difference between Catholics and Protestants in their ratings of organized religion.
The current rating of 53% confidence for organized religion puts it on par with the presidency and banks in the public's confidence, but still below the police, which enjoys the number-two position. In fact, the current reading for confidence in the police, at 64%, represents an all-time high for this institution. Confidence in the police has been gradually rising since June 2000, and now exceeds the previous high of 60% recorded in May 1996.
The Bottom of the List
Several institutions receive high confidence ratings from no more than a third of the nation's adults. The two most negatively rated institutions are Health Maintenance Organizations (HMOs) and big business. Americans are more likely to give both institutions a low rating (very little or no confidence) rather than a high rating (a great deal or quite a lot of confidence).
Newspapers, television news, Congress, and organized labor are the next lowest rated, with only 30% to 31% of Americans saying these earn a high rating and 21% to 29% giving them a low rating.
Americans' Confidence in Institutions:
Lowest Rated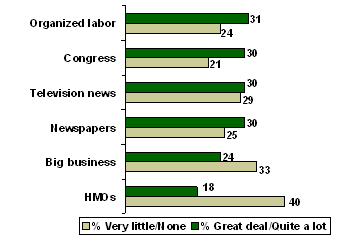 May 21-23, 2004
It should be noted that at 30%, confidence in Congress is significantly lower than that recorded for the other two branches of the federal government. (The presidency receives the highest level with 52%, followed by the U.S. Supreme Court with 46%.)
Mid-Level Institutions
Four organizations -- the Supreme Court, the medical system, public schools, and the criminal justice system -- all rank in the middle among the institutions rated. The percentage having a great deal or quite a lot of confidence in these institutions ranges between 34% and 46%, with the little or no confidence figures falling between 16% and 23%.
As with the police, confidence in the criminal justice system has been gradually increasing since June 2000, and is now at an all-time high (according to trends since 1993).
Confidence in television news, at 30%, is down five points compared with last year, and is the lowest recorded in Gallup's trends for this item dating back to 1993. The previous low for television news was 33% in April 1995. Newspapers also dropped slightly over the past year -- from 33% to 30% -- almost tying the all-time low for this institution, 29%, previously recorded in March 1994.
Survey Methods
These results are based on telephone interviews with a randomly selected national sample of 1,002 adults, aged 18 and older, conducted May 21-23, 2004. For results based on this sample, one can say with 95% confidence that the maximum error attributable to sampling and other random effects is ±3 percentage points. In addition to sampling error, question wording and practical difficulties in conducting surveys can introduce error or bias into the findings of public opinion polls.
8. Now I am going to read you a list of institutions in American society. Please tell me how much confidence you, yourself, have in each one -- a great deal, quite a lot, some, or very little? First, ... Next, [RANDOM ORDER]


2004 May 21-23
(sorted by "a great deal/quite a lot")




Great
deal




Quite
a lot





Some




Very
little




NONE (vol.)



No
opinion


Great deal/ Quite
a lot

%

%

%

%

%

%

%

The Military

36

39

19

5

*

1

75

The Police

24

40

26

10

*

*

64

The Church or organized religion

26

27

28

15

2

2

53

Banks

17

36

36

10

*

1

53

The Presidency

23

29

25

20

2

1

52

The U.S. Supreme Court

16

30

37

14

2

1

46

The Medical system

15

29

37

17

1

1

44

The Public schools

16

25

39

18

1

1

41

The Criminal justice system

10

24

42

22

1

1

34

Organized labor

12

19

43

22

2

2

31

Congress

11

19

48

20

1

1

30

Television news

11

19

40

26

3

1

30

Newspapers

9

21

44

23

2

1

30

Big business

7

17

42

30

3

1

24

Health Maintenance Organizations, HMOs

6

12

39

36

4

3

18

(vol.) Volunteered response

* Less than 0.5%
CONFIDENCE IN INSTITUTIONS -- FULL TREND
(COMBINES "GREAT DEAL" AND "QUITE A LOT")
| | | | | | | | | | | | | | | | | | | |
| --- | --- | --- | --- | --- | --- | --- | --- | --- | --- | --- | --- | --- | --- | --- | --- | --- | --- | --- |
| | A. | B. | C. | D. | E. | F. | G. | H. | I. | J. | K. | L. | M. | N. | O. | P. | Q. | R. |
| | % | % | % | % | % | % | % | % | % | % | % | % | % | % | % | % | % | % |
| | | | | | | | | | | | | | | | | | | |
| 2004 May | 53 | 75 | 46 | 53 | 41 | 30 | 30 | 30 | 31 | 52 | 64 | 44 | 34 | 24 | 18 | -- | -- | -- |
| 2003 Jun | 50 | 82 | 47 | 50 | 40 | 33 | 29 | 35 | 28 | 55 | 61 | 44 | 29 | 22 | 17 | -- | -- | -- |
| 2002 Jun | 45 | 79 | 50 | 47 | 38 | 35 | 29 | 35 | 26 | 58 | 59 | 38 | 27 | 20 | 13 | -- | -- | 19 |
| 2001 Jun | 60 | 66 | 50 | 44 | 38 | 36 | 26 | 34 | 26 | 48 | 57 | 40 | -- | 28 | 15 | 28 | 37 | -- |
| 2000 Jun | 56 | 64 | 47 | 46 | 37 | 37 | 24 | 36 | 25 | 42 | 54 | 40 | 24 | 29 | 16 | -- | -- | -- |
| 1999 Jun | 58 | 68 | 49 | 43 | 36 | 33 | 26 | 34 | 28 | 49 | 57 | 40 | 23 | 30 | 17 | -- | -- | -- |
| 1998 Jun | 59 | 64 | 50 | 40 | 37 | 33 | 28 | 34 | 26 | 53 | 58 | 40 | 24 | 30 | -- | -- | -- | -- |
| 1997 Jul | 56 | 60 | 50 | 41 | 40 | 35 | 22 | 34 | 23 | 49 | 59 | 38 | 19 | 28 | -- | -- | -- | -- |
| 1996 May | 57 | 66 | 45 | 44 | 38 | 32 | 20 | 36 | 25 | 39 | 60 | 42 | 19 | 24 | -- | -- | -- | -- |
| 1995 Apr | 57 | 64 | 44 | 43 | 40 | 30 | 21 | 33 | 26 | 45 | 58 | 41 | 20 | 21 | -- | -- | -- | -- |
| 1994 Mar | 54 | 64 | 42 | 35 | 34 | 29 | 18 | 35 | 26 | 38 | 54 | 36 | 15 | 26 | -- | -- | -- | -- |
| 1993 Mar | 53 | 68 | 44 | 37 | 39 | 31 | 18 | 46 | 26 | 43 | 52 | 34 | 17 | 22 | -- | -- | -- | -- |
| 1991 Oct | 56 | 69 | 39 | 30 | 35 | 32 | 18 | -- | 22 | 50 | -- | -- | -- | 22 | -- | -- | -- | -- |
| 1991 Mar | 59 | 85 | 48 | 32 | 44 | 32 | 30 | -- | 25 | 72 | -- | -- | -- | 26 | -- | -- | -- | -- |
| 1990 Aug | 56 | 68 | 47 | 36 | 45 | 39 | 24 | -- | 27 | -- | -- | -- | -- | 25 | -- | -- | -- | -- |
| 1989 Sep | 52 | 63 | 46 | 42 | 43 | -- | 32 | -- | -- | -- | -- | -- | -- | -- | -- | -- | -- | -- |
| 1988 Sep | 59 | 68 | 56 | 49 | 49 | 36 | 35 | -- | 26 | -- | -- | -- | -- | 25 | -- | -- | -- | -- |
| 1987 Jul | 61 | 61 | 52 | 51 | 50 | 31 | -- | -- | 26 | -- | -- | -- | -- | -- | -- | -- | -- | -- |
| 1986 Jul | 57 | 63 | 54 | 49 | 49 | 37 | 41 | -- | 29 | -- | -- | -- | -- | 28 | -- | -- | -- | -- |
| 1985 May | 66 | 61 | 56 | 51 | 48 | 35 | 39 | -- | 28 | -- | -- | -- | -- | 31 | -- | -- | -- | -- |
| 1984 Oct | 64 | 58 | 51 | 51 | 47 | 34 | 29 | -- | 30 | -- | -- | -- | -- | 29 | -- | -- | -- | -- |
| 1983 Aug | 62 | 53 | 42 | 51 | 39 | 38 | 28 | -- | 26 | -- | -- | -- | -- | 28 | -- | -- | -- | -- |
| 1981 Nov | 64 | 50 | 46 | 46 | 42 | 35 | 29 | -- | 28 | -- | -- | -- | -- | 20 | -- | -- | -- | -- |
| 1979 Apr | 65 | 54 | 45 | 60 | 53 | 51 | 34 | -- | 36 | -- | -- | -- | -- | 32 | -- | -- | -- | -- |
| 1977 Jan | 64 | 57 | 46 | -- | 54 | -- | 40 | -- | 39 | -- | -- | -- | -- | 33 | -- | -- | -- | -- |
| 1975 May | 68 | 58 | 49 | -- | -- | -- | 40 | -- | 38 | -- | -- | -- | -- | 34 | -- | -- | -- | -- |
| 1973 May | 66 | -- | 44 | -- | 58 | 39 | 42 | -- | 30 | -- | -- | -- | -- | 26 | -- | -- | -- | -- |
KEY:

A.

The Church or organized religion

G.

Congress

M.

The Criminal justice system

B.

The Military

H.

Television News

N.

Big business

C.

The U.S. Supreme Court

I.

Organized labor

O.

Health Maintenance Organizations (HMOs)

D.

Banks

J.

The Presidency

P.

The Electric power utilities

E.

The Public schools

K.

The Police

Q.

Faith-based charitable organizations

F.

Newspapers

L.

The Medical system

R.

Wall Street