Economy, Iraq continue to be cited as country's most important problems
GALLUP NEWS SERVICE
PRINCETON, NJ -- Gallup's most recent update on Americans' satisfaction with the course of the nation shows that about 6 in 10 Americans are dissatisfied, little changed from recent months. Economic concerns and the war with Iraq continue to be cited most often as the most important problems facing the nation.
The poll, conducted June 3-6, finds 39% of Americans are "satisfied with the way things are going in the United States at this time," and 59% are dissatisfied. Those figures are about where they have been since March of this year -- roughly 4 in 10 satisfied and 6 in 10 dissatisfied. As recently as January, though, a majority of Americans were satisfied (55%).
Previous Gallup analysis has shown that the expressed level of satisfaction depends, in large part, upon the match between a person's partisanship and the party of the president. That phenomenon is clear in the present data, as 67% of Republicans are satisfied with the way things are going in the United States at this time, compared with just 17% of Democrats (32% of independents are satisfied).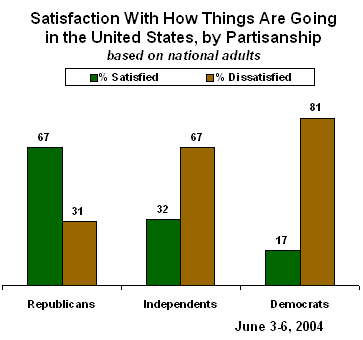 The current national numbers may seem to spell trouble for President George W. Bush's re-election prospects. Certainly, it would be better for a president's electoral fortunes to have more Americans satisfied than dissatisfied with current conditions in the country. However, the current numbers are almost identical to what they were in October 1996, shortly before Bill Clinton was re-elected to a second term as president. At that time, 39% of Americans were satisfied and 56% dissatisfied with the course of the nation. Satisfaction levels were somewhat higher in the fall of 1984, when former President Ronald Reagan won a landslide re-election victory, but even then satisfaction was below 50% -- 48% were satisfied and 45% dissatisfied. However, by way of comparison, satisfaction levels were only in the mid-teens to low 20s through almost all of 1992, the year in which the elder George Bush was defeated for re-election. This suggests that the true threshold for incumbents on this satisfaction measure may be something well below 50%.
Most Important Problem
The economy and Iraq continue to rate as the most frequently mentioned issues when Americans are asked to name the most important problem facing the country. Currently, about 4 in 10 Americans mention something about the economy, including 19% who mention the economy in general terms, 13% who say unemployment specifically, and 7% who say fuel or oil prices. The percentage mentioning fuel or oil prices, not surprisingly, increased this past month.
Twenty-seven percent of Americans say the war in Iraq is the nation's number-one problem. Terrorism also figures prominently, mentioned by 13% of Americans. Other issues mentioned to a considerable degree are moral decline (6%), healthcare (6%), and dissatisfaction with politicians (5%).
Overall, these data have not changed much in recent months except for unemployment (which has declined slightly) and fuel/oil prices (which has risen).
Most Important Problem,
March -- June 2004

June

%

Iraq

27

Economy

19

Unemployment

13

Terrorism

13

Fuel/Oil Prices

7

May

Iraq

26

Economy

19

Unemployment

16

Terrorism

12

Moral decline

6

April

Iraq

26

Economy

22

Unemployment

17

Terrorism

13

Moral decline

7

March

Economy

21

Unemployment

19

Iraq

11

Terrorism

10

National security

7
Survey Methods
These results are based on telephone interviews with a randomly selected national sample of 1,000 adults, aged 18 and older, conducted June 3-6. For results based on this sample, one can say with 95% confidence that the maximum error attributable to sampling and other random effects is ±3 percentage points. In addition to sampling error, question wording and practical difficulties in conducting surveys can introduce error or bias into the findings of public opinion polls.
6. In general, are you satisfied or dissatisfied with the way things are going in the United States at this time?
Satisfied

Dissatisfied

No opinion

%

%

%

2004

2004 Jun 3-6

39

59

2

2004 May 2-4

36

62

2

2004 Apr 5-8

41

57

2

2004 Mar 8-11

39

60

1

2004 Feb 9-12

45

54

1

2004 Jan 12-15

46

53

1

2004 Jan 2-5

55

43

2

2003

2003 Dec 11-14

50

48

2

2003 Nov 3-5

44

54

2

2003 Oct 6-8

41

57

2

2003 Sep 8-10

40

58

2

2003 Aug 4-6

46

52

2

2003 Jul 7-9

50

48

2

2003 Jun 12-15

47

51

2

2003 May 5-7

54

45

1

2003 Apr 7-9

55

41

4

2003 Mar 22-23

60

38

2

2003 Mar 3-5

36

61

3

2003 Feb 17-19

39

58

3

2003 Feb 3-6

40

58

2

2003 Jan 13-16

42

56

2

2002

2002 Dec 5-8

46

51

3

2002 Nov 11-14

48

48

4

2002 Oct 31-Nov 3

48

47

5

2002 Oct 3-6

47

49

4

2002 Sep 5-8

47

51

2

2002 Aug 5-8

47

50

3

2002 Jul 26-28

48

49

3

2002 Jul 22-24

49

47

4

2002 Jul 9-11

49

48

3

2002 Jun 3-6

52

44

4

2002 May 6-9

56

40

4

2002 Apr 8-11

61

37

2

2002 Mar 4-7

61

37

2

2002 Feb 4-6

61

37

2

2002 Jan 7-9

65

32

3

2001

2001 Dec 6-9

70

28

2

2001 Nov 8-11

65

33

2

2001 Oct 11-14

67

29

4

2001 Sep 14-15

61

36

3

2001 Sep 7-10

43

55

2

2001 Aug 16-19

48

49

3

2001 Jul 19-22

51

46

3

2001 Jun 11-17

51

46

3

2001 May 10-14

46

50

4

2001 Apr 6-8

50

47

3

2001 Mar 5-7

53

44

3

2001 Feb 1-4

51

45

4

2001 Jan 10-14

56

41

3

2000

2000 Dec 2-4

51

46

3

2000 Nov 13-15

58

41

1

2000 Oct 6-9

62

36

2

2000 Aug 29-Sep 5

59

38

3

2000 Aug 18-19

63

33

4

2000 Jul 14-16

61

35

4

2000 Jun 22-25

56

39

5

2000 May 18-21

55

42

3

2000 Apr 3-9

59

37

4

2000 Feb 25-27

65

32

3

2000 Jan 7-10

69

28

3

1999

1999 Sep 23-26

52

45

3

1999 Aug 24-26

62

35

3

1999 Jun 11-13

55

42

3

1999 May 23-24

51

46

3

1999 Apr 26-27

51

45

4

1999 Apr 13-14

58

39

3

1999 Feb 12-13

71

26

3

1999 Jan 15-17

70

28

2

1998

1998 Dec 28-29

50

48

2

1998 Oct 29-Nov 1

60

34

6

1998 Aug 21-23

63

34

3

1998 Aug 10-12

60

36

4

1998 May 8-10

59

36

5

1998 Apr 17-19

58

38

4

1998 Feb 20-22

64

32

4

1998 Feb 13-15

59

37

4

1998 Jan 30-Feb 1

63

35

2

1997

1997 Dec 18-21

50

46

4

1997 Aug 22-25

50

48

2

1997 May 6-7

46

51

3

1997 Jan 10-13

50

47

3

1996

1996 Dec 9-11

43

55

2

1996 Nov 21-24

47

47

6

1996 Oct 26-29

39

56

5

1996 Aug 30-Sep 1

45

50

5

1996 Aug 16-18

38

57

5

1996 May 9-12

37

60

3

1996 Mar 15-17

36

61

3

1996 Mar 8-10

41

56

3

1996 Jan 5-7

24

72

4

1995

1995 Aug 11-14

33

64

3

1995 Jul 7-9

32

65

3

1995 Mar 27-29

30

66

4

1994

1994 Nov 28-29

29

67

4

1994 Nov 2-6

30

66

4

1994 Oct 22-25

31

66

3

1994 Jul 15-17

33

65

2

1994 May 20-22

33

64

3

1994 Apr 22-24

32

65

3

1994 Mar 25-27

35

62

3

1994 Feb 26-28

36

61

3

1994 Jan 15-17

35

62

3

1993

1993 Dec 4-6

34

63

3

1993 Nov 2-4

27

70

3

1993 May 21-23

24

73

3

1993 Feb 12-14

25

71

4

1993 Jan 8-11

29

68

3

1992

1992 Nov 11-12

26

68

6

1992 Aug 28-Sep 2 ‡

22

73

5

1992 Jul 31-Aug 2

17

80

3

1992 Jun 12-14

14

84

2

1992 May 7-10

20

77

3

1992 Apr 20-22 ^

19

80

1

1992 Mar 20-22

19

80

1

1992 Feb 28-Mar 1

21

78

1

1992 Jan 31-Feb 2 ^

24

75

1

1992 Jan 3-6 ^

24

74

2

1991

1991 Dec 5-8

37

60

3

1991 Oct 31-Nov 2

35

62

3

1991 Oct 10-13

39

57

4

1991 Aug 23-25

49

45

6

1991 Jul 11-14

43

50

7

1991 May 23-26

49

49

2

1991 Mar 21-24

52

43

5

1991 Feb 28-Mar 3

66

31

3

1991 Feb 14-17

54

40

6

1991 Jan 17-21

62

33

5

1991 Jan 3-6

32

61

7

1990

1990 Dec 13-16

33

64

3

1990 Nov 1-4

32

64

4

1990 Oct 25-28

31

66

3

1990 Oct 11-14

29

67

4

1990 Sep 27-30

37

58

5

1990 Aug 30-Sep 2

51

44

5

1990 Aug 9-12

43

51

6

1990 Jul 19-22

45

51

4

1990 Feb 8-11

55

39

6

1989

1989 May 4-7

44

50

6

1989 Feb

45

50

5

1988

1988 Sep 25-Oct 1

56

40

4

1988 May 13-15

41

54

5

1987

1987 Aug 24-Sep 2

45

49

6

1986

1986 Dec 4-5 †

47

49

4

1986 Sep 3-17

58

38

4

1986 Jun 9-16

69

26

5

1986 Mar 7-10

66

30

4

1985

1985 Nov 11-18

51

46

3

1984

1984 Dec

52

40

8

1984 Sep 28-Oct 1

48

45

7

1984 Feb 10-13

50

46

4

1983

1983 Aug 5-8

35

59

6

1982

1982 Nov 5-8

24

72

4

1982 Sep 17-20

24

72

4

1982 Apr 2-5

25

71

4

1981

1981 Dec 11-14

27

67

6

1981 Jun 5-8

33

61

6

1981 Jan 9-12

17

78

5

1979

1979 Nov 2-5

19

77

4

1979 Jul 13-16

12

84

4

1979 Feb 2-5

26

69

5

^ Registered voters
† Gallup/Newsweek
‡ Gallup/CNN/Knight-Ridder
7. What do you think is the most important problem facing this country today? [Open-ended]
June
3-6,
2004

May
2-4,
2004

April
5-8,
2004

%

%

%

ECONOMIC PROBLEMS (NET)

41

42

43

1

Economy in general

19

19

22

2

Unemployment/jobs

13

16

17

3

Fuel/oil prices

7

3

3

4

Federal budget deficit/federal debt

3

2

2

5

High cost of living/inflation

2

1

1

6

Lack of money

1

1

1

7

Taxes

1

2

2

8

Gap between rich and poor

1

*

1

9

Wage issues

*

1

--

10

Corporate corruption

*

*

*

11

Foreign trade/trade deficit

*

*

1

12

Recession

*

*

*

NON-ECONOMIC PROBLEMS (NET)

72

71

74

1

War in Iraq/Fear of war/Feelings of fear in this country

27

26

26

2

Terrorism

13

12

13

3

Ethics/moral/religious/family decline; dishonesty; lack of integrity

6

6

7

4

Poor healthcare/ hospitals; high cost of healthcare

6

6

6

5

Dissatisfaction with government/Congress/politicians/candidates; poor leadership; corruption

5

5

7

6

Education/poor education/access to education

4

6

5

7

Poverty/hunger/homelessness

3

2

3

8

National security

3

4

4

9

Immigration/illegal aliens

2

2

2

10

Foreign aid/focus overseas

2

2

3

11

International issues/problems

2

2

1

12

Crime/violence

2

1

1

13

Medicare/Social Security issues

2

3

2

14

Homosexuality/gay issues

2

1

1

15

Judicial system/courts/laws

1

2

1

16

Environment/pollution

1

1

1

17

Lack of respect for each other

1

--

1

18

Unifying the country

1

1

1

19

Abortion

1

1

*

20

Care for the elderly

1

1

*

21

Drugs

1

1

1

22

Election year/presidential choices/election reform

1

1

*

23

Abuse of power

1

1

1

24

The media

*

*

1

25

Race relations/racism

*

*

--

26

Overpopulation

*

*

--

27

Children's behavior/way they are raised

*

*

*

28

Child abuse

*

--

*

29

Lack of energy sources; the energy crisis

*

*

*

Space program/NASA

--

*

--

Welfare

--

*

*

Guns/gun control

--

--

*

Cancer/diseases

--

--

--

Lack of military defense

--

--

--

Other non-economic

3

4

2

No opinion

3

3

3

Total

141%

139%

143%

* Less than 0.5%