Kerry has slight lead over Bush among Catholics; white Protestants favor Bush over Kerry
GALLUP NEWS SERVICE
PRINCETON, NJ -- Roughly 6 in 10 Americans say religion is a "very important" part of their lives and believe religion can answer all or most of today's problems. A majority of Americans say they attend religious services at least once a month, including a third who go every week, and 6 in 10 are members of a church or synagogue. More than 8 in 10 Americans are Christian, including roughly half who are Protestant and about a quarter who are Catholic. Fewer than 1 in 10 Americans have no religious affiliation at all. In regard to whom they would vote for in this year's election, Catholics slightly favor presumptive Democratic candidate John Kerry over President George W. Bush, while white Protestants would be much more likely to vote for Bush than Kerry.
Importance of Religion in the United States

According to a June 3-6 Gallup Poll, 59% of adults nationwide say religion is a very important part of their lives. An additional 26% of Americans say religion is fairly important to them. Just 15% of respondents say religion is not very important. The percentage of Americans saying religion is very important has not fluctuated significantly over the past decade, with yearly averages ranging between 57% and 61% from 1993 through 2003.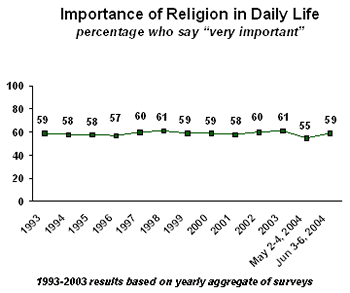 About two-thirds of Americans, 64%, belong to a church or synagogue. Self-reported church membership has fluctuated slightly since the early 1990s, with yearly averages ranging between the current level and 70% (in 1999).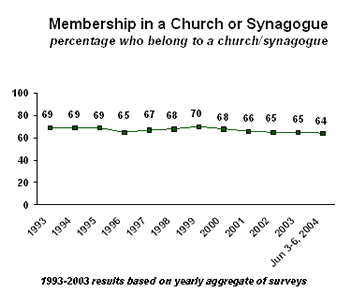 The latest poll also shows that, when given a choice, 61% of Americans say that "religion can answer all or most of today's problems," while 24% feel that "religion is largely old-fashioned and out-of-date." Over the last decade, Gallup has generally found about 6 in 10 Americans saying religion can answer today's problems, with the exception for a brief period from 1998 to 2000, when the percentage saying that religion could solve today's problems was slightly higher.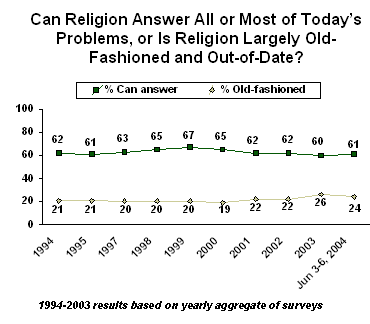 Church Attendance
In Gallup's early June poll, 43% of Americans report having attended church or synagogue in the past week, while 57% have not. Gallup's aggregated trends on religion show very little change in this measure over the past decade.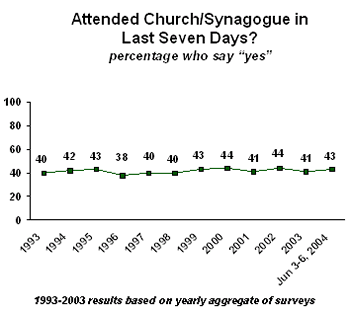 In response to a more general question that asks Americans how often they attend church, nearly 6 in 10 adults nationwide say they attend services on a semi-regular basis, including a third of Americans, 34%, who say they go to church every week. Just about 4 in 10 Americans say they seldom (28%) or never (13%) attend services. This measure also has shown little significant change since 1992.
D26. How often do you attend church or synagogue -- at least once a week, almost every week, about once a month, seldom, or never?
At least
once a
week

Almost
every
week

About
once a
month

Seldom

Never

No
opinion

%

%

%

%

%

%

2004 Jun 3-6

34

10

15

28

13

*

2004 May 2-4

28

14

14

31

12

1

2003

32

13

13

30

11

1

2002

32

13

15

29

10

1

2001

32

11

15

29

13

*

2000

35

11

14

29

10

1

1999

32

12

15

27

13

1

1998

32

13

17

28

10

1

1997

29

13

17

29

11

1

1996

29

12

15

32

11

1

1995

31

12

16

30

10

1

1994

32

13

16

28

10

1

1992

34

10

14

27

14

1
Religious Preference
The United States is a predominantly Christian nation. The latest Gallup survey finds that nearly half of all Americans identify themselves as Protestants, 25% say they are Catholic, and 11% simply identify themselves as Christians but do not specify their religious affiliation. Three percent of respondents say they are Jewish, and 7% say they have no religious preference at all.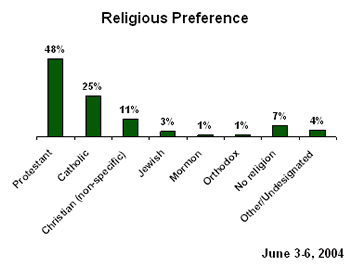 Among Protestants, the data show that 11% are Baptists (other than Southern Baptists), 9% are Methodists, 6% are Southern Baptists, 5% are Lutherans, 3% are Presbyterians, 2% are Pentecostals, 2% belong to the Church of Christ, and 2% are Episcopalians.
Religion and Politics
Catholics interviewed in the latest Gallup Poll are slightly more likely to say they will vote for Kerry than for Bush, by a margin of 49% to 42%. But among practicing Catholics (those who have attended services in the past week and those who say religion is very important to their lives), Bush and Kerry are essentially tied.
When independent candidate Ralph Nader is included on the ballot, Bush and Kerry are virtually tied among all Catholics, by a margin of 43% for Kerry and 42% for Bush. Nine percent of Catholics would vote for Nader.
Bush fares better among white Protestants than he does among Catholics. (Gallup removed blacks and other minorities from this analysis as these groups historically identify themselves as Democrats and vote for the Democratic candidate.) The overall results show 56% of white Protestants would vote for Bush if the presidential elections took place today, while 39% would vote for Kerry. Support for Bush is even stronger among practicing white Protestants (those who have attended church in the past week and those who say religion is very important to them), with Bush receiving roughly two-thirds of the vote and Kerry receiving about a third.
Similar patterns are found when Nader is included on the ballot with Bush and Kerry.
Survey Methods
These results are based on telephone interviews with a randomly selected national sample of 1,000 adults, aged 18 and older, conducted June 3-6, 2004. For results based on this sample, one can say with 95% confidence that the maximum error attributable to sampling and other random effects is ±3 percentage points. In addition to sampling error, question wording and practical difficulties in conducting surveys can introduce error or bias into the findings of public opinion polls.