Practicing Catholics more likely to support Bush
GALLUP NEWS SERVICE
PRINCETON, NJ -- Historically a solid Democratic voting group, in the past three decades Catholics have become a key swing voting group in American presidential elections. Catholics broke with their historical voting pattern to support victorious Republican candidates in 1972, 1980, and 1984, according to Gallup final pre-election poll estimates. Aside from the 1988 election, Catholics have supported the candidate who won the popular vote in every election since 1972.
Catholics, who comprise a substantial amount (about 25%) of the population, are of special interest this year since Democratic presidential candidate John Kerry is the first Catholic major-party nominee since 1960. Recent polling has shown Catholics with a slight preference for Kerry over President George W. Bush. However, among practicing Catholics -- those who attend church on a weekly basis -- Bush leads Kerry. Catholics who attend church infrequently support Kerry by a wide margin.
The Overall Catholic Vote
The last five Gallup surveys have shown Kerry with at least a slight lead over Bush among Catholic registered voters. In the most recent poll, Catholic registered voters favored Kerry by a 51% to 45% margin. Before mid-May, Bush had at least a slight lead among Catholics in every poll.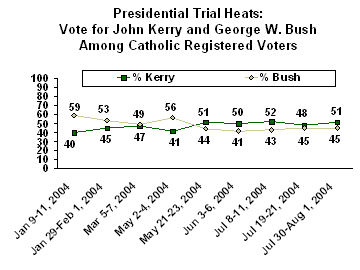 It is unclear why the shift occurred in mid-May; especially when the national vote among registered voters has remained fairly stable since it became clear Kerry would be the Democratic nominee. One possibility is that as voters learned more about Kerry, they became aware of his Catholic faith. Kerry's faith has been an election-year issue, as well. Some Catholic bishops have argued that Catholic politicians, like Kerry, whose policy positions on matters such as abortion rights are not consistent with church teachings, should be denied Communion when attending church.
The Catholic Divide
While the overall Catholic vote would still appear to be very much up-for-grabs, but presently leaning toward Kerry, a closer look at the data reveal that Catholics themselves are divided in their support, according to their frequency of attending church.
Combined data from Gallup's two most recent polls, conducted July 19-21 and July 30-Aug. 1, show that Catholic registered voters who attend church weekly support Bush over Kerry by a 52% to 42% margin. This group represents about one-third of all Catholic registered voters. Among Catholic registered voters who attend church on a semi-regular basis -- that is, nearly every week or monthly -- Kerry leads Bush by 50% to 45%. This group represents slightly more than one-quarter of all Catholic registered voters, 27%. Among Catholic registered voters who attend church on an infrequent basis -- that is, "seldom" or "never" -- Kerry has a large 57% to 39% lead. This is the largest group of Catholics, representing just under 40% of all U.S. Catholic registered voters (38%).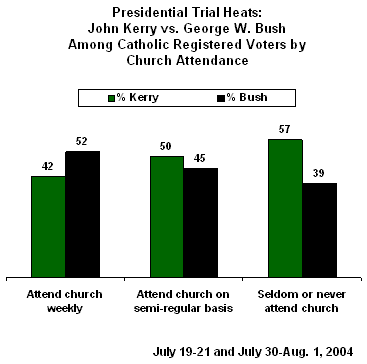 As such, Kerry tends to appeal to non-practicing Catholics, while Bush appeals more to practicing Catholics. Bush's policy stands on abortion, stem-cell research, and same-sex marriage appear to be more consistent with Catholic teachings than Kerry's. In general, Gallup Poll data show that practicing Catholics are much more likely to share the stances on policies espoused by the church than are non-practicing Catholics. Last week, Bush, who is a Methodist, made a direct appeal to Catholic voters in a speech at a large Catholic gathering in Dallas.
Hispanic Catholics
Part of Kerry's appeal to Catholics could be because he appeals to Hispanic voters, who are overwhelmingly Catholic (62%, according to Gallup's June Minority Relations poll). But recent Gallup data suggest that Hispanic Catholics are only slightly more likely to support Kerry than are white Catholics, although there is not as strong a relationship between Hispanic Catholics' church attendance and support for Bush as there is among Catholics overall.
Among Hispanic Catholic registered voters, Kerry led 58% to 36% in the June Minority Relations poll, and his lead among white Catholic registered voters in that poll was similar, at 55% to 43%. Kerry led Bush 54% to 41% among all Catholic registered voters in that poll.
Though the sample sizes are too limited to draw firm conclusions, the data suggest that Hispanic registered voters who attend church weekly give less support to Kerry than Hispanics who attend church on a less frequent basis. Still, it appears Kerry would maintain a lead over Bush in both groups.
Survey Methods
These results are based on telephone interviews with a randomly selected national sample of 545 Catholic registered voters, aged 18 and older, from polls conducted July 19-21 and July 30-Aug. 1. For results based on this sample, one can say with 95% confidence that the maximum error attributable to sampling and other random effects is ±5 percentage points.
Data for Hispanics are based on interviews with 503 Hispanics, aged 18 and older, conducted June 9-30, 2004. The sample of 166 Hispanic Catholic registered voters has a margin of sampling error of ±14 percentage points.
In addition to sampling error, question wording and practical difficulties in conducting surveys can introduce error or bias into the findings of public opinion polls.