More than half of Americans, Canadians say they are very happy
GALLUP NEWS SERVICE
PRINCETON, NJ -- Recent Gallup Polls conducted in Great Britain, Canada, and the United States show that Britons are less likely to describe themselves as very happy than residents of the other two countries. Similarly, Britons are less likely to say they are very satisfied with their personal lives. The lower expressed satisfaction and happiness by Britons is not due to better national conditions in Canada and the United States, nor is it due to appreciably better reported mental and physical health by residents of those countries.
The polls were conducted in December of last year. In all three countries, at least 9 in 10 say they are at least fairly happy. But Americans and Canadians are happier overall -- 53% of Americans and 50% of Canadians describe themselves as "very happy," compared with just 38% of Britons.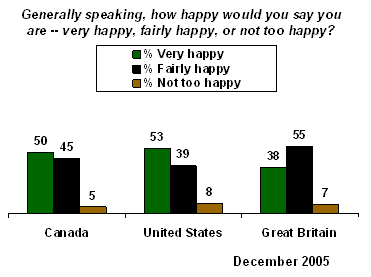 Similarly, Britons are also less likely to say they are "very satisfied" with their personal lives at the moment. Forty-one percent say they are very satisfied, compared with 57% of Americans and 58% of Canadians. Again, similar percentages in all three countries say they are satisfied, but residents of the two North American countries are satisfied to a greater degree.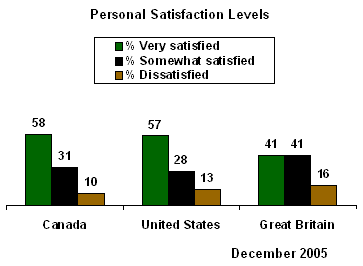 Reports of one's personal happiness are related to their perceptions of current national conditions. But the greater degree of happiness in Canada and the United States is not merely because Canadians and Americans perceive conditions in their countries to be more positive than Britons do. For example, at the time the poll was conducted, ratings of current national conditions in each country were fairly similar -- 33% of Britons were satisfied with the way things were going in Britain, compared with 41% of Canadians and 35% of Americans.
Canadians were much more positive about their national economy, but Americans were as dour about their economy as Britons were about theirs. Ratings of the crime situation in each country were similar; roughly 7 in 10 in each of the countries perceive an increase in crime in their countries. Britons were only slightly less likely than Canadians or Americans to say they approved of the job their chief executive was doing.
Perceptions of National Conditions

Great Britain

Canada

United States

%

%

%

Satisfied with things in nation

33

41

35

Economic conditions excellent or good

39

61

37

More crime in country

71

71

67

Approve of chief executive

35

38

43
Reported happiness is also related to assessments of one's health, but again, differences in reported health between the three countries do not explain the differences in happiness. Although Canadians were more likely to report excellent physical or mental health than Britons, Americans and Britons are similar in this respect. The frequency with which residents report feeling stress is similar in the three countries.
Residents' Reported Physical and Mental Health

Great Britain

Canada

United States

%

%

%

Physical health excellent

23

32

28

Mental health excellent

38

50

42

Experience stress frequently

31

33

37
Most likely the differences are cultural, with Britons either less likely to be happy in general, or possibly more reluctant to say they are even if that is the case.
Survey Methods
These results are based on telephone interviews with a randomly selected national sample of 1,013 U.S. adults, aged 18 years and older, conducted Dec. 5-8, 2005, 1,003 Canadian adults, aged 18 and older, conducted Dec. 12-18, 2005, and 1,010 British adults, aged 18 and older, conducted Dec. 12-20, 2005. For results based on these samples, one can say with 95% confidence that the maximum error attributable to sampling and other random effects is ±3 percentage points. In addition to sampling error, question wording and practical difficulties in conducting surveys can introduce error or bias into the findings of public opinion polls.