The president's ratings on Iraq drop to new low
GALLUP NEWS SERVICE
PRINCETON, NJ -- A new USA Today/Gallup poll finds that 37% of Americans approve of the way President George W. Bush is handling his job as president. This marks a seven-point drop from Gallup's most recent poll in mid-September, but is generally in line with Bush's average approval rating since June. The current poll also finds a decline in Bush's rating on Iraq, now at a new low, and terrorism, but little change in his ratings on the economy. From a different perspective, Americans' overall opinion of the president as a person remains negative, with 42% rating him favorably and 55% unfavorably, but still, this is not much different from recent measures.
Overall Job Approval Rating
The poll, conducted Oct. 6-8, finds that 37% of Americans approve of the way Bush is handling his job as president, while 59% disapprove. Bush's approval ratings have averaged 39% since the beginning of June, fluctuating between 37% and 44%. Bush's approval rating had dropped as low as 31% in early May.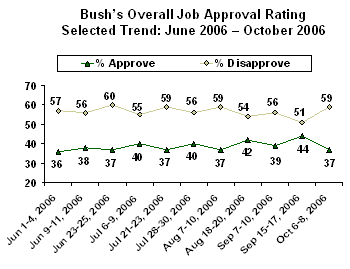 Seventy-seven percent of Republicans approve of Bush, compared with 31% of independents and 12% of Democrats. Bush's current approval ratings among Democrats and independents show little variation in recent months, but Republicans' ratings of Bush dropped nine points since mid-September and are at their lowest level since June.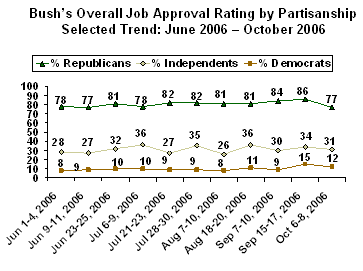 Americans' basic views of Bush are somewhat more positive than his approval ratings, though they are still more negative than positive. Forty-two percent of Americans have a favorable opinion of Bush, while 55% have an unfavorable view. Americans' opinions of Bush have shown little change across the three times Gallup has asked it over the course of the year.
Bush Approval on the Economy, Terrorism, Iraq
The poll also asked Americans to rate Bush's performance on three key issues -- the economy, terrorism, and the situation in Iraq. The results show little change in Bush's ratings on the economy, but the president's ratings on terrorism and Iraq have declined, with ratings of the situation in Iraq at a new low point.
Bush Issues Approval Summary

Current approval rating

Previous approval rating

Average approval rating (Jun-Oct 2006)

%

%

The economy

40%

39 (Aug 2006)

39

The situation in Iraq

30%

36 (Aug 2006)

34

Terrorism

46%

55 (Aug 2006)

50
The following provides a more detailed look at the trends on these three issues.
The Situation in Iraq
Bush's current 30% approval rating is technically the lowest Gallup has measured since the war began, but it is not much different from two separate 32% ratings measured this past April. Bush's ratings on Iraq were higher at the beginning of the year, with nearly 4 in 10 Americans saying they approve. Since mid-September 2005, Bush's rating on Iraq has consistently been below the 40% mark.
Terrorism
The president's approval rating on terrorism was higher in August (55%), shortly after the British government foiled a terrorist plot to blow up airplanes traveling between the United States and Great Britain. Bush's current 46% approval rating on terrorism is roughly the same (47%) as that measured in July. Bush's lowest approval rating on terrorism was 45% in early April of this year. Terrorism has always been Bush's strongest issue, and while that is still the case, his approval ratings on this issue are much lower than in previous years.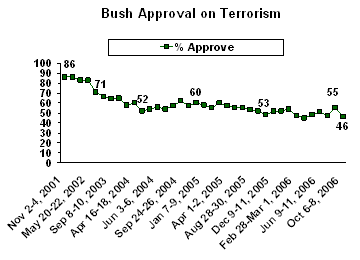 The Economy
Forty percent of Americans say they approve of the way Bush is handling the economy. Bush's economic approval ratings have been very steady since December 2005, hovering around the 40% mark.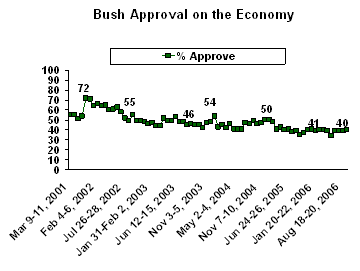 Survey Methods
The latest results are based on telephone interviews with a randomly selected national sample of 1,007 adults, aged 18 and older, conducted Oct. 6-8, 2006. For results based on this sample, one can say with 95% confidence that the maximum error attributable to sampling and other random effects is ±3 percentage points. In addition to sampling error, question wording and practical difficulties in conducting surveys can introduce error or bias into the findings of public opinion polls.