Lead on generic congressional ballot is 59% to 36%
GALLUP NEWS SERVICE
PRINCETON, NJ -- The latest USA Today/Gallup poll finds Democrats opening up a sizeable lead in likely voters' preferences for the U.S. House of Representatives. The political environment, favorable to Democrats for most of the year, has become even more favorable in recent weeks as the Republican leadership struggles with the Mark Foley scandal. The Democrats have not performed this well in a Gallup midterm election test since they enjoyed large congressional majorities in the 1970s.
Voting Preferences

Fifty-nine percent of likely voters in the Oct. 6-8, 2006 poll say they would vote for the Democratic candidate in their congressional district if the election were held today, while 36% prefer the Republican candidate. In the previous reading, taken just after the fifth anniversary of the 9/11 terrorist attacks, voting preferences were evenly divided.
Moreover, nearly half of likely voters, 47%, say they are certain to vote Democratic in the House elections. Just 26% are committed Republican voters, leaving 25% of voters up for grabs (the remaining 2% plan to support third-party candidates). If the current political environment does not change dramatically before Election Day, Republicans are looking at a situation where they would need to win almost all of the swing voters to win the majority of the congressional vote.
The generic ballot has proven to be a highly accurate predictor of the national congressional vote, particularly in midterm elections. While the generic ballot does not predict the percentage of seats each party can expect to win -- which will determine which party controls the House -- the share of seats each party wins usually closely mirrors the percentage of the national congressional vote each wins.
Among the larger group of registered voters, the Democrats' advantage is also 23 percentage points, 58% to 35%. Democrats almost always lead on the generic ballot among registered voters, with Republicans able to offset the Democratic advantage in preference with higher levels of turnout on Election Day. In the post-1994 Republican-era, the Democrats' registered voter lead has typically been in the single digits. Prior to the current poll, Democrats have averaged an 11-point lead on the generic congressional ballot this year, with a high of 16 points in June. The current 23-point lead is similar to what Democrats enjoyed in the 1960s and 1970s when they had solid control of Congress, and suggests that a Democratic landslide is possible if the current political environment persists.
The fact that the registered voter and likely voter estimates are the same suggests that Democrats are currently offsetting any usual Republican advantage in turnout. As many Democrats (41%) as Republicans (39%) say they have given "quite a lot" of thought to this year's election. Also, 48% of Democrats (including independents who lean to the Democratic Party) say they "are more enthusiastic about voting than usual," compared with 39% of Republicans and Republican-leaners. Republicans usually have an advantage on both of these measures.
Party Images and the Political Environment
Nearly every result in the current poll is favorable to the Democrats. In particular, Americans' basic views of the parties show a significant advantage for the Democrats, and one that has grown in recent weeks.
Only 37% of Americans currently have a favorable opinion of the Republican Party, one of the lowest readings for the Republicans in the last 15 years. The Republicans' favorable ratings were already low before the Foley scandal surfaced, with just a 42% favorable rating in mid-September, but in the past month the party's image has taken another hit.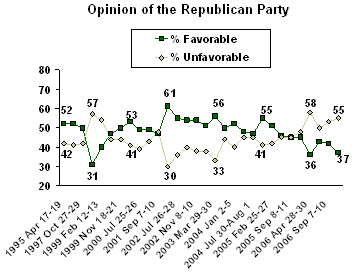 Meanwhile, a majority of Americans, 52%, have a favorable view of the Democratic Party. Americans' views of the Democrats have not grown more positive toward Democrats; rather, these have been fairly steady this year.
Beyond the basic party images, the strong pro-Democratic climate is made clear by the following poll findings:
George W. Bush's job approval rating has slid back to 37%, after hitting a 2006-high 44% in mid-September. Typically, the party outside the White House gains seats in midterm elections, and the gains tend to be much greater when the president's job approval rating is below 50%. Bush's current approval rating would be the lowest for a president in a midterm election since Harry Truman's 33% in 1946.
Just 24% approve of the job Congress is doing -- clearly an ominous sign for the Republican majority. Additionally, the percentage of registered voters who say their member of Congress, and most members of Congress, deserve re-election are near historical lows, and similar to what they were in 1994 when Republicans won a landslide election to win control of Congress.
Democrats are rated as better than Republicans at handling each of eight issues tested in the poll. That includes normally strong Republican issues such as terrorism and moral standards.
Fifty-nine percent of Americans say the Democratic Party can bring about the changes the country needs. Only 40% say this about the Republican Party.
Fifty-four percent say the Democratic Party "has mostly honest and ethical members in Congress," compared to 42% for the Republican Party.
Thirty-eight percent of Americans now identify themselves as Democrats, while just 29% identify themselves as Republicans. That nine-point gap is among the largest for Democrats in Gallup polls since the House impeached Bill Clinton in December 1998.
Independents are also more likely to say they "lean" to the Democratic Party than the Republican Party. In recent years, independents have broken about even on this measure. Not surprisingly, independents' voting preferences are heavily tilted toward the Democrats.
Survey Methods
These results are based on telephone interviews with a randomly selected national sample of 1,007 adults, 18 years and older, conducted Oct. 6-8, 2006. For results based on this sample, one can say with 95% confidence that the maximum error attributable to sampling and other random effects is ±3 percentage points. In addition to sampling error, question wording and practical difficulties in conducting surveys can introduce error or bias into the findings of public opinion polls.
For results based on the sample of 915 registered voters, the maximum margin of sampling error is ±4 percentage points.
For results based on the sample of 622 likely voters, the maximum margin of sampling error is ±5 percentage points. Likely voters are identified using a series of questions measuring past voting behavior and current voting intentions. Based on past voting history in the United States, turnout in this year's midterm election is assumed to be 40% of the voting age population. The likely voter sample is weighted to reflect this.
2. If the elections for Congress were being held today, which party's candidate would you vote for in your Congressional district -- [ROTATED: the Democratic Party's candidate or the Republican Party's candidate]?
2A. (Asked of those who are undecided) As of today, do you lean more toward -- [ROTATE: the Democratic Party's candidate or the Republican Party's candidate]?



Democratic
candidate

Republican
candidate

Undecided/
other

Likely Voters

%

%

%

2006 Oct 6-8

59

36

5

2006 Sep 15-17

48

48

4

Registered Voters

2006 Oct 6-8

58

35

8

2006 Sep 15-17

51

42

8

2006 Sep 7-10

53

41

7

2006 Aug 18-20

47

45

7

2006 Aug 7-10

50

41

9

2006 Jul 28-30

51

40

8

2006 Jul 6-9

51

41

9

2006 Jun 23-25

54

38

7

2006 Jun 9-11

51

39

10

2006 Jun 1-4

51

42

7

2006 Apr 28-30

54

39

7

2006 Apr 7-9

52

42

6

2006 Mar 10-12

55

39

7

2006 Feb 28-Mar 1

53

39

7

2006 Feb 9-12

50

43

8

2006 Jan 6-8

49

43

8

2005 Oct 21-23

50

43

7

2005 Aug 28-30

53

41

6
3. Would you say you will definitely vote for the (Republican/Democrat), or is it possible you would change your mind between now and the election?
COMBINED RESPONSES (Q.2/Q.3)
Defin-
itely
vote Democr-
atic

Voting
Demo-
cratic,
could
change

Voting
Repub-
lican,
could
change

Defin-
itely
vote
Repub-
lican

Voting
for
other
cand-
idate



No
pref-
erence

Likely Voters

%

%

%

%

%

%

2006 Oct 6-8

47

12

10

26

2

3

2002 Oct 21-22

31

18

14

32

1

4

2002 Oct 3-6

33

15

14

33

*

5

Registered Voters

2006 Oct 6-8

41

17

14

21

3

6

2002 Oct 21-22

27

23

16

25

1

8

2002 Oct 3-6

27

21

16

27

1

8

2002 May 28-29

23

22

24

22

1

8

* Less than 0.5%
7. Next, we'd like to get your overall opinion of some people in the news. As I read each name, please say if you have a favorable or unfavorable opinion of these people -- or if you have never heard of them. How about -- [ITEM A READ FIRST, ITEMS B-D READ IN RANDOM ORDER, ITEM E-F READ IN RANDOM ORDER]?
E. The Republican Party
Favorable

Un-
favorable

No opinion

%

%

%

2006 Oct 6-8

37

55

8

2006 Sep 7-10

42

53

4

2006 Jul 28-30

43

50

8

2006 Apr 28-30

36

58

5

2005 Dec 16-18

45

48

7

2005 Oct 13-16

40

50

10

2005 Sep 8-11

45

45

10

2005 Jul 22-24

46

45

9

2005 Apr 1-2

50

44

6

2005 Feb 25-27

51

42

7

2005 Feb 4-6

56

39

5

2004 Sep 13-15

55

41

4

2004 Sep 3-5

53

40

7

2004 Aug 23-25 ^

50

41

9

2004 Jul 30-Aug 1

47

45

8

2004 Jul 19-21 ^

50

43

7

2004 Jan 29-Feb 1

48

45

7

2004 Jan 2-5

52

40

8

2003 Sep 8-10

50

44

6

2003 Mar 29-30

56

33

11

2003 Jan 3-5

51

38

11

2002 Dec 16-17

51

38

11

2002 Nov 8-10

54

38

8

2002 Oct 21-22

53

35

12

2002 Sep 5-8

54

40

6

2002 Jul 26-28

55

36

9

2002 Jan 11-14

61

30

9

2001 Sep 7-10

47

48

5

2000 Nov 13-15

49

43

8

2000 Aug 4-5

54

37

9

2000 Jul 25-26

49

39

12

2000 Jan 7-10

53

41

6

1999 Nov 18-21

50

44

6

1999 Apr 30-May 2

47

44

9

1999 Feb 19-21

45

46

9

1999 Feb 12-13

40

54

6

1999 Feb 4-8

45

47

8

1999 Jan 8-10

40

52

8

1998 Dec 19-20

31

57

12

1998 Dec 15-16

43

47

10

1997 Oct 27-29

50

42

8

1996 Aug 30-Sep 1 †

50

45

5

1996 Aug 16-18 †

55

41

3

1996 Aug 5-7 †

51

44

5

1996 Apr 9-10

52

41

7

1995 Apr 17-19

52

42

6

1992 Jul 6-8 †

53

39

8

^ Asked of a half sample

† Based on registered voters
F. The Democratic Party
Favorable

Un-
favorable

No opinion

%

%

%

2006 Oct 6-8

52

38

10

2006 Sep 7-10

54

40

5

2006 Jul 28-30

52

40

8

2006 Apr 28-30

48

45

8

2005 Dec 16-18

46

45

9

2005 Oct 13-16

52

36

12

2005 Sep 8-11

47

41

12

2005 Jul 22-24

52

38

10

2005 Apr 1-2

50

42

8

2005 Feb 25-27

52

41

7

2005 Feb 4-6

46

47

7

2004 Sep 13-15

49

45

6

2004 Sep 3-5

50

41

9

2004 Aug 23-25 ^

54

36

10

2004 Jul 30-Aug 1

55

37

8

2004 Jul 19-21 ^

48

41

11

2004 Jan 29-Feb 1

59

34

7

2004 Jan 2-5

47

44

9

2003 Sep 8-10

49

45

6

2003 Mar 29-30

49

39

12

2003 Jan 3-5

52

36

12

2002 Dec 16-17

52

37

11

2002 Nov8-10

48

42

10

2002 Oct 21-22

58

30

12

2002 Sep 5-8

56

38

6

2002 Jul 26-28

55

34

11

2002 Jan 11-14

55

33

12

2001 Sep 7-10

56

38

6

2000 Nov 13-15

53

38

9

2000 Aug 4-5

53

38

9

2000 Jul 25-26

56

35

9

2000 Jan 7-10

61

33

6

1999 Nov 18-21

51

41

8

1999 Apr 30-May 2

53

37

10

1999 Feb 19-21

55

37

8

1999 Feb 12-13

56

38

6

1999 Feb 4-8

57

37

6

1999 Jan 8-10

57

35

8

1998 Dec 19-20

57

30

13

1998 Dec 15-16

58

32

10

1997 Oct 27-29

54

39

7

1996 Aug 30-Sep 1 †

60

36

4

1996 Aug 16-18 †

55

41

4

1996 Aug 5-7 †

57

38

5

1996 Apr 9-10

55

38

7

1995 Apr 17-19

51

43

6

1992 Jul 6-8 †

54

38

8

^ Asked of a half sample

† Based on registered voters