Averaged 79% for the quarter
GALLUP NEWS SERVICE
PRINCETON, NJ – April 19th marks the end of George W. Bush's fifth quarter as president of the United States. Since Sept. 11, Bush has been riding a wave of popular support seldom experienced by past presidents. For the current quarter ending April 19, Bush averaged 79% approval, a mark bettered by only four other quarters dating back to 1945, including Bush's own fourth quarter average of 86%.
Among past presidents from 1945 to the present, only Harry Truman's first two quarters as president, at the conclusion of World War II, and the elder George Bush's ninth quarter as president, coinciding with the Persian Gulf War, had higher average ratings than George W. Bush's most recent quarter.
Top 15 Quarterly Averages for Presidential Approval:
Truman to George W. Bush

President

Dates of Quarter

Average

Cases

1

Truman

Apr 20-Jul 19, 1945

87.0

1

2

George W. Bush

Oct 20, 2001-Jan 19, 2002

86.0

8

3

Bush

Jan 20-Apr 19, 1991

82.7

12

4

Truman

Jul 20-Oct 19, 1945

82.0

1

5

George W. Bush

Jan. 20, 2002-Apr. 19, 2002

79.5

10

6

Kennedy

Oct 20, 1961-Jan 19, 1962

78.3

3

7

Kennedy

Jan 20-Apr 19, 1962

78.0

3

8

Kennedy

Jul 20-Oct 19, 1961

76.8

4

9

Eisenhower

Oct 20, 1955-Jan 19, 1956

76.3

3

10

Johnson

Oct 20, 1963-Jan 19, 1964

76.3

3

11

Kennedy

Apr 20-Jul 19, 1961

76.2

5

12

Johnson

Jan 20-Apr 19, 1964

76.0

5

13

Eisenhower

Oct 20, 1956-Jan 19, 1957

75.7

3

14

Kennedy

Oct 20, 1962-Jan 19, 1963

74.7

3

15

Kennedy

Jan 20-Apr 19, 1961

74.3

3

Johnson

Apr 20-Jul 19, 1964

74.3

6
For his entire term as president to date, Bush's job approval rating has averaged 70%. Prior to Sept. 11, Bush's term average approval rating was 56%, about average for U.S. presidents. Since that time, he has averaged 83% approval and enjoyed a sustained level of public support rarely seen by past presidents. The graph below shows the trend in Bush's quarterly average approval ratings.
George W. Bush's
Quarterly Job Approval Averages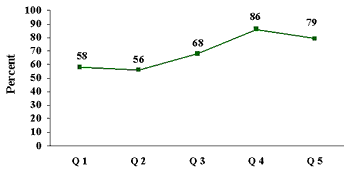 Current Approval at 75%
Bush's individual job approval ratings continue to be among the highest recorded in Gallup's polling history, and currently stands at 75%. However, it has steadily decreased from a high score of 90% in Sept. 2001, a total decline of 15 percentage points in seven months. While initially showing very little drop-off in his ratings, Bush's ratings have shown a slightly more pronounced decay in recent months.
George W. Bush's
Monthly Job Approval Averages
Oct. 2001 – Apr. 2002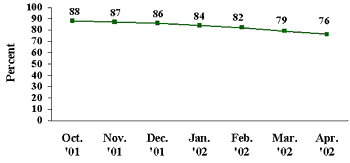 By comparison, seven months after Bush's father registered his high approval score (in March 1991), his approval rating had declined by 23 points. The elder Bush's average approval rating dropped more rapidly at the beginning before leveling off, then declined further in the sixth and seventh months after his high point.
George Bush's
Monthly Job Approval Averages
Mar. 1991 – Oct. 1991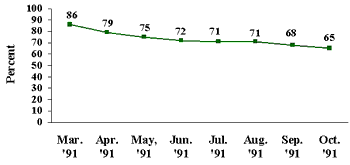 Survey Methods
The latest results are based on telephone interviews with a randomly selected national sample of 1,003 adults, 18 years and older, conducted April 8-11, 2002. For results based on this sample, one can say with 95 percent confidence that the maximum error attributable to sampling and other random effects is plus or minus 3 percentage points. In addition to sampling error, question wording and practical difficulties in conducting surveys can introduce error or bias into the findings of public opinion polls.
Do you approve or disapprove of the way George W. Bush is handling his job as president?
| | | | |
| --- | --- | --- | --- |
| | Approve | Disapprove | No opinion |
| | % | % | % |
| (NA) 2002 Apr 8-11 | 75 | 20 | 5 |
| | | | |
| (NA) 2002 Apr 5-7 | 76 | 19 | 5 |
| (NA) 2002 Mar 22-24 | 79 | 17 | 4 |
| (NA) 2002 Mar 18-20 | 79 | 16 | 5 |
| (NA) 2002 Mar 8-9 | 80 | 14 | 6 |
| (NA) 2002 Mar 4-7 | 77 | 18 | 5 |
| (NA) 2002 Mar 1-3 | 81 | 14 | 5 |
| (NA) 2002 Feb 8-10 | 82 | 14 | 4 |
| (NA) 2002 Feb 4-6 | 82 | 14 | 4 |
| (NA) 2002 Jan 25-27 | 84 | 13 | 3 |
| (NA) 2002 Jan 11-14 | 83 | 13 | 4 |
| (NA) 2002 Jan 7-9 | 84 | 12 | 4 |
| (NA) 2001 Dec 14-16 | 86 | 11 | 3 |
| (NA) 2001 Dec 6-9 | 86 | 10 | 4 |
| (NA) 2001 Nov 26-27 | 87 | 8 | 5 |
| (NA) 2001 Nov 8-11 | 87 | 9 | 4 |
| (NA) 2001 Nov 2-4 | 87 | 9 | 4 |
| (NA) 2001 Oct 19-21 | 88 | 9 | 3 |
| (NA) 2001 Oct 11-14 | 89 | 8 | 3 |
| (NA) 2001 Oct 5-6 | 87 | 10 | 3 |
| (NA) 2001 Sep 21-22 | 90 | 6 | 4 |
| (NA) 2001 Sep 14-15 | 86 | 10 | 4 |
| (NA) 2001 Sep 7-10 | 51 | 39 | 10 |
| (NA) 2001 Aug 24-26 | 55 | 36 | 9 |
| (NA) 2001 Aug 16-19 | 57 | 34 | 9 |
| (NA) 2001 Aug 10-12 | 57 | 35 | 8 |
| (NA) 2001 Aug 3-5 | 55 | 35 | 10 |
| (NA) 2001 Jul 19-22 | 56 | 33 | 11 |
| (NA) 2001 Jul 10-11 | 57 | 35 | 8 |
| (NA) 2001 Jun 28-Jul 1 | 52 | 34 | 14 |
| (NA) 2001 Jun 11-17 | 55 | 33 | 12 |
| (NA) 2001 Jun 8-10 | 55 | 35 | 10 |
| (NA) 2001 May 18-20 | 56 | 36 | 8 |
| (NA) 2001 May 10-14 | 56 | 31 | 13 |
| (NA) 2001 May 7-9 | 53 | 33 | 14 |
| (NA) 2001 Apr 20-22 | 62 | 29 | 9 |
| (NA) 2001 Apr 6-8 | 59 | 30 | 11 |
| (NA) 2001 Mar 26-28 | 53 | 29 | 18 |
| (NA) 2001 Mar 9-11 | 58 | 29 | 13 |
| (NA) 2001 Mar 5-7 | 63 | 22 | 15 |
| (NA) 2001 Feb 19-21 | 62 | 21 | 17 |
| (NA) 2001 Feb 9-11 | 57 | 25 | 18 |
| (NA) 2001 Feb 1-4 | 57 | 25 | 18 |