Social and economic concerns rank nearly as high
GALLUP NEWS SERVICE
PRINCETON, NJ -- Gallup recently posed this open-ended question to Americans: "What should be the top priority for Congress right now?" While other polling data leaves little doubt that terrorism continues to be a major concern to Americans, the results of this query reveal that most do not see it as the uppermost issue for Congress to deal with. In fact, Americans provide no dominant work assignment for their congressional members right now. Rather, a wide range of foreign, domestic and economic issues each has a small group of advocates within the public.
Twenty specific issues are cited by at least 1% of Americans as the top priority for Congress. On this basis, fighting terrorism ranks first and, at 15%, is the only issue to receive double-digit responses. The more encompassing issue of national defense ranks second, closely followed by two perennial concerns: education and the economy. Dealing with the Palestinian/Israeli situation in the Middle East rounds out the top five.
Americans Top Five Issue Priorities for Congress

Terrorism/Fighting the war on terrorism

15%

National defense

8%

Education

7%

The economy

7%

Dealing with the Middle East

5%
A wide variety of issues fill the remainder of the list, including lowering taxes (mentioned by 4%), balancing the budget (3%), and healthcare, Social Security, energy and jobs (among several issues each mentioned by 2%).
Few demographic distinctions are seen in the naming of terrorism as the top priority for Congress. The most notable difference is by age, as it is named by 17% of those aged 18 to 49 compared to only 11% of those aged 50 and older.
One-Quarter Focused on National Security
Another way to look at these data is by grouping specific mentions according to broad types of issues. On this basis, the nation's security is the top priority for 23% of Americans (based upon the combined categories of fighting terrorism and national defense). This is similar to the total number mentioning one of several domestic social issues confronting the nation (21%) and just slightly higher than the total number naming an economic-related concern (16%). A similar number (20%) offer no opinion or say that no issue is the top priority. Mentions of all international issues other than terrorism, such as dealing with the Palestinian-Israeli dispute, total just 10%.
Priorities for Congress: Grouped by Type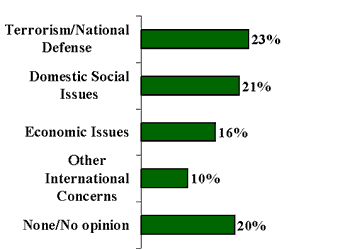 April 22-24, 2002
Education Tops Domestic Social Priorities
Education is the primary social issue comprising the domestic social issue category on Americans' priority list for Congress, but 1% to 2% of the public name several other issues:
Domestic Social Issues Category

Education

7%

Healthcare

2%

Energy issues

2%

Social Security

2%

Helping the poor

2%

Medicare

2%

Caring for the elderly

2%

The environment

1%

Crime

1%

Total Domestic Social issues

21%
In the naming of various social concerns, Gallup sees the typical distinctions between men and women, Republicans and Democrats, young and old. Women tend to be more concerned about education than are men. Democrats are more focused on education than are Republicans on education and Social Security. Younger adults are more interested in education, while those aged 50 and older are more mindful of Social Security and Medicare. Energy is primarily noted by respondents living in the Western region of the United States.
Men Particularly Focused on the Economy
The economy in general leads the list of economic-related issues Americans name as the top priority for Congress, but taxes, the budget deficit and jobs are also cited.
Economic Issues Category

The economy

7%

Lowering taxes

4%

Balancing the budget

3%

Jobs

2%

Total Economic Issues

16%
Men are much more likely to mention economic concerns than are women, with 21% of men mentioning one of the items in this category compared with just 12% of women. Republicans and Democrats are equally like to cite balancing the budget, but Republicans are more likely to want Congress to lower taxes. Democrats are more concerned than Republicans about the economy in general and jobs.
International Issues Category

(Excluding Terrorism)

Dealing with the Middle East situation

5%

Peace/ending the war

3%

Foreign affairs/international problems

2%

Other International

10%
Survey Methods
These results are based on telephone interviews with a randomly selected national sample of 1,009 adults, aged 18 and older, conducted April 22-24, 2002. For results based on this sample, one can say with 95% confidence that the maximum error attributable to sampling and other random effects is ±3%. In addition to sampling error, question wording and practical difficulties in conducting surveys can introduce error or bias into the findings of public opinion polls.
In your opinion, what should be the top priority for Congress right now? [OPEN-ENDED AND CODE]
| | |
| --- | --- |
| | 2002 Apr 22-24 |
| | % |
| Terrorism/Fighting the war on terrorism | 15 |
| National defense | 8 |
| Education | 7 |
| The economy | 7 |
| Dealing with the Middle East situation | 5 |
| Lowering taxes | 4 |
| Peace/ending the war | 3 |
| Balancing the budget | 3 |
| Getting the government to work together | 3 |
| Health care | 2 |
| Energy issues | 2 |
| Social Security | 2 |
| Jobs | 2 |
| Foreign affairs/international problems | 2 |
| Helping the poor | 2 |
| Medicare | 2 |
| Caring for the elderly | 2 |
| The environment | 1 |
| Supporting President Bush | 1 |
| Crime | 1 |
| | |
| Other | 6 |
| None | 2 |
| No opinion | 18 |
| | |
| | |