Last Friday, the U.S. Department of Labor reported that energy prices increased 4% in January -- gas pump prices were up 6.6%, heating oil was up 8.6%, and natural gas was up 4.6%. In a separate report, the U.S. Department of Energy said the average national price for regular unleaded gasoline was up 54 cents from a year ago and at its seventh-highest price on record at $1.66 per gallon.
Surging energy prices are another negative for today's struggling economy. How serious will the impact be? The immediate effect will depend in large part on how consumers react to these price increases. New Gallup Poll economic data* suggest that most consumers anticipate additional price increases, think the increases will be temporary, and believe they are not warranted by existing market conditions.
A Problem But Not a Crisis
Despite soaring energy prices, only 9% of Americans describe the cost and availability of electricity, gasoline, natural gas, and other forms of energy as "a state of crisis," according to the Feb. 17-19 poll. Another 40% say the country has "major problems" in this area. Forty-four percent say that the country has minor problems with energy, and 6% think it has no problems.
Fewer Americans see the current energy situation as a major problem or crisis (49%) than felt that way two years ago. In January 2001, 71% of the public thought the country had major problems or an energy crisis; in May 2001, 68% felt that way.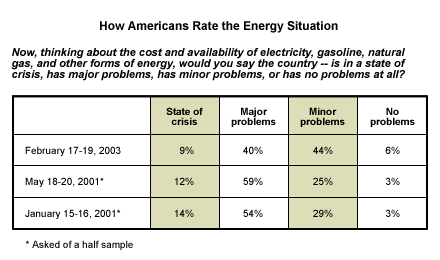 A Temporary Problem
Sixty-two percent of Americans think the current surge in gas prices is a temporary fluctuation, while 36% say it is more permanent. Many more Americans feel the current price increases are temporary today than felt that way in May 2001, when 40% thought higher prices were temporary and 56% thought they were more permanent.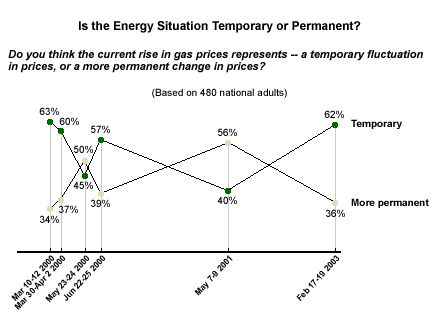 More Increases to Come
Most Americans realize that the current energy price increases have only just begun. Three in four Americans expect gasoline prices to be higher a month from now. In May 2001, 83% of the public expected higher pump prices in the month ahead; in March 2000, 74% of Americans held that expectation.
Half of the American public expects gas prices to be higher six months from now, up substantially from both May 2001 (38%) and March 2000 (37%).
Many Are Experiencing Financial Hardship
Slightly more than a third (35%) of Americans say that the gasoline price increases have already caused them financial hardship. This is a somewhat smaller percentage than felt this way two or three years ago, and it indicates that most Americans still do not see today's soaring pump prices as a financial hardship. That may in turn help explain why so few Americans see the current energy situation as a state of crisis.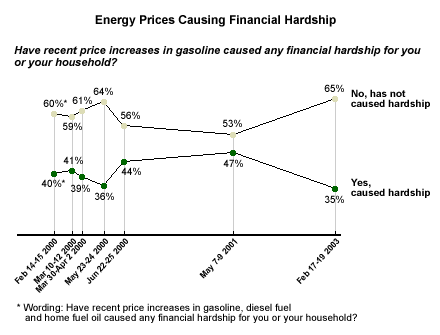 Will There Be a Political Explosion?
At this point, most Americans are responding to surging energy prices as if they are a temporary response to the current geopolitical situation. This is not surprising given the wide price swings in the energy markets during recent years and the probability that these price increases may have just begun. It also makes sense, given the consensus among prognosticators that oil prices will plummet again following the probable war with Iraq.
The longer energy prices remain high, the more likely Americans are to experience financial hardship. And the economic repercussions of this energy price increase -- like a tax hike -- will also become more significant the longer prices remain high. If the increases really are temporary, however, the economic toll of adjusting to them will be comparatively modest.
In fact, the greatest impact of a temporary surge in pump prices may be political. Two in three Americans tell Gallup that they think recent gasoline price increases are a result of gas companies charging higher prices than existing market conditions warrant. This cynicism may be no surprise, given Enron's recent manipulation of the California energy market. Still, these data suggest that the calls by a couple of senators for the Federal Trade Commission to investigate soaring gas prices in the Midwest may be the beginning of a political storm.
On the other hand, if the prognosticators are right and oil prices plummet again later this year, that storm may not gain great momentum. And the return of cheap energy would be the kind of positive jolt the U.S. economy needs to begin a real recovery.
*Results are based on telephone interviews with 1,002 national adults, aged 18 and older, conducted Feb. 17-19, 2003. For results based on the total sample of national adults, one can say with 95% confidence that the maximum margin of sampling error is ±3%.