Most also attend their place of worship at least monthly
PRINCETON, NJ -- Americans' religiosity may be cloaked in wrapping paper at this time of year, but make no mistake, religion is very much present in American society, and an important part of life for most U.S. adults.
Roughly 6 in 10 U.S. adults told Gallup in a Nov. 10-12 survey that religion is "very important" in their own lives, close to two-thirds say they are a member of a church or synagogue, and more than 4 in 10 say they attended a church or synagogue in the past week. There has been only slight variation in these figures over the past two decades, and the current figures are generally in line with Gallup's religion trends over this period.
Trends in American Religiosity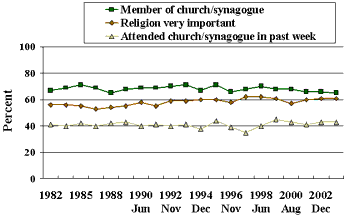 Americans are not quite as religious today as they were up to about 1965. Particularly in the 1950s, Americans were somewhat more likely to consider religion very important (75% in 1952) and to report having attended their place of worship in the past week (49% in 1955).
Still, the latest numbers are impressive when compared with data from two of America's closest allies: Canada and Great Britain. According to a Gallup Poll conducted in Canada this past June, only 28% of Canadians consider religion very important to them and 26% attended church or synagogue in the past week. Only 17% of Britons could say the same to each question.
Importance of Religion:
International Comparison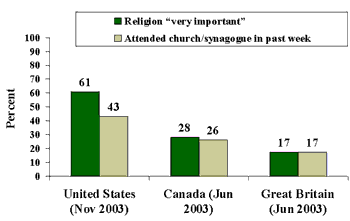 America's Religious Makeup
The broadest Gallup indicator of religiosity in America is a measure of religious attachment. When asked what their religious preference is, nearly 9 in 10 Americans (89%) specify a religion or branch of religion. Only 8% expressly say they have no religious preference.
Christianity is the dominant religion among the public, with 85% of Americans putting themselves in one of four Christian groups: 53% Protestant, 23% Roman Catholic, 2% Mormon, and 7% Christian (but with no specific religious denomination). Two percent of respondents identify with Judaism and less than half of 1% identify as Muslim. A mix of other less prevalent or undesignated religions makes up another 5% in the poll.
Religion Preference

2003 Nov 10-12

%

Protestant

53

Catholic

23

Jewish

2

Mormon

2

Orthodox

*

Other Christian

7

Other specific

2

None

8

Undesignated

3

Total

100%
Among U.S. Protestants, the most common denomination is Baptist, with 20% of Americans calling themselves either Southern Baptist (8%) or another type of Baptist (12%). Methodists, at 9%, are the second-largest denomination, followed by other mainline Protestant groups including Presbyterians (5%), Lutherans (4%), members of the Church of Christ (2%), and Episcopalians (2%).
Protestant Denominations
Percentages based on national adults


2003 Nov 10-12

%

Other Baptist

12

Methodist

9

Southern Baptist

8

Presbyterian

5

Lutheran

4

Episcopal

2

Church of Christ

2

Pentecostal

1

Non-denominational

5

Other

5

No opinion

2
A secondary measure of church/synagogue attendance asks Americans how often they attend their place of worship. Since instituted in 1992, the question has produced consistent results. The latest findings are typical, showing about a third of Americans saying they attend church or synagogue at least once a week, 14% attending almost every week, and another 14% attending about monthly. Three in 10 U.S. adults say they seldom attend, while just 10% say they never attend.
How often do you attend church or synagogue -- at least once a week, almost every week, about once a month, seldom, or never?

Once
a week

Almost
every
week

About
once a
month

Seldom

Never


No
opinion

2003 Nov 10-12

31%

14

14

30

10

1
Women and older Americans provide the backbone for organized religion, with both groups significantly more likely than men and young adults to say religion is very important in their lives, and to attend church or synagogue on a regular basis. More than two-thirds of women (69%), but just over half of men (53%), say religion is very important in their lives. The religiosity gap is even larger with respect to age. Three-quarters of Americans aged 65 and older (76%), but only 48% of young adults (aged 18 to 29), say religion is very important in their lives. Similarly, the percentage who say they have attended church in the last seven days rises from 32% among the youngest age group to 54% among the oldest group.
Religiosity by Major Demographic Groups

Religion is very
important
in own life

Attended church/
synagogue in
past week

%

%

National Adults

61

43

Men

53

37

Women

69

48

White

57

42

Nonwhite

77

47

18 to 29

48

32

30 to 49

59

40

50 to 64

63

48

65+

76

54

East

56

39

Midwest

60

42

South

73

52

West

50

35

Postgraduate education

56

45

College degree only

50

44

Some college

59

42

No college

69

42

Republican

67

51

Independent

54

35

Democrat

63

44

Protestant

65

48

Catholic

60

45
Survey Methods
These results are based on telephone interviews with a randomly selected national sample of 1,004 adults, aged 18 and older, conducted Nov. 10-12, 2003. For results based on this sample, one can say with 95% confidence that the maximum error attributable to sampling and other random effects is ±3 percentage points. In addition to sampling error, question wording and practical difficulties in conducting surveys can introduce error or bias into the findings of public opinion polls.