Value healthcare for employees, split about national program
GALLUP NEWS SERVICE
PRINCETON, NJ -- As the recent presidential debates highlight, the U.S. healthcare system is likely to be a key political issue during the 2008 election. This is not surprising considering that 7 in 10 Americans describe the system as having major problems (55%) or actually in a state of crisis (16%). Nor when you consider that 69% of the public believes it is the federal government's responsibility to make sure all Americans have healthcare coverage. What may be surprising is that many of the nation's small-business owners -- known for their fierce independence and entrepreneurship -- not only believe that the current U.S. healthcare system needs a complete overall, but also support the idea of a taxpayer-funded national health insurance program, according to the latest Wells Fargo/Gallup Small Business Index poll.
Complete Overhaul Needed
Roughly 6 in 10 small-business owners (59%) describe the current U.S. healthcare system as needing a complete overhaul. About half as many owners (27%) believe the current system only needs some minor adjustments, while about one in eight think the current system works well (5%) or somewhat well (7%).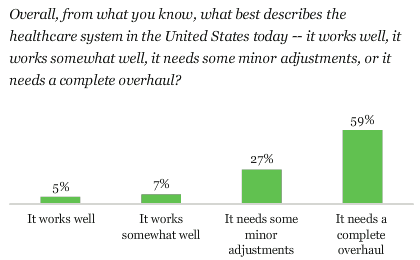 Split Over National Healthcare Insurance Plan
Small-business owners are somewhat more likely to oppose than to support replacing the current U.S. healthcare system with a new government-run and taxpayer-funded national healthcare plan that would provide basic healthcare to all citizens. However, they do so by the surprisingly small margin of 49% opposed to 43% in favor.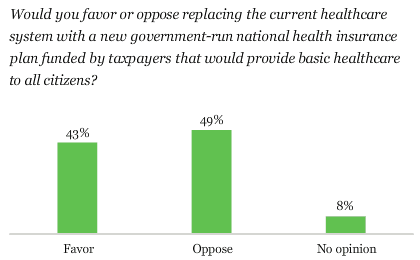 Health Insurance Has a Significant Effect on Employees
Eight in 10 small-business owners believe that having an adequate health insurance program would help their companies attract the best qualified employees (84%), reduce the likelihood that their employees would leave (83%), and would make employees more loyal to their companies (81%). In addition, 66% of small-business owners believe having adequate health insurance would make their employees more productive.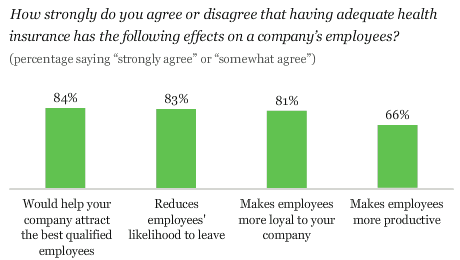 Majority of Small Businesses Do Not Provide Employee Health Insurance
While most small-business owners recognize that there are benefits for their companies associated with providing an adequate health insurance program for their employees, the majority (55%) do not do so. Forty-three percent of small-businesses owners do provide health insurance for their employees.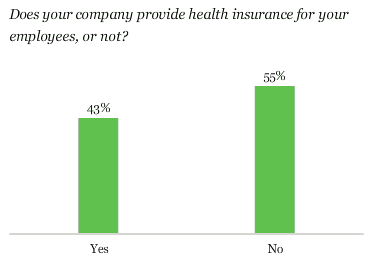 Although small-business owners acknowledge that their companies can obtain health insurance for their employees, 45% of those who say they do not provide insurance say it is because they cannot afford to do so. Another 22% say they simply don't want to offer healthcare insurance, while 31% say they don't offer it for some other reason.
Most Small-Business Owners Have Health Insurance
Two in three small-business owners say they, personally, have health insurance, but get it outside of their business. Another 17% of small-business owners have health insurance through their business, while 16% report not having health insurance.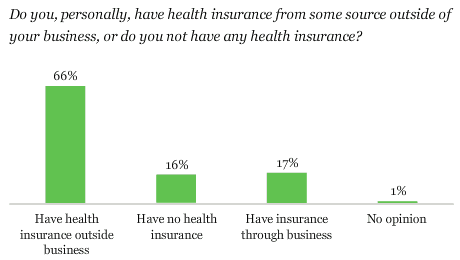 Of those small-business owners saying they get their health insurance outside of their business, about one in three say they are on their spouse's insurance. Another third say they bought into a separate plan, and the remainder say they have some other source of health insurance coverage.
National Healthcare May Be Gaining a New Coalition
While Americans oppose replacing the current U.S. healthcare system with a government-run system by a 51% to 39% margin and small-business owners oppose it by a 49% to 43% margin, it is becoming increasingly clear that many businesses are finding it difficult to handle their employees' health insurance needs. They know that being unable to provide health insurance coverage puts them at a competitive disadvantage in terms of hiring the best employees and keeping them. Still, the costs associated with health insurance coverage are not only too high for many small businesses, but continue to increase at a rapid pace.
As a result, many small-business owners are looking for almost any way to reduce this health insurance-based competitive disadvantage and/or cost burden. For example, 55% of small-business owners who do not offer insurance say they would be more likely to provide health insurance benefits to their employees if the federal government provided them with some financial incentives to do so. Similarly, by a 46% to 38% margin, small-business owners say they would recommend that one of their employees use a medical treatment clinic sponsored by a major retailer or drug store chain either for himself or herself or for a family member.
As American business owners struggle with the competitive fallout of globalization, they may become increasingly supportive of a government-run national healthcare system. Combine this with the fact that a major medical disaster is one of the top worries of the average American, and we may be seeing the formation of a new coalition to radically alter the way Americans get their healthcare in the future.
Survey Methods
Results for the total dataset are based on telephone interviews with 603 small-business owners, conducted July 12-23, 2007. For results based on the total sample of small-business owners, one can say with 95% confidence that the maximum margin of sampling error is ±4 percentage points.