Many adults find they need to relax after a long day's work, either by spending time with loved ones or relaxing in front of the television. Teenagers have a similar need to unwind. When Gallup asked teens about their favorite way to spend an evening in a recent Gallup Youth Survey*, more than half said they like to hang out with friends or family (34%), or watch movies, television, or sports (19%).
According to the Census Bureau's 2000 Survey of Income and Program Participation, and the Bureau of Labor Statistics' 1997 National Longitudinal Study of Youth, nearly two-thirds of teens do some kind of work (including jobs such as yardwork or babysitting) in addition to school. So it's not surprising that although some teens do like the adrenaline rush of video games (8%) or exercise (7%), most expressed a preference for more relaxing activities (including 4% who simply said they like to relax).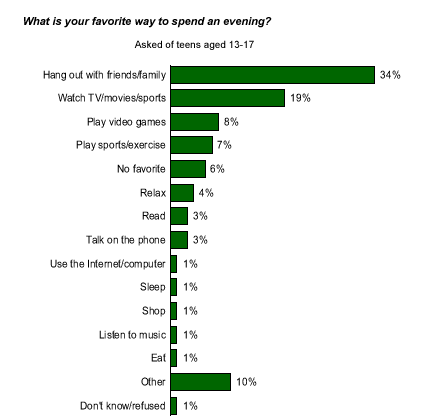 Social Needs Come First
This question was put to teens on an open-ended basis -- that is, they were free to give responses in their own words. One way to interpret these responses is to consider them in the context of Abraham Maslow's "hierarchy of needs" theory -- that human beings must satisfy certain lower needs before higher needs can be satisfied. Teens' educational and physiological needs are met earlier in the day, therefore evenings are set aside for fulfilling social needs. As one teen put it:
"[My favorite way to spend an evening is] At home with my family. I like to cook and I help my parents prepare the meals for all six of us. I play lots of video games with my brothers, but my favorite is when we play board games with all of us, including my parents. We like to watch movies together on TV. We do lots of talking and laughing in the evenings when we are all together."
Some teens were more to the point in their answers. One responded that he likes "watching a DVD with my friends while chowing down on snacks." Responses like this are not as harmless as they may seem -- eating junk food while sitting in front of the television is what sets many teens down the path toward obesity, which is becoming an increasingly serious problem for this age group. The percentage of overweight teens has tripled between 1970 and 2000 (to about 15%), according to the National Center for Health Statistics, and in the 20 years between 1980 and 2000, the percentage of overweight adults went from half of the population to nearly two-thirds.
Girls More Social; Boys More Competitive
Teen preferences for how they spend an evening vary by gender: 43% of teenage girls like to hang out with friends or family, compared with only 26% of teenage boys. Similar numbers of boys (21%) and girls (17%) want to watch television, movies, or sports. However, female respondents expressed no interest in playing video games (0%), while boys were much more likely to (15%). These findings may reinforce the theory advanced by some observers that girls tend to be more social than boys are, while boys tend to be more competitive than girls.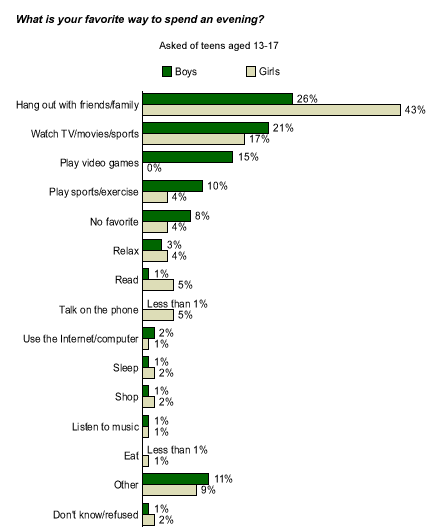 *The Gallup Youth Survey is conducted via an Internet methodology provided by Knowledge Networks, using an online research panel that is designed to be representative of the entire U.S. population. The current questionnaire was completed by 517 respondents, aged 13 to 17, between Aug. 1 and Aug. 29, 2003. The sample consisted of 274 boys and 243 girls. For results based on the total sample, one can say with 95% confidence that the maximum margin of sampling error is ±5 percentage points. For results based on girls or boys, one can say with 95% confidence that the maximum margin of sampling error is ±6 percentage points.