Whether Catholics have been leaving their church since widespread allegations surfaced nearly two years ago that clergy members had sexually abused minors is an ongoing question of great concern for the future of Catholicism in America. Indeed, the situation prompted TIME magazine to ask on the cover of its April 1, 2002, issue, "Can the Catholic Church Save Itself?"
Now that some time has passed, Gallup measurements of three levels of religious commitment among U.S. Catholics -- attendance at Mass, church membership, and religious preference -- provide an overall picture of religiosity among Catholics and how it may have changed in response to the scandals.
Looking at the three measurements together, it appears that the effect on most Catholics' religious practices was largely a short-term one. Recent downtrends in Catholic church attendance and membership appear, for the time being, to have halted or even reversed. And the percentage of Americans claiming "Roman Catholic" as their religious preference has remained statistically unchanged over the last two years.
Attendance at Mass
Regular attendance at Mass is a central requirement of all Catholics, and often is taken as an indicator of whether a person is a "good Catholic." As discussed in a previous article (see "Catholics Trail Protestants in Church Attendance" in Related Items), Catholic church attendance (the percentage of Catholics saying they had attended church in the last seven days) dropped between August 2000 and March 2002, from 52% to 47%, before falling to 35% in February 2003. Since then, attendance seems to have rebounded somewhat, with the most recent measurement (from November 2003) at 45%.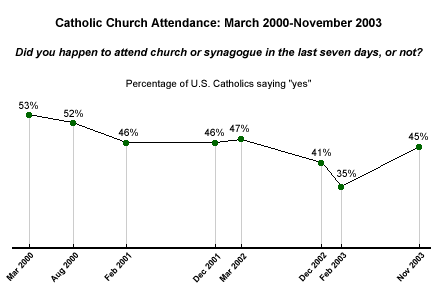 Membership in the Catholic Church
Church membership among Catholics also dipped somewhat when the news of the scandals broke, but seems to have stabilized. In August 2000, 80% of Catholics said they were members of a church. This percentage slipped to 68% in March 2002, but crept upward again and stood at 75% in November.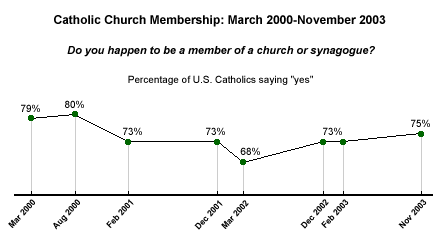 Religious Preference
The broadest of the three measurements is religious preference -- the percentage of Americans who specify their religion as "Roman Catholic." This percentage has remained extremely stable, ranging between 23% and 27% from March 2000 to November 2003, and does not seem to have been affected by the scandals.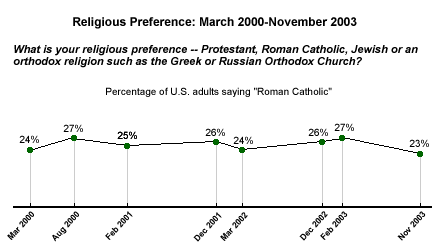 Bottom Line
While these three measurements suggest that any losses suffered by the Catholic Church in the wake of the scandals may be quickly regained, the longer-term trend may be more worrisome to the Catholic Church.
Current figures for Catholic church attendance, Catholic church membership, and Catholic religious preference fall considerably below those recorded in 1983. In 1983 (based on aggregated survey results from the whole year), 52% of Catholics said they attended Mass weekly; 80% of Catholics claimed church membership, and 29% of Americans gave their religious preference as Catholic. Protestants, on the other hand, experienced minimal losses on these three questions over the last two decades.
Gallup Polls will continue to measure the health of the Catholic Church in many dimensions, as it has since the late 1930s. They will continue to monitor the impact of such factors as any lingering effects of the scandals; the influx of Hispanics (most of whom are from predominantly Catholic countries); the efforts of the Catholic Church to bolster lay leadership at the local level; as well as the impact of any societal trends that could lead to undermining organized religion in general.