Poll also finds discontent with economic conditions ahead of election
WASHINGTON, D.C. -- South Koreans will head to the polls on Dec. 19 to elect a new president. A Gallup Poll conducted in the country earlier this year suggests residents are likely prepared for change: Just one-quarter (25%) of the population has confidence in the national government. After retaining the presidency for the last 10 years, South Korea's political liberal leaders appear headed toward a substantial defeat. In pre-election polling, conservative opposition candidate Lee Myung-bak has maintained clear front-runner status despite being dogged by fraud allegations, which prosecutors dismissed Wednesday.
Winning Over Won?

During the campaign, Lee has pledged to reinvigorate the nation's weak economic performance while putting more won in people's pockets. Slow growth, unemployment, and rising housing prices have eroded the public's satisfaction with the economy. Tapping into this discontent is likely a solid strategy; in a recent poll, 77% of South Koreans told Gallup that the current economic conditions in the country are not good. Respondents showed much more optimism with their own personal economic circumstances, as 62% say they are satisfied with their standard of living. However, compared with the 2006 regional median satisfaction in East Asia (76%), South Koreans are relatively less satisfied with their own standard of living.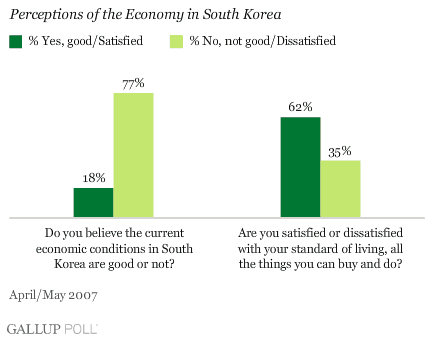 While overall unemployment in South Korea is relatively low, unemployment among the country's 15- to 24-year olds has tended to be much higher than the national norm. The government implemented the Youth Unemployment Council and a vocational training program in 2003 to address this issue. Nevertheless, when Gallup asked South Koreans if they have any kind of job or work, either paid or unpaid, 60% of all respondents say they do. However, fewer than one in five (18%) of those aged 15 to 24 claim to have any kind of job or work that they perform. In contrast, at least 80% of people in each of the next three age brackets (25 to 34, 35 to 44, and 45 to 54) claim to have work, and 44% of people aged 55 and older also have a job or work, whether paid or unpaid.
Another problem facing South Koreans is soaring real estate values. In November 2006 housing prices rose 9.8% compared to one year prior, and the November 2006 values were an increase of 3.1% over the previous month, according to the Kookmin Bank House Price Index. In Seoul, in and around which approximately one-half of the South Korean population resides, housing prices increased even more dramatically: 15.9% in November 2006 over the previous year, and 4.8% from the previous month. Approximately three-quarters of South Koreans (74%) and residents of Seoul (75%) say they are satisfied with the availability of good, affordable housing. But some economists are warning of a potential housing bubble, which could affect the economy negatively if it bursts.
Survey Methods
Results are based on telephone interviews with 1,000 adults in South Korea, aged 15 and older, conducted April 27, 2007, through May 14, 2007. For results based on the total sample of national adults, one can say with 95% confidence that the maximum margin of sampling error is ±3 percentage points. In addition to sampling error, question wording and practical difficulties in conducting surveys can introduce error or bias into the findings of public opinion polls.