The second in a two-part series on teens' thoughts about their futures
Many teens dream of getting a good education, finding jobs they love, getting married, and having families -- but many also have concerns about realizing those dreams.
A recent Gallup Youth Survey* asked teens about their life goals and career aspirations, and specifically inquired about their plans after high school. Teens understand that while higher education is no firm guarantee of success, it is one key to landing a job they enjoy and find fulfilling. Eighty-five percent of teens plan to attend college after they graduate -- 53% plan to attend full time and 32% plan to work and go to college part time. Just a small fraction -- 4% -- plan to work full time immediately after graduation, 6% plan to join the military, and 4% either aren't sure or have other adventures in mind.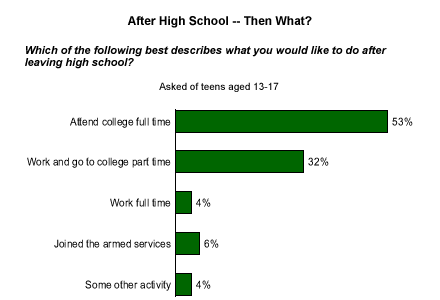 Academic Worries
Teens' dreams are peppered with a good deal of pragmatism. Nearly half of teens say they are either "very" (9%) or "somewhat" (33%) worried about getting into the college of their choice. And although girls outnumber boys on college campuses today, they are more concerned about being able to attend college than boys are -- 54% compared to 31%, respectively.
Economics and Competition Worry the College-Bound
Teens seem to be paying attention when adults talk about tough economic times and are aware of the rising expenses associated with going to college. Teens who are worried about being able to go to the college of their choice were asked why; a plurality -- 39% -- say their worries are cost-related.
Teens have good reason for concern. The price of a college education has been spiraling upward for decades and may be moving out of reach for middle-class families who feel they cannot take on additional debt. According to The College Board, tuition and fees rose 14% for public universities and 6% for private colleges last year. The average price of college for the academic year 2003-2004 is $4,694 for public universities and $19,710 for private colleges. One teen sums up a theme running through many of the responses: "My parents do not have the money and I will not qualify for scholarships."
Teens also know that the academic competition gets tougher every year. With increasing numbers of high school graduates heading to college, it is increasingly difficult for students to get into their top choice. Those concerns are reflected in some of the responses -- 13% of teens who worry that they might not get into their top college choice cite their grades or standardized test scores as the main reason for their concern. According to one teen, "There are a lot of really smart students out there who will also be going for it."
Career Worries
Teens worry less about getting good jobs than about getting into good colleges. Just a third (35%) are "very" (8%) or "somewhat" worried (27%) that they might not be able to get a job when they get out of school.
A plurality of those teens who do worry about finding a job told Gallup that they worry specifically about unemployment and job opportunities. One teen is eager to become a pediatrician, but worries that "I may not have all the qualifications they are looking for, and there are less jobs available now."
Bottom Line
Teens will always have admirable dreams -- but in economically tenuous times, they tend to be realists as well. "Just because you go to college," says one teen, "it doesn't mean you will get a job. I've seen too many people with degrees and without get laid off from their jobs." Another shared a family member's situation: "My father was without work for almost two years. He had 15 years' experience in his field and a degree, but it didn't seem to matter."
*The Gallup Youth Survey is conducted via an Internet methodology provided by Knowledge Networks, using an online research panel that is designed to be representative of the entire U.S. population. The current questionnaire was completed by 517 respondents, aged 13 to 17, between Aug. 1 and Aug. 29, 2003. For results based on the total sample, one can say with 95% confidence that the maximum margin of sampling error is ±5 percentage points.