No heightened sense of optimism following Annapolis peace talks
PRINCETON, NJ -- Last month's Mideast peace summit in Annapolis, Md., produced some encouraging images of Palestinian and Israeli leaders warmly greeting each other and proclaiming their commitment to the peace process. It included the historic participation of Saudi Arabia, among a number of Arab nations attending, and concluded with Israel and the Palestinian territories agreeing to a year-long schedule of meetings aimed at reaching a comprehensive peace accord by the end of 2008. Despite all of this, Americans are as skeptical as ever about peace in the Middle East.
According to a Nov. 30-Dec. 2 Gallup Poll, conducted just days after the summit ended, only 34% of Americans believe "there will come a time when Israel and the Arab nations will be able to settle their differences and live in peace." Nearly two-thirds of Americans (63%) disagree.
Today's level of optimism about peace is the same as the level in Gallup's previous measure, conducted in February 2007, suggesting the summit had little to no impact on Americans' outlook for peace.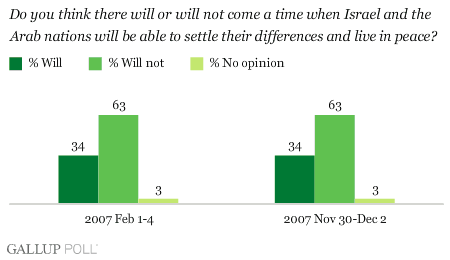 Despite the absence of movement in the overall trend since February, there may have been some underlying shifts in confidence levels by party. Republicans appear to have become somewhat more optimistic about the chances for peace since February (possibly a reaction to President Bush's involvement in the new peace initiative), while independents may have become slightly less optimistic.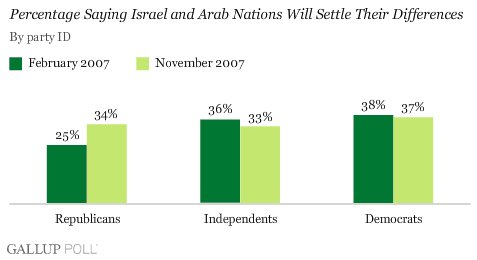 In frequent measures of this question since July 1999, Gallup has usually found more Americans pessimistic than optimistic about the outlook for peace, but on a few occasions the public was closely divided. These instances generally coincide with previous peace initiatives, including the 1999 "final status talks" led by President Bill Clinton, the development of a U.S.-led "road map" for peace in 2003, and a February 2005 Sharm el-Sheik summit in Egypt in which several Arab leaders met with Israeli Prime Minister Ariel Sharon to discuss the road map.
The 34% currently saying peace will eventually happen is more consistent with periods of heavy bloodshed in the region, such as during 2001 and 2002, and the mid-2006 Israeli-Palestinian conflict in the Gaza Strip.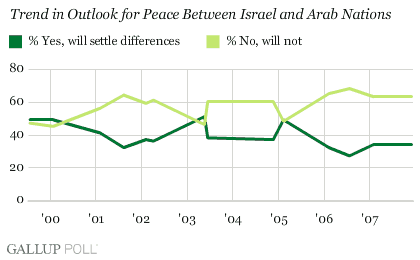 Bottom Line
Some observers view the Annapolis summit as a historic convergence of factors, presenting a unique opportunity for the two sides to come together. Others, however, have dismissed Annapolis as nothing more than a photo opportunity, with no promise of achieving anything.
It seems that the latter viewpoint prevails with the American public. In the past, Americans have responded positively to major peace initiatives by expressing some heightened optimism that Arabs and Israelis would someday settle their differences. But perhaps this is one peace summit too many for Americans, on top of a history of failed efforts, and one should not expect them to react with much enthusiasm to it. Or perhaps they are just taking a wait-and-see attitude.
Survey Methods
Results are based on telephone interviews with 1,006 national adults, aged 18 and older, conducted Nov. 30-Dec. 2, 2007. For results based on the total sample of national adults, one can say with 95% confidence that the maximum margin of sampling error is ±3 percentage points.
In addition to sampling error, question wording and practical difficulties in conducting surveys can introduce error or bias into the findings of public opinion polls.