Based on polls conducted from Jan. 25-27, 2008
PRINCETON, NJ -- Gallup Daily interviews conducted Friday through Sunday find more than a third of Americans calling the economy "poor," significantly worse than what the Gallup Daily Poll reported a week ago. A combined 78% of Americans now rate national economic conditions as "only fair" or "poor," while only 22% call them "excellent" or "good."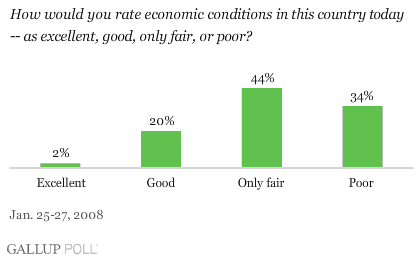 The percentage of Americans calling the economy poor has been inching up since the start of January, rising from 24% in interviews conducted Jan. 2-4, to 34% now. In just the past week, the percentage has increased from the 29% recorded Jan. 18-20.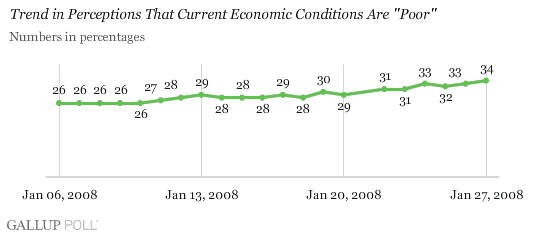 Separately, 80% of Americans perceive economic conditions to be getting worse. This figure has registered between 80% and 82% for the past nine days, but was somewhat lower (73%) at the start of the year.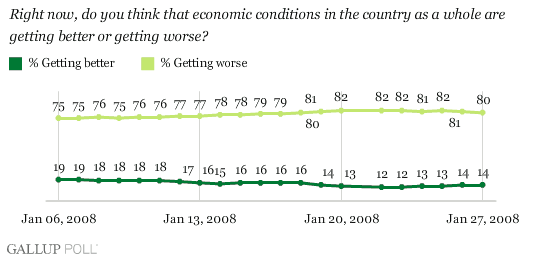 Combining respondents' answers to the two questions, Gallup finds that 69% of Americans hold a profoundly negative view of the nation's economy -- saying economic conditions are only fair or poor and that they are either staying that way or getting worse. Only 10% hold a positive set of attitudes about the economy -- saying conditions are excellent or good and are either remaining that way or improving. Nineteen percent hold mixed views. -- Lydia Saad
Methodology: The results reported here are based on 1,526 interviews conducted Jan. 25-27, 2008. For results based on this sample, the maximum margin of sampling error is ±3 percentage points. In addition to sampling error, question wording and practical difficulties in conducting surveys can introduce error or bias into the findings of public opinion polls.