Many Belgians dissatisfied with efforts to create more quality jobs
WASHINGTON, D.C. -- Belgium's emergency interim government, formed late last year, came more than six months after the general election and will last only until March when a longer-term government will be adopted. In a country fraught with deep linguistic and ethnic divisions, delays in forming a new government after elections are nothing new; however, the nearly 200 days it took to form the present interim government is the longest duration yet. Prior to the June 2007 election, 60% of Belgians that Gallup surveyed expressed confidence in their national government, up slightly from 55% in 2005.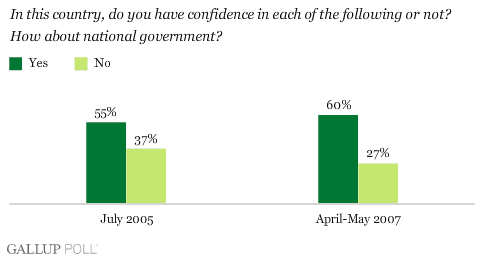 With a temporary government finally in place, the Belgian Parliament is left with the important work of addressing economic concerns in their country, including inflation and unemployment. Many in Belgium hope that the formation of this interim government will also dispel the uncertainty foreign and domestic investors are feeling.
Overall, Belgians are much more likely to be optimistic about current economic conditions than respondents in other European Union member countries. A regional median of 37% of respondents from 24 EU countries say that economic conditions in their respective countries are good, compared with 70% who say this in Belgium. Comparing Belgians' responses with that of their immediate neighbors, only the Dutch are more positive about their country's present economy. However, in some regions of Belgium, unemployment is a major concern. The CIA World Factbook estimates that, in 2007, unemployment overall in Belgium was 7.6%, down from more than 8% the year before. However, in Wallonia, a French-speaking region of Belgium, unemployment rates are at least double that of Flanders, the Dutch-speaking region containing Brussels. Forty-three percent of Belgians tell Gallup they are dissatisfied with efforts to increase the number and quality of jobs in their country.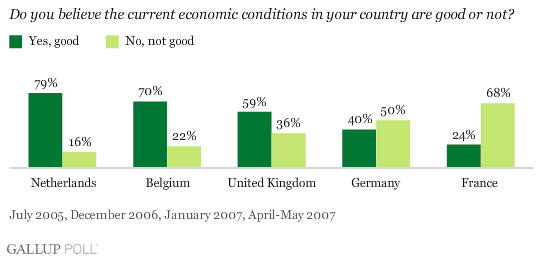 When asked whether economic conditions were getting better or worse in their country, slightly more than one in five (23%) Belgians say economic conditions are getting worse, while 37% say they are getting better.
Survey Methods
Results are based on face-to-face interviews with approximately 1,000 adults each in Belgium and Netherlands, aged 15 and older, conducted July 2005 and April-May 2007 and telephone interviews with approximately 1,000 adults each in France, Germany, and the United Kingdom, aged 15 and older, conducted in December 2006 and January 2007.
For results based on the total sample of national adults, one can say with 95% confidence that the maximum margin of sampling error is ±3 percentage points. In addition to sampling error, question wording and practical difficulties in conducting surveys can introduce error or bias into the findings of public opinion polls.