Based on daily polling conducted Feb. 6-8, 2008
PRINCETON, NJ -- John McCain's position as the probable Republican presidential nominee continues to solidify, while neither Hillary Clinton nor Barack Obama can claim a commanding lead as the preferred candidate of Democrats nationwide.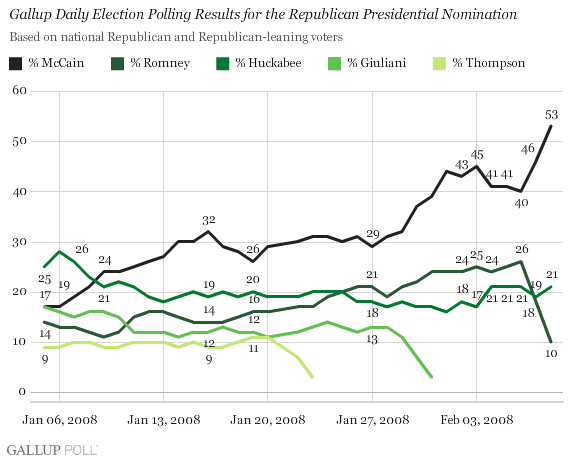 Gallup Poll Daily tracking conducted Feb. 6-8 finds McCain with more than 50% of the vote of national Republicans (including independents who lean Republican). This is the first time in the course of the 2008 presidential campaign, from January 2007 forward, that any Republican has crossed this threshold of party unity. Fewer than half as many Republicans favor Mike Huckabee for the nomination.
Romney, who withdrew from the race on Thursday, Feb. 7, and was not included in the Republican preference question on Thursday and Friday nights, garners 10% in today's tracking report, based on Wednesday night's interviewing. Romney will drop out of the three-day rolling averages in Sunday's report.
Only five percentage points currently separate Clinton and Obama in the preferences of national Democrats (including independents who lean Democratic). Clinton leads Obama by 48% to 43%, similar to her 49% to 42% advantage reported Friday. The only other national Democratic candidate still in the race is Mike Gravel, receiving 2% of the vote.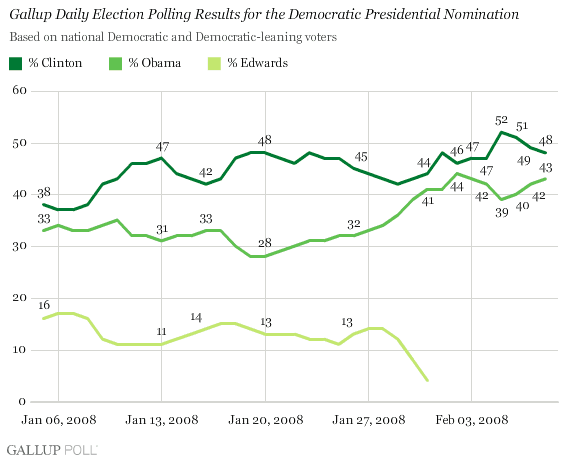 The trend in Republican preferences since the beginning of last month clearly illustrates McCain's rise to the front-runner position. McCain has made further gains since Romney withdrew from the race, while Huckabee has not been able to capture a substantial portion of Romney's voters. As a result, an important window of opportunity for Huckabee to mount a serious challenge to McCain's status as the presumptive GOP nominee appears to be closing.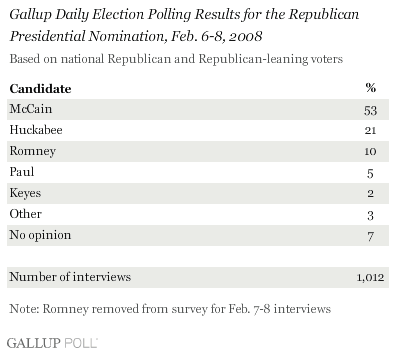 By contrast, just as Obama and Clinton are close in terms of the delegate count going into Saturday's voting, the trend since Super Tuesday suggests the two are close in support levels from Democrats across the country. -- Lydia Saad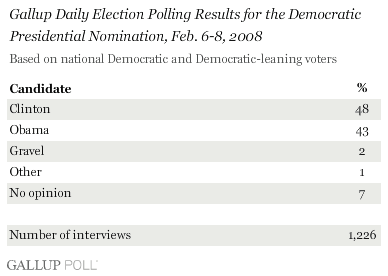 Methodology: Gallup is interviewing 1,000 U.S. adults nationwide each day during 2008. The results reported here are based on combined data from Feb. 6-8, 2008, including interviews with 1,012 Republican and Republican-leaning voters, and 1,226 Democratic and Democratic-leaning voters. For results based on these samples, the maximum margin of sampling error is ±3 percentage points. In addition to sampling error, question wording and practical difficulties in conducting surveys can introduce error or bias into the findings of public opinion polls.