Based on polling conducted Feb. 14-16, 2008
PRINCETON, NJ -- For the second consecutive day, Gallup Poll Daily election tracking finds Barack Obama leading Hillary Clinton in the nomination preferences of national Democratic voters. According to Feb. 14-16 polling, Obama now holds a five percentage-point lead over Clinton, 48% to 43%.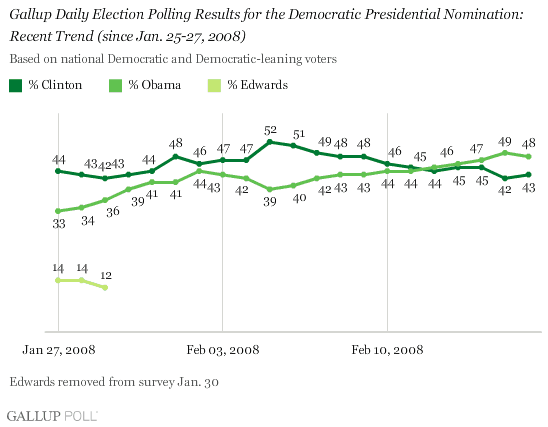 Obama's seven percentage-point lead in Saturday's report, based on Feb.13-15 tracking, was the first time since Gallup began daily tracking in January that Obama has achieved a statistically significant lead in the Democratic contest.
National Republican preferences for John McCain and Mike Huckabee remain right where they have been for about the past week, with McCain typically leading by 24 points. In Feb.14-16 tracking interviews, McCain is favored by 53% of Republicans and independents who lean Republican, compared with Huckabee's 29%. -- Lydia Saad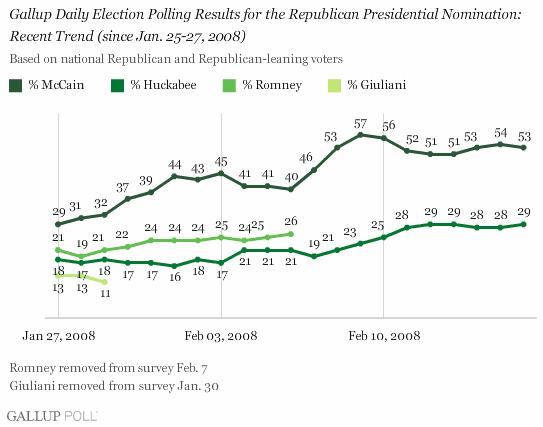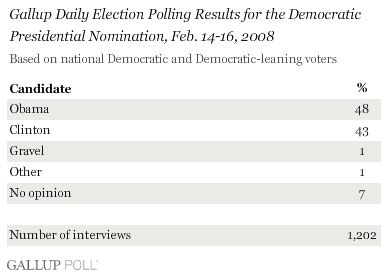 Methodology: The results reported here are based on combined data from Feb. 14-16, 2008, including interviews with 1,031 Republican and Republican-leaning voters, and 1,202 Democratic and Democratic-leaning voters. For results based on these samples, the maximum margin of sampling error is ±3 percentage points. In addition to sampling error, question wording and practical difficulties in conducting surveys can introduce error or bias into the findings of public opinion polls.