Based on polling conducted Feb. 18-20, 2008
PRINCETON, NJ -- Gallup Poll Daily tracking of the nation's economic mood finds 34% of Americans calling national economic conditions "poor" and only 22% calling them "excellent" or "good."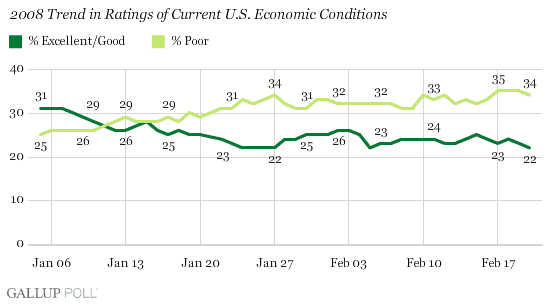 The percentage of Americans calling conditions "poor" was 25% at the start of 2008, grew to 34% in late January, but then settled back to 32% for much of the first half of February. In recent days, however, it has been routinely hitting 34% and 35%.
Public perceptions about the economy's direction are also worse than they were right after New Year's. The percentage saying conditions are getting worse grew from 74% at the start of January to 82% toward the end of the month. However, this figure has been fairly stable in February, ranging between 77% and 80%.
The latest Gallup Poll Daily tracking three-day average, from Feb. 18-20, 2008, finds 78% of Americans believing economic conditions are getting worse. (Note: The next Gallup Daily tracking report will be on Saturday, Feb. 23; there will be no interviewing on Thursday, Feb. 21.) -- Lydia Saad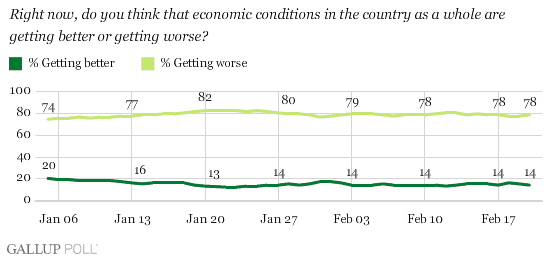 Methodology: Gallup is interviewing no fewer than 1,000 U.S. adults nationwide each day during 2008. The results reported here are based on combined data from 1,497 interviews conducted Feb. 18-20, 2008. For results based on this sample, the maximum margin of sampling error is ±3 percentage points. In addition to sampling error, question wording and practical difficulties in conducting surveys can introduce error or bias into the findings of public opinion polls.