Based on polling conducted Feb. 24-26, 2008
PRINCETON, NJ -- Americans' attitudes about the economy are now at their most negative of 2008, even worse than the period of depressed confidence following the stock market tumble in mid-January.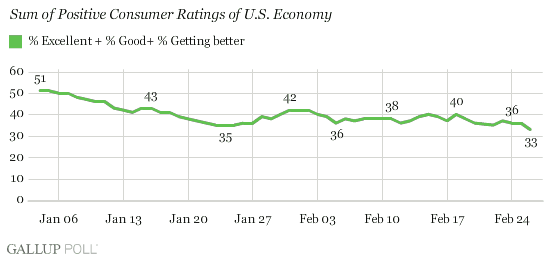 The combined percentages of Americans offering positive evaluations of the economy to Gallup's two economic mood questions is now just 33%, according to Gallup Poll Daily tracking interviews conducted Feb. 24-26. This is down from 36% in each of the two previous Gallup Poll Daily tracking reports, and substantially lower than the 51% registered at the start of January.
More specifically, only 20% of Americans now believe current economic conditions in the country are "excellent" or "good" (the lowest excellent/good reading for 2008). This contrasts with 44% of Americans saying the economy is "only fair" and 36% calling it "poor."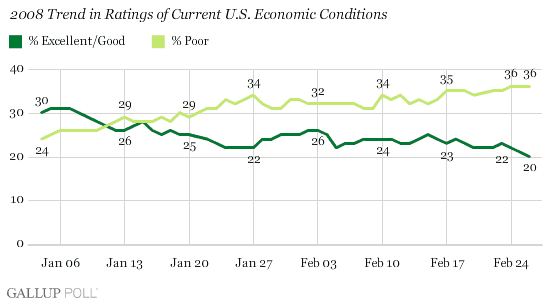 Additionally, only 13% perceive that economic conditions are improving (nearly matching the low reading for 2008 of 12% at the end of January) while 80% think conditions are getting worse.
Gallup's summary of consumer mood is based on the combined percentages calling the economy excellent or good (now 20%) and those saying it is getting better (13%). Although, on a relative basis, the 51 consumer mood summary for the start of January seems high with today's value of 33, the index has a maximum possible value of 200, meaning all of the ratings thus far in 2008 are quite depressed. -- Lydia Saad
Methodology: Gallup is interviewing no fewer than 1,000 U.S. adults nationwide each day during 2008. The economic questions analyzed in this report are asked of a random half-sample of respondents. The results reported here are based on combined data from 1,529 interviews conducted Feb. 24-26, 2008. For results based on this sample, the maximum margin of sampling error is ±3 percentage points. In addition to sampling error, question wording and practical difficulties in conducting surveys can introduce error or bias into the findings of public opinion polls.