Based on polling conducted Feb. 25-27, 2008
PRINCETON, NJ -- Barack Obama maintains a 48% to 43% lead over Hillary Clinton in Gallup Poll Daily tracking of national Democratic preferences. John McCain leads Mike Huckabee among national Republicans 61% to 24%.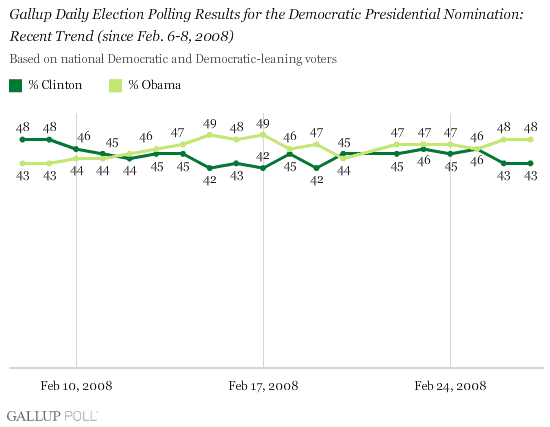 Gallup Poll Daily tracking conducted Feb. 25-27 indicates that Obama is maintaining a five percentage point lead over Clinton, 48% to 43%, unchanged from yesterday's three-day rolling average. Obama and Clinton clashed in a nationally televised debate in Ohio on Tuesday night, but it will take several days to see if that event had any lasting impact on Democrats' preferences for their party's nominee. Most of the focus is now on the voting to take place next Tuesday in Texas and Ohio, considered to be make-or-break contests for Clinton.
McCain continues to be the favorite of a majority, but by no means all, of Republicans across the country. He leads Huckabee in the Feb. 25-27 average by 61% to 24%. Huckabee's total is up slightly and is his highest in a week. -- Frank Newport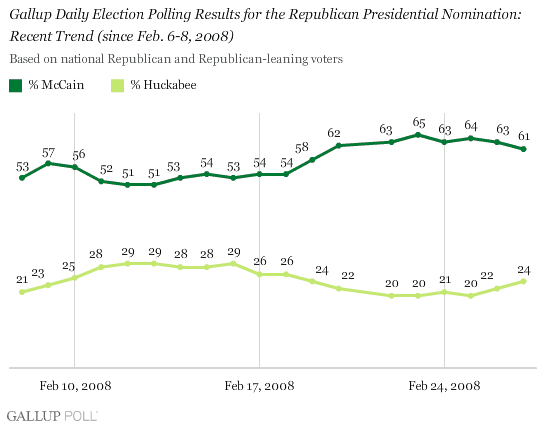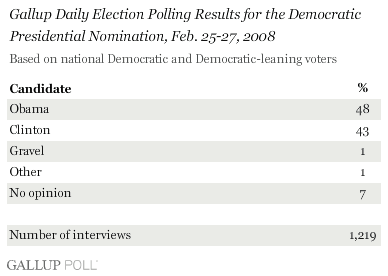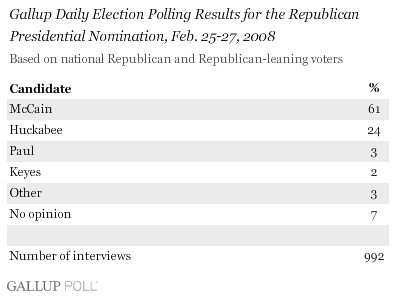 Methodology: Gallup is interviewing no fewer than 1,000 U.S. adults nationwide each day during 2008. The results reported here are based on combined data from Feb. 25-27, 2008, including interviews with 992 Republican and Republican-leaning voters, and 1,219 Democratic and Democratic-leaning voters. For results based on these samples, the maximum margin of sampling error is ±3 percentage points. In addition to sampling error, question wording and practical difficulties in conducting surveys can introduce error or bias into the findings of public opinion polls.