Based on polling conducted March 1-3, 2008
PRINCETON, NJ -- Gallup Poll Daily tracking finds Hillary Clinton and Barack Obama tied once again, with 45% of Democratic voters nationwide preferring each as the party's 2008 presidential nominee.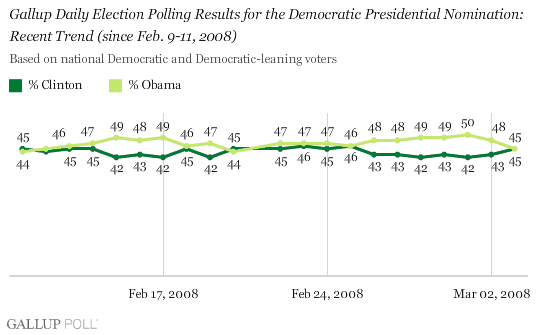 This is based on tracking interviewing conducted March 1-3. A strong night for Clinton last night allowed her to erase the lead Obama had held the previous six days. Obama's lead had been as large as eight percentage points -- 50% to 42% in Feb. 28-March 1 polling. Tonight's primaries in four states are critical to the future of the Clinton campaign, as she looks to win a contest for the first time since Super Tuesday.
Obama's campaign has had some difficulties in recent days with questions being raised about his religion, his former friend and fund-raiser Tony Rezko on trial for corruption, and stories that an Obama adviser told Canadian officials that the candidate's recent anti-NAFTA statements were merely political rhetoric.
Republican John McCain can clinch his party's nomination tonight with a strong showing. He leads second-place Mike Huckabee 62% to 21% in the latest update. McCain has been the dominant leader since Mitt Romney suspended his campaign, and McCain has led the Republican field in Gallup Poll Daily tracking since just after his win in New Hampshire. -- Jeff Jones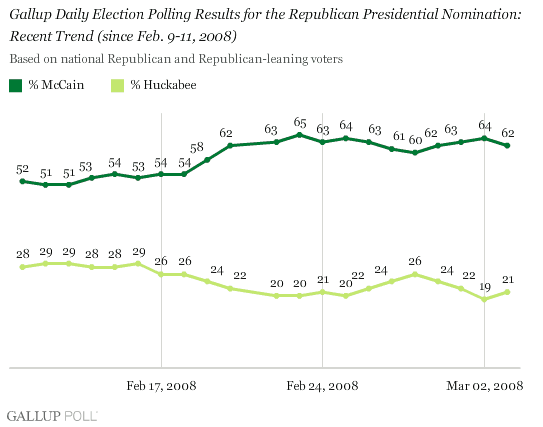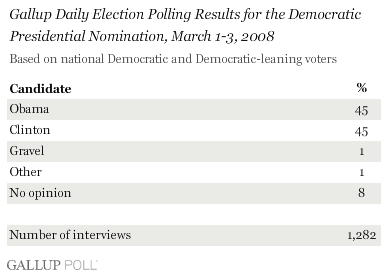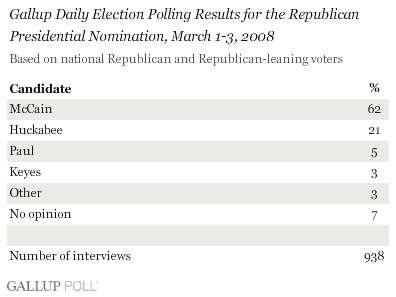 Methodology: Gallup is interviewing no fewer than 1,000 U.S. adults nationwide each day during 2008. The results reported here are based on combined data from March 1-3, 2008, including interviews with 938 Republican and Republican-leaning voters, and 1,282 Democratic and Democratic-leaning voters. For results based on these samples, the maximum margin of sampling error is ±3 percentage points. In addition to sampling error, question wording and practical difficulties in conducting surveys can introduce error or bias into the findings of public opinion polls.