Majority express confidence in the Telecommunications sector
This article is the first in a series on economics and governance in Nigeria.
WASHINGTON, D.C. -- Since 2003, the Nigerian government has launched a series of reforms to improve the business climate to position the private sector as the main driver of economic growth. A Gallup Poll conducted last year in Nigeria reveals widespread perceptions of corruption in business (85%), but also relatively high levels of confidence in most business sectors.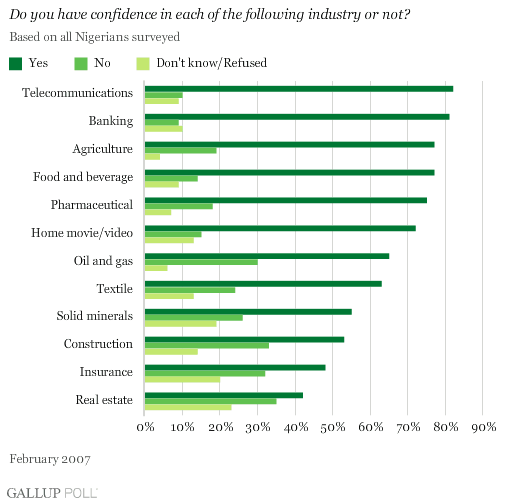 As part of its structural reform initiative started in 2003, the Nigerian government launched the National Economic Empowerment and Development Strategy (NEEDS), which included the privatization and deregulation of several economic sectors. In February 2007, the Gallup Poll, in partnership with NOI, a Nigeria-based opinion-polling firm, set to measure Nigerians' attitudes toward the private sector and assess perceptions of corruption, among other things.
At the core of this evaluation lies the concept of confidence whereby consumers trust that a given industry will deliver the goods and services it advertises. Although the poll reveals that Nigerians perceive corruption in business as widespread (85%), a majority of respondents express confidence in most business sectors. Several industries elicit relatively high levels of confidence from respondents: telecommunications (82%), banking (81%), agriculture (77%), and food and beverages (77%). The pharmaceutical industry garners a similar level of trust as three-quarters of Nigerians (75%) say they have confidence in the sector. The oil and gas industry also fares well as about two-thirds of respondents (65%) express confidence in the sector.
Insurance (48%) and real estate (42%) are the two industries that elicit the lowest levels of confidence. However, at least 20% of Nigerians say they don't know or refused to answer the question, suggesting that either these respondents don't have enough dealings with the sectors to comment or that the insurance and real estate industries need to improve their product and service delivery for Nigerians to express greater confidence in them.
The Gallup Poll results indicate that respondents are aware of the importance of oil and gas, as 51% of Nigerians name it as the industry that contributes the most to the nation's economy. Nigeria is Africa's largest oil producer and holds the continent's largest proven natural gas reserves (the sector represents 52% of the country's gross domestic product). The other two industries that Nigerians most often named as most important to the country's economy are banking (16%) and pharmaceuticals (9%).
The Gallup data suggest that Nigerians are more likely to express confidence in industries that provide them with tangible goods and services, such as a telephone line or a bank account. The telecommunications market is a case in point, in which 82% express confidence. Following deregulation, increased competition led to lower prices and greater choices for consumers. According to the Nigerian Communications Commission (NCC), there were about 4 million connected lines in 2003, of which about 3 million were GSM lines. At the time of the Gallup survey, there were almost 40 million connected lines, 96% of which were GSM lines. In December 2007, the NCC reported that the total number of lines has topped 50 million.
Survey Methods
Results are based on face-to-face interviews with at least 1,000 adults, aged 15 and older, in Nigeria conducted in February 2007. For results based on the total sample of national adults, one can say with 95% confidence that the maximum margin of sampling error is ±5 percentage points. In addition to sampling error, question wording and practical difficulties in conducting surveys can introduce error or bias into the findings of public opinion polls.