McCain presents stiff competition for Obama and Clinton
PRINCETON, NJ -- Barack Obama leads Hillary Clinton in national Democratic nomination preferences by a statistically significant 6-percentage point margin, 50% to 44%, according to Gallup Poll Daily tracking interviews from March 11-13.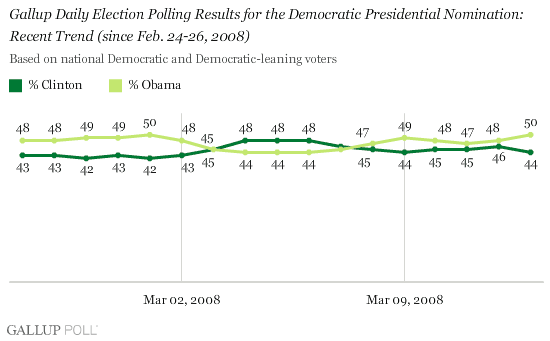 This is the largest advantage either contestant has had in the race since late February. Obama had a strong showing in Thursday night interviews, which added to his slim lead in interviews conducted Tuesday and Wednesday gives him his current 6-point margin.
Obama attained a 5-point lead in tracking interviews from March 7-9. However, he did not sustain this lead beyond that one three-day period, and the race reverted to being roughly even. Obama's current margin reflects two days of interviewing subsequent to his victory in Mississippi Tuesday night.
Looking Toward the Fall
Were the general election for president held "today," it appears either Democratic candidate would provide a stiff challenge against the presumptive Republican nominee, John McCain. Gallup Poll Daily tracking from March 9-13 finds registered voters split evenly in their preferences for the Republican and Democratic candidates, regardless of whether Obama or Clinton leads the Democratic ticket.
Voters are equally divided at 45% in a hypothetical matchup between Obama and McCain. Given the choice of Clinton versus McCain, voters break evenly at 46%. -- Lydia Saad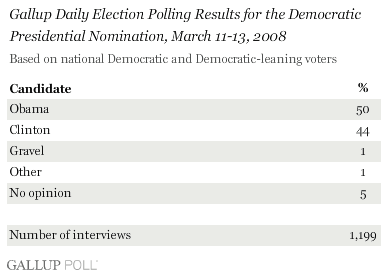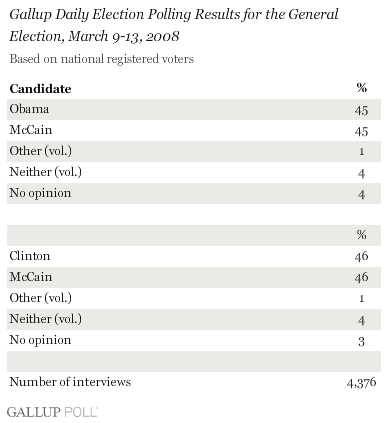 Methodology: Gallup is interviewing no fewer than 1,000 U.S. adults nationwide each day during 2008.
The general election results are based on combined data from March 9-13, 2008. For results based on this sample of 4,376 registered voters, the maximum margin of sampling error is ±2 percentage points.
The Democratic nomination results are based on combined data from March 11-13, 2008. For results based on this sample of 1,199 Democratic and Democratic-leaning voters, the maximum margin of sampling error is ±3 percentage points.
In addition to sampling error, question wording and practical difficulties in conducting surveys can introduce error or bias into the findings of public opinion polls.
To receive Gallup Poll Daily tracking reports each day as soon as they are published, please
register here
and add Gallup Daily to your e-mail subscriptions.