Clinton 48%, Obama 46% in national Democratic nomination preferences
PRINCETON, NJ -- John McCain has moved to a six percentage point, 48% to 42%, lead over Barack Obama in Gallup Poll Daily tracking of the general election, while he edges out Hillary Clinton by only one point, 46% to 45%.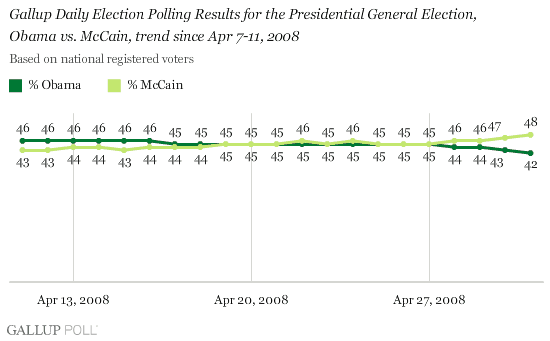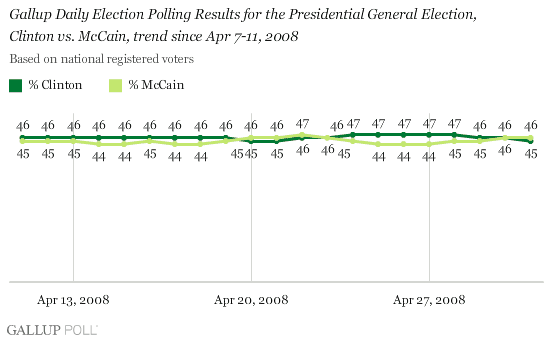 This is according to Gallup Poll Daily tracking from April 27-May 1 with 4,381 national registered voters.
The ongoing turmoil in the Democratic race -- with neither candidate able to sustain a winning streak in the primaries and animosity seemingly mounting between them -- seems to be benefiting McCain and hurting both Democrats. Last week McCain had fallen three points behind Clinton in the preferences of registered voters for the general election, and only tied Obama.
Although both Clinton and Obama have lost ground to McCain over the past week, the current results may be particularly troubling for Obama in trying to combat Clinton's assertion to superdelegates that she would be the more electable of the two candidates in November.
The current six-point margin for McCain over Obama is the largest lead McCain has had over either candidate since Gallup began tracking general election preferences in early March. The gap between Obama and Clinton's percentage of the vote when both are pitted against McCain is also the largest since the general election tracking began.
The Nomination
Today's results from the Gallup Poll Daily tracking of the Democratic race, based on interviews conducted April 29-May 1, mark the ninth straight day that Clinton and Obama have been statistically tied in the preferences of national Democratic voters. (To view the complete trend since Jan. 3, 2008, click here.)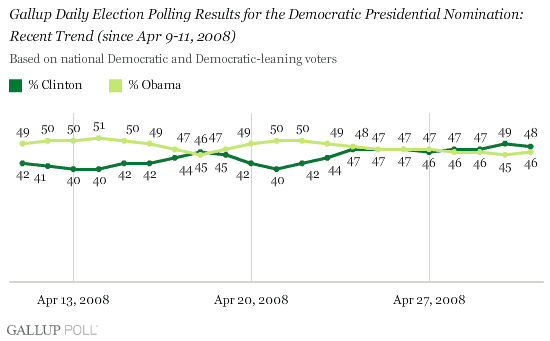 With 48% of Democrats nationwide backing Clinton for the presidential nomination and 46% favoring Obama, neither candidate can currently claim superiority in popular Democratic support. -- Lydia Saad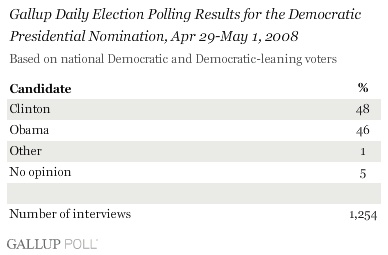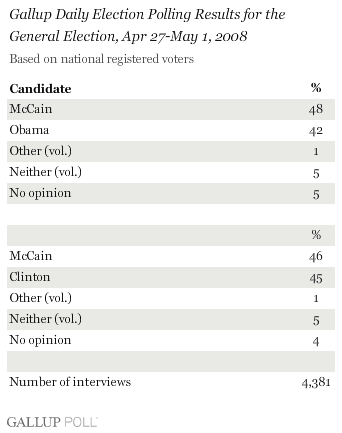 Register to get Gallup Poll Daily tracking reports delivered to you as soon as they are published!
Survey Methods
For the Gallup Poll Daily tracking survey, Gallup is interviewing no fewer than 1,000 U.S. adults nationwide each day during 2008.
The Democratic nomination results are based on combined data from April 29-May 1, 2008. For results based on this sample of 1,254 Democratic and Democratic-leaning voters, the maximum margin of sampling error is ±3 percentage points.
The general election results are based on combined data from April 27-May 1, 2008. For results based on this sample of 4,381 registered voters, the maximum margin of sampling error is ±2 percentage points.
In addition to sampling error, question wording and practical difficulties in conducting surveys can introduce error or bias into the findings of public opinion polls.
To provide feedback or suggestions about how to improve Gallup.com, please e-mail feedback@gallup.com.